Big fish, weather and weights expected on Lake Erie for Bass Pro Shops Bassmaster Northern Open
By editor on Aug 16, 2011 | In Bass Tournaments, BASS Opens, BASS, Northern

B.A.S.S. News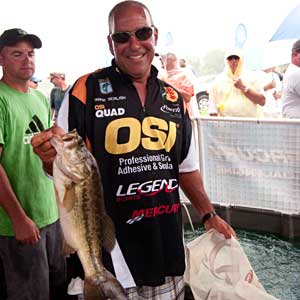 Cleveland Heights Ohio bass pro Frank Scalish weighs in on day two of the 2009 Bassmaster Northern Open on Lake Erie Sandusky. Photo Credit: B.A.S.S.
SANDUSKY, Ohio — Lake Erie is all about big: big smallmouth, big waves and big stringers. The second 2011 Bass Pro Shops Bassmaster Northern Open will be no exception on two of those fronts, but the weather — and its subsequent waves — is always a wildcard.
Frank Scalish of Cleveland Heights, Ohio, has enjoyed many successes on Lake Erie. Most notably, in 2009 he took third at a Northern Open there on his way to one of the most dominating seasons any angler has ever put on in the Bass Pro Shops Bassmaster Opens. His performance earned him a berth in the 2010 Bassmaster Classic, which is part of the fire that burns in him to repeat that showing. He expects anglers to catch plenty of fish at this Open, but goes on to say that finding the bigger bites will be key.
Anglers are allowed to venture north into Canadian waters and, according to Scalish, they'd be wise to do so.
"There should be a lot of guys with good fish. Pelee (Island, a part of Ontario, Canada) seems to be a good place to get bit right now," he said. "It's fishing really good in general. I'm thinking it's going to take 21 or 22 pounds a day to win this thing."
Scalish says that both Pelee and Kelly's Island (just south of Pelee and north of Sandusky) and the reefs between the two are giving up good bags of fish right now. He also says that there is enough bottom structure to keep an angler busy for three weeks. While the fishing in this large area is good, the trick is getting there and back.
The X-factor on Lake Erie is the wind. Regardless of the wind direction (save the east wind), you can duck on the opposite of one of the big islands (Pelee and Kelly's) and catch fish. However, if an east winds blows one day, there likely won't be a tournament then.
"When that east wind tears across the lake, there's nothing to stop it all the way from Buffalo (N.Y.), so it just builds and builds," Scalish says. "You've got to pay attention to a wind shift; it can make it go from slick calm to bad in a heartbeat. You can go out in the morning and it's sick as glass, but in the afternoon you may need a Coast Guard cutter to get back."
The Pelee and Kelly's Island areas are no secret, just like the preferred tactics. There are no secrets on Erie anymore; the trick now is to find the right school of fish.
"Tubes and drop shot rigs are the deal on the lake; everyone knows it. I can't imagine it being too much different than that," he said.
The City of Sandusky is hosting this Open, Aug. 25-27, with launches leaving at 6:30 a.m. ET from Shelby Street Boat Ramp, 101 Shelby St., Sandusky, OH 48870. Weigh-ins on Days One and Two will take place at 2:30 p.m. ET at Shelby Street Boat Ramp. On Day 3, the weigh-in will move to 3:30 p.m. ET at the Bass Pro Shops in Rossford, Ohio, located at 10000 Bass Pro Blvd. 43460.
2011 Bass Pro Shops Bassmaster Opens Official Sponsors: Toyota, Bass Pro Shops, Berkley, Evan Williams Bourbon, Mercury, Skeeter Boats, Triton Boats, Yamaha
2011 Bass Pro Shops Bassmaster Opens Supporting Sponsors: Humminbird, Luck "E" Strike, Minn Kota, Nitro Boats
About B.A.S.S.
For more than 40 years, B.A.S.S. has served as the authority on bass fishing. The organization advances the sport through advocacy, outreach and an expansive tournament structure while connecting directly with the passionate community of bass anglers through its Bassmaster media vehicles.
The Bassmaster brand and its multimedia platforms are guided by a mission to serve all fishing fans. Through its industry-leading publications — Bassmaster Magazine and B.A.S.S. Times — comprehensive website Bassmaster.com, ESPN2 and Outdoor Channel television programming, Bassmaster provides rich, leading-edge content true to the lifestyle.
The Bassmaster Tournament Trail includes the Bassmaster Elite Series, Bass Pro Shops Bassmaster Open Series, B.A.S.S. Federation Nation events presented by Yamaha and Skeeter Boats and the ultimate celebration of competitive fishing, the Bassmaster Classic.
B.A.S.S. offers an array of services to its more than 500,000 members and remains focused on issues related to conservation and water access. The organization is headquartered in Celebration, Fla.