Iowa, Illinois' Heindselman take the gold in Fort Madison
By editor on Aug 13, 2011 | In Bass Tournaments, BASS, BASS Federation Nation

B.A.S.S. News
Tom Kiefer tops the 6th place Michigan team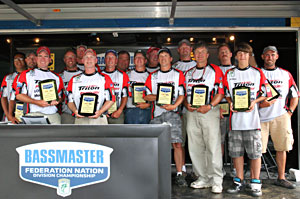 The Iowa Federation Nation won their first Northern Divisional in 20 years September 12, 2011 on the Fort Madison pool of the Mississippi River. Photo Credit: B.A.S.S./Ed Harp
FORT MADISON, Iowa — The 2011 B.A.S.S. Federation Nation Northern Divisional presented by Yamaha and Skeeter Boats is in the books. State honors went to Iowa, for the first time in almost 20 years. Individual honors were earned by Greg Heindselman fishing for the Illinois State Team.
Iowa's win was impressive. They widened their second-day margin to 25 pounds, 15 ounces to score a clear victory over the Wisconsin State Team. It was something they had been working toward since the members first earned their spots on the team.
"We wanted this from the beginning," said Thad Takes after the win. "We haven't won one of these in a long time, and it was starting to get old. We wanted to redeem ourselves and we were willing to do what it takes."
What he means by that statement is that every member of the team was willing to sacrifice his individual goals to help the team. In their minds, individual weights had nothing to do with anything. That's a hard thing to do in a sport known for individual effort.
"We didn't do anything really wild or unusual. We just made up our minds that we were going to share all our fishing knowledge openly. We knew if we did that we'd be competitive," Thakes said.
"To be fair, however, we were fishing our home waters and we had a really strong team. That shows if you look at the individual weights. Our guys who were struggling caught more fish than the guys who were struggling on the other teams. That's why there was such a big weight difference between us and the other states.
"That comes from being able to use the knowledge we shared on waters we're familiar with. We didn't have to explain things in detail. Our guys knew what we were talking about when we told them something was happening out there. Truthfully, if we'd been fishing a strange lake things might have been different."
For their efforts the team earned a Skeeter XZ 190 powered by a Yamaha VZ 150.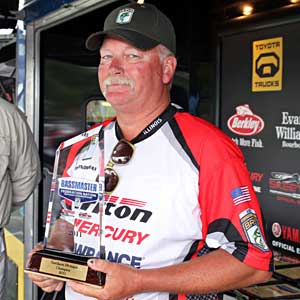 Illinois Federation Nation team member Greg Heindselman won the overall individual finish at the Northern Divisional September 12, 2011 on the Fort Madison pool of the Mississippi River. Photo Credit: B.A.S.S./Ed Harp
On the individual side, Heindselman credits his win to the professionalism of the other anglers. This morning he said his primary concern was the weather. It was cloudy and windy but that didn't bother his fish at all.
His secondary concern was pressure from other boats. That didn't happen, either.
"I can't say enough about my fellow anglers. A lot of the guys knew where I was throwing my bait — I was flipping and pitching plastics back in a creek — but they stayed away and let me fish it. That's no small thing," Heindselman said.
"I launched from the 30 slot this morning and don't have a fast boat. It would have been easy for one of them to claim my water. They didn't. I can't say enough positive about that. It shows you the kind of men and women we have in this sport.
"I can't wait to get home and display my trophy. Winning this divisional and continuing on in my sport is something I've always dreamed about. This year my dream came true."
The top angler from each team will advance to the 2011 B.A.S.S. Federation Nation Championship presented by Yamaha and Skeeter Boats, taking place November 3-5, 2011, on the Ouachita River out of Monroe, La. From there, the top angler from each of the six divisions in the championship will be awarded a berth in the 2012 Bassmaster Classic set for Feb. 24-26 out of Shreveport-Bossier City, La.
The six anglers who advance to the Classic also receive automatic qualification into the 2012 Bass Pro Shops Bassmaster Central, Northern and/or Southern Opens. The Bassmaster Federation Nation Championship overall winner also earns a berth in the prestigious Bassmaster Elite Series.
Complete results can be found on the GreatLakesBass.com B.A.S.S. Federation Nation forum.
For more information about the B.A.S.S. Federation Nation, go to www.bassmaster.com/federation-series.
2011 Bassmaster Federation Championship and Federation Divisional Championships presented by Yamaha and Skeeter Boats Official Sponsors: Toyota Trucks, Berkley, Evan Williams Bourbon, Mercury, Skeeter, Triton, Yamaha
2011 Bassmaster Federation Championship and Federation Divisional Championships presented by Yamaha and Skeeter Boats Supporting Sponsors: Humminbird, Lowrance, Minn Kota, MotorGuide, Owner Hooks, Simms
About B.A.S.S.
For more than 40 years, B.A.S.S. has served as the authority on bass fishing. The organization advances the sport through advocacy, outreach and an expansive tournament structure while connecting directly with the passionate community of bass anglers through its Bassmaster media vehicles.
The Bassmaster brand and its multimedia platforms are guided by a mission to serve all fishing fans. Through its industry-leading publications — Bassmaster Magazine and B.A.S.S. Times — comprehensive website Bassmaster.com, ESPN2 and Outdoor Channel television programming, Bassmaster provides rich, leading-edge content true to the lifestyle.
The Bassmaster Tournament Trail includes the Bassmaster Elite Series, Bass Pro Shops Bassmaster Open Series, B.A.S.S. Federation Nation events presented by Yamaha and Skeeter Boats presented by Yamaha and Skeeter Boats and the ultimate celebration of competitive fishing, the Bassmaster Classic.
B.A.S.S. offers an array of services to its more than 500,000 members and remains focused on issues related to conservation and water access. The organization is headquartered in Celebration, Fla.