B.A.S.S. Reporter's Notebook: Payback time for Iowa team
By editor on Aug 10, 2011 | In Bass Tournaments, BASS Elites, BASS Opens, BASS, BASS Federation Nation, Bassmaster Classic, Pro Anglers, College BASS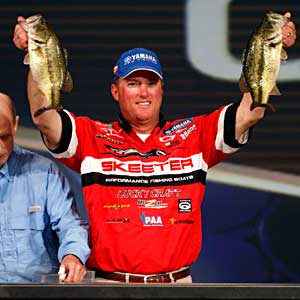 Elite Series pro Kelly Jordan is next in line for the 2012 Bassmaster Classic if anyone double qualifies, shown here weighing in during the 2011 Bassmaster Classic in New Orleans. Photo Credit: B.A.S.S. / Gary Tramontina
That's Kelly Jordon. If he won't be watching the Open later this month, it'll be because he can't stand the suspense. He missed a 2012 berth by one point.
Jordon, who did not compete in Northern Open No. 1, has another Classic chance through the Northern Opens. It could come via Fletcher Shryock, who won the second Southern Open. That's because Shryock also competed in the first Northern Open. If he continues with Nos. 2 and 3, and wins one of them, then Jordon would be in.
That's because as with any duplication, B.A.S.S. would work down the Elite Series roster if a non-Elite Series angler double-qualifies and all the usual requirements — competing every day eligible of the Northern Opens — are met.
The final Northern Open is scheduled for Sept. 22-24 on Oneida Lake out of Syracuse, N.Y. The second scheduled Central Open of the season will be held Sept. 8-10 on the Arkansas River out of Muskogee, Okla. A Central Open rescheduled for Oct. 20-22 will wrap up the Open season. As originally scheduled, the final Central Open will be on Table Rock Lake out of Branson, Mo.
College B.A.S.S. on ESPNU: Fans can catch the newest Bassmaster circuit, Mercury College B.A.S.S., on ESPNU.
The 12-program schedule, mostly in weekend time slots, began July 31 and will conclude Sept. 4 (check local listings). Featured events will be Super Regional tournaments out of Russellville, Ark.; Montgomery, Ala.; and Syracuse, N.Y. The season finale championship program will be shown for the first time on Sunday, Aug. 14, at 9 p.m. ET.
The first collegiate-level angler to win a Bassmaster Classic qualification came from the Mercury College B.A.S.S. circuit. Stephen F. Austin University student Andrew Upshaw of Hemphill, Texas, will compete in the 2012 Classic on the Red River out of Shreveport-Bossier City, La.
About B.A.S.S.
For more than 40 years, B.A.S.S. has served as the authority on bass fishing. The organization advances the sport through advocacy, outreach and an expansive tournament structure while connecting directly with the passionate community of bass anglers through its Bassmaster media vehicles.
The Bassmaster brand and its multimedia platforms are guided by a mission to serve all fishing fans. Through its industry-leading publications — Bassmaster Magazine and B.A.S.S. Times — comprehensive website Bassmaster.com, ESPN2 and Outdoor Channel television programming, Bassmaster provides rich, leading-edge content true to the lifestyle.
The Bassmaster Tournament Trail includes the Bassmaster Elite Series, Bass Pro Shops Bassmaster Open Series, B.A.S.S. Federation Nation events presented by Yamaha and Skeeter Boats and the ultimate celebration of competitive fishing, the Bassmaster Classic.
B.A.S.S. offers an array of services to its more than 500,000 members and remains focused on issues related to conservation and water access. The organization is headquartered in Celebration, Fla.
Pages: 1· 2