B.A.S.S. Reporter's Notebook: Payback time for Iowa team
By editor on Aug 10, 2011 | In Bass Tournaments, BASS Elites, BASS Opens, BASS, BASS Federation Nation, Bassmaster Classic, Pro Anglers, College BASS

B.A.S.S. News
B.A.S.S. Reporter's Notebook: The pull of Bradley Roy's hobby; Payback time for Iowa team; Last Classic chances; College B.A.S.S. on ESPNU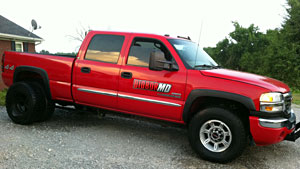 Elite angler Bradley Roy's pulling truck. Photo Credit: B.A.S.S.
The pull of Bradley Roy's hobby: He calls it his "play truck." He might drive it on the street, but it's on a dirt track pulling tens of thousands of pounds that Bradley Roy has the most fun with his dually.
Roy, the 20-year-old kid wonder on the Bassmaster Elite Series trail, has been into sled-pulling this summer. He's also been known to take his big red truck to the asphalt for a hot summer's night of drag racing, but lately he's been sticking to truck pulls.
"It's just something fun I do," said Roy, at home in Lancaster, Ky., for a few rare weeks off from bass competitions and appearances at fishing shows.
Pulling is a growing motorsport. There are many variations on the theme, but basically a driver in a modified pickup truck attempts to tow a weighted sled along a straight track. Some sleds are so big they tower over the truck. Each pull is over in a minute. Competition is by class of truck; the winner in a class is the truck that pulls farthest.
Roy's class is diesel, a relative newcomer to the sport whose roots go back to the 1920s and farm tractors. He took up truck pulling and drag racing several years ago after he met the owners of a performance diesel shop.
"I'm down there a lot when I'm home, and we work on our play trucks," Roy said. "It doesn't take precedence over my fishing, but when I don't have something going on, the truck is what I do."
The truck is the four-wheel-drive vehicle he used in his rookie fishing season. It wasn't new when he put it into service towing his boat from town to town, and after 2010, he decided it had too many miles on it, too many cosmetic issues. He bought a new truck and got started on turning the older truck into a puller.
Roy estimated that the sleds he pulls run 40,000 to 60,000 pounds. To budge that kind of weight requires, for starters, four wheels on the rear axle, so he made the truck into a dually. Many other modifications were needed to turn the vehicle into a sled puller.
"Ninety-five percent of the work was done by me and my friends," he said.
Roy soon won't have much time for trucks and tracks. He's enrolled in the fall semester at Kentucky Community and Technical College, where he's studying business management and marketing. He's also planning time on the road to scout 2012 Elite Series venues. He wants to give himself every advantage to recapture the momentum of a third-place finish in the final 2011 season tournament, a last-hour patch on an otherwise frustrating season. He finished 65th in points, missing his season goal of qualifying for the 2012 Bassmaster Classic.
"My sophomore year was less than what I wanted it to be, but that's part of the growing. I'm 20 years old; I'm still learning what works best for me," he pointed out. "But I left on a strong note, and I'm anxious to get back at it."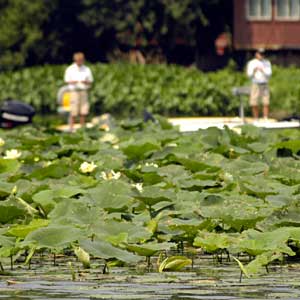 Bass anglers fish the big pad fields on the Fort Madison Iowa pool of the Mississippi River. Photo Credit: B.A.S.S.
Payback time for Iowa team: Last year at the B.A.S.S. Federation Nation Northern Divisional on Lake Michigan, the Iowa team finished last. This year, with the competition set for the Mississippi River out of Fort Madison, Iowa, Dan Parker figures it's his team's turn to shine.
"We have a good group of river fishermen, so I think we'll figure out a pattern," said Parker, a Guttenberg, Iowa, real estate broker who said he's been on the Iowa team the past eight years.
There's one hitch: He expects the fishing to be very tough for the Aug. 10-12 event.
"The water's unseasonably high," he said after two days of practice on the river. "The fish are not congregated like they would be normally in the summertime. And the water's been high all year, so there hasn't been a lot of weed growth."
The river will force anglers to try many different techniques, he said, and one of them will produce.
"There's always somebody who catches fish in these conditions," he said, estimating that three-day individual weights will be between 28 and 30 pounds.
A member of the Northeastern Iowa Bass Club out of Fayette, Parker is just one of 96 anglers who climbed the ladder of local and state tournaments to reach the 2011 Northern Divisional. From there, one angler from each of the division's eight states will advance to the B.A.S.S. Federation Nation Championship presented by Yamaha and Skeeter Boats, Nov. 3-5 on the Ouachita River out of Monroe, La. Only six anglers will emerge from the championship as 2012 Bassmaster Classic qualifiers.
"Sure, there's competition within the team, but we are working together for the state award," Parker said. "We would really like to come back from the bottom and get to the top. We have a group of guys who can do that."
The event will be covered extensively by Bassmaster.com. Live, streaming video of the Wednesday-Saturday weigh-ins will begin online at 2 p.m. ET.
Last Classic chances: Four upcoming Bass Pro Shops Bassmaster Open events will be pro anglers' last chances to win a 2012 Bassmaster Classic berth.
Looking especially hard at the first up — the Aug. 25-27 Northern Open on Lake Erie out of Sandusky, Ohio — are several Bassmaster Elite Series pros who finished the 2011 season without winning a Classic berth. One of them, Boyd Duckett of Demopolis, Ala., stated in a recent blog that he's in the Northern Opens for another chance. If it doesn't happen for him, 2012 would be the first time he missed a Classic since he won in 2007 as a rookie.
Duckett is one of about 20 Elite Series pros who competed in Northern Open No. 1, a prerequisite for a Northern Open No. 2 or 3 winner to claim the Classic seat prize. Of those 20 anglers, four already own Classic seats: Michael Iaconelli, Greg Hackney, Fred Roumbanis and Stephen Browning. If any one of them wins an Open, their second Classic seat would be awarded to the next-in-line Elite Series pro.
Pages: 1· 2