B.A.S.S. Reporter's Notebook: Nail-biter for Louisiana boat winner
By editor on Aug 2, 2011 | In Bass Tournaments, BASS Elites, BASS, Pro Anglers, Sponsorship
"I got too busy with everything, and I lost that time I used to run," said Martens, who will turn 39 in late August.
Lesley Martens, an experienced runner, will help her husband train, and Martens can tap into Lopez's extensive running expertise. As a competitive angler at the top level, Martens' priority is learning how to stretch and run the right way to protect his body. He plans to start out slowly and aim for three-mile runs about four times a week. Every week he'll increase his distance by 20 percent. One of his first goals is to run a mile and not break a sweat.
"After all that, I should be in great shape for the (Bassmaster) Classic," Martens pointed out.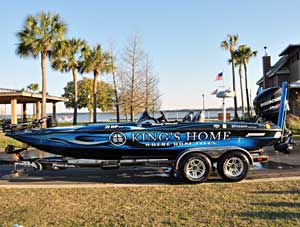 Elite angler Randy Howell is raffling off his wrapped bass boat for charity to benefit Kings Home. Photo Credit: B.A.S.S.
A chance to own Randy Howell's boat: To raise money for the charity King's Home, Randy Howell is offering raffle tickets on his 2011 Bassmaster Elite Series competition rig.
The raffle is scheduled for Dec. 4. Only 1,000 tickets at $100 each will be sold, Howell said.
"That's good odds to win a $67,000, fully rigged Triton package," he said.
The proceeds will go to a nonprofit, Christian-based organization that provides homes and services to at-risk youth, women, and mothers and their children. "Where Hope Lives" is the group's slogan — wording that stretches across Howell's wrap design.
"Triton, Mercury and I worked out a deal so we could give the boat away," Howell said. Normally, he'd exchange the boat for a new model at the end of a season.
The rig is a Triton 21HP with a 250 PRO XS Mercury OptiMax. Features include dual Power-Poles, a MotorGuide trolling motor and two Lowrance HDS units.
Tickets are available at KingsHome.com and at RandyHowell.com.
A walk-through with 'Why not me' Walker: David Walker is scheduled for an Aug. 3 appearance on Day on the Lake Live presented by Z-Man on Bassmaster.com.
The Bassmaster Elite Series pro from Sevierville, Tenn., will tackle a fishery from 8 a.m. to noon CT. Bassmaster.com editor and blogger Steve Bowman will host.
A live Bassmaster University segment with Walker was set for 1-2 p.m. CT Aug. 2. The video is available at Bassmaster.com.
Walker won his first Bassmaster Elite Series title June 19 on Wheeler Lake. During the event, he adopted the slogan, "Why not me?" It was his way of saying it was his "turn" for a major win.
Good teachers: "I taught him when he was a very young kid — and he's taught me everything since." — Bud DeFoe, after his son Ott DeFoe took his first Bassmaster Elite Series win Sunday
About B.A.S.S.
For more than 40 years, B.A.S.S. has served as the authority on bass fishing. The organization advances the sport through advocacy, outreach and an expansive tournament structure while connecting directly with the passionate community of bass anglers through its Bassmaster media vehicles.
The Bassmaster brand and its multimedia platforms are guided by a mission to serve all fishing fans. Through its industry-leading publications — Bassmaster Magazine and B.A.S.S. Times — comprehensive website Bassmaster.com, ESPN2 and Outdoor Channel television programming, Bassmaster provides rich, leading-edge content true to the lifestyle.
The Bassmaster Tournament Trail includes the Bassmaster Elite Series, Bass Pro Shops Bassmaster Open Series, B.A.S.S. Federation Nation events presented by Yamaha and Skeeter Boats and the ultimate celebration of competitive fishing, the Bassmaster Classic.
B.A.S.S. offers an array of services to its more than 500,000 members and remains focused on issues related to conservation and water access. The organization is headquartered in Celebration, Fla.
Pages: 1· 2