B.A.S.S. Reporter's Notebook: Nail-biter for Louisiana boat winner
By editor on Aug 2, 2011 | In Bass Tournaments, BASS Elites, BASS, Pro Anglers, Sponsorship

B.A.S.S. News
B.A.S.S. Reporter's Notebook: Nail-biter for Louisiana boat winner; Another "Series" for Aaron Martens; A chance to own Randy Howell's boat; A walk-through with 'Why not me' Walker; and … Good teachers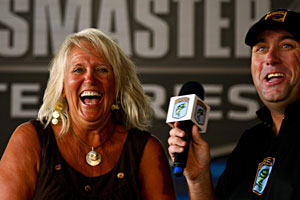 All-Star week fan finalist boat winner Cynthia Ryan of Farmerville Louisiana celebrates with B.A.S.S. emcee Dave Mercer. Photo Credit: B.A.S.S./James Overstreet
Nail-biter for Louisiana boat winner: As a co-angler in the 2010 season of the Bass Pro Shops Bassmaster Central Open circuit, Cynthia Bryan of Farmerville, La., had been on a Bassmaster stage multiple times, but never as a winner.
Until Sunday, that is. Bryan won a $30,000 Triton/Mercury bass rig, the big fan prize of Toyota Trucks All-Star Week, and she was called up onto the stage in Montgomery, Ala., to accept it.
Bryan knew she had a good chance to win the prize. As one of only a dozen sweepstakes finalists in the Toyota Trucks All-Star Fan Favorites contest, her odds were 1 in 12. But the outcome wasn't left to chance. Because each fan finalist was randomly paired with one of the 12 All-Star pros, the pros' performance determined who won the boat. Her draw was Ott DeFoe, an Elite Series rookie from Knoxville, Tenn.
Bryan had entered the sweepstakes at Bassmaster.com when she registered and voted for her favorite pros to be included in All-Star Week. She didn't vote for DeFoe because he wasn't on the ballot; the rookie was already in as one of the Top 8 points qualifiers. Her mission was to vote for Clark Reehm, an Elite Series pro she sponsors through her business, Old River Lure Co., a small manufacturer of spinnerbaits and tungsten weights.
A week or so later, while she was in New Mexico on a motorcycle trip with friends, B.A.S.S. contacted her to tell her she'd won the sweepstakes to be a fan finalist. Fortunately, she had packed her laptop, so she was able to follow DeFoe's progress.
"Every day there was a weigh-in, I watched and kept up with him," she said. "He got a little closer, and a little closer. It was very exciting to watch."
Her plans to be at her second home in Orange Beach, Ala., last weekend meshed perfectly with the possibility she would have a reason to make a quick trip to Montgomery. When her odds increased on Sunday to 1 in 2, she made the 2 1/2-hour drive to Montgomery to see firsthand if a person she'd never met would be her ticket to a new boat.
From a front-row spot, she watched DeFoe eliminate his single remaining opponent, Edwin Evers, by 5 ounces. When DeFoe was declared the winner, she leapt from her chair, clapping and cheering as much for DeFoe as for herself.
"I was so happy for him. Afterward, I talked to him for just a split second, but it was so crazy, so many people were coming up to him, that we didn't speak for very long. And I didn't want to take away from his time in the spotlight," she said.
Monday morning she sent him a congratulatory message and thank-you via Facebook. While she was logged in, she started to read the 50 to 60 messages waiting for her. Her phone rang repeatedly.
It seemed as if everyone, she said, now knows she's the proud owner of a Triton 18XS bass boat with a Mercury 150 OptiMax engine.
She plans to put the rig to good use. She'll likely take it out first on Bayou D'Arbonne, or the Ouachita or Red rivers, all close to her Louisiana home. She said she expects to enjoy sharing time on the new boat with her son and business partner, Chris Burnham, but she wouldn't hand it over to him. He has his own boat, she pointed out, the one he uses when he competes in the Bassmaster Central Opens.
Bryan plans to wrap her new boat to help promote her business. She said that Reehm, who was a graphic designer before he turned full-time pro, offered to create the wrap for her.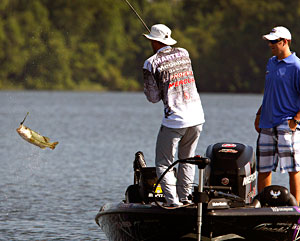 Aaron Martens, flipping a bass into the boat on Wheeler Lake, will also compete in the Ragnar Relay Series. Photo Credit: B.A.S.S./Gary Tramontina
Another "Series" for Aaron Martens: Now that the postseason of the Bassmaster Elite Series is behind him, Aaron Martens of Leeds, Ala., has begun training for the Ragnar Relay Series.
He's not swapping sports. He committed to the team running event for the fun of it. Ever-competitive, Martens is intrigued by the challenge.
He figured that the Jan 6-7, 2012, event is far enough away that he'll be ready.
"I'm in pretty good shape already," he said. "I don't think it should take me very long to get conditioned for it."
Martens said he's able to do five miles now.
"But that's five miles at a 10-minute pace, which is slow," he said. "I could go faster, but I'd be hurting. My wife can run five miles at a seven-minute pace. She's killing me."
A Ragnar is an overnight relay run on a designated route, with 12 runners to a team. The distance can be up to 200 miles. While one person runs, his or her team members follow in vehicles, resting and hydrating so they will be ready to take up the baton again. A well-trained team can finish in 17 hours, but most teams need 24 to 30 hours to complete the course, according to Ragnar Events LLC, the 2004 founder of the increasingly popular event.
Named after a ninth century Norse king said to be adventuresome, Ragnar events will take place at various times during 2012 in about 16 locations across the United States. Martens and his teammates have decided on the Miami-to-Key West event, a course that traverses cities, swamps, narrow roads and even the Seven Mile Bridge.
Martens is part of a team that's still being formed but may include other Elite Series pros. The volunteer team organizer and head coach is Eric Lopez, who as director of site operations for B.A.S.S. has a ready source of athlete recruits. The team also will include Lesley Martens. She ran a Ragnar last year while her husband waited for her at the finish line.
"I was the babysitter," Martens said. "My wife and some other fishermen's wives heard about Ragnar, how much fun it was. We all had an excellent time, and they said it was one of the most fun things they've ever done. I decided it was fun to watch but would be a lot more fun to be in it."
A good party is very likely to happen in Key West at the end of the course, but Martens is serious about the running. He doesn't consider himself a runner, although less than 10 years ago, he was a regular jogger. He used to cycle, and he was an avid mountain biker when he lived in California. He got pulled away from the discipline.
Pages: 1· 2