Tennessee's DeFoe trumps Evers by 5 ounces, nails first Bassmaster win
By editor on Aug 1, 2011 | In Bass Tournaments, BASS Elites, BASS, Pro Anglers

B.A.S.S. News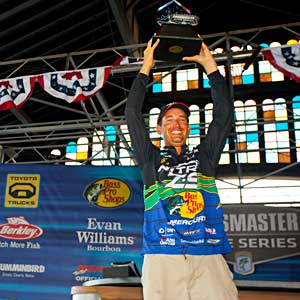 Ott DeFoe wins his first Bassmaster event in his rookie season by beating Edwin Evers by 5 ounces at the 2011 All-Star Championship. Photo Credit: B.A.S.S./James Overstreet
MONTGOMERY, Ala. — Up on stage, Ott DeFoe pushed back his cap and wiped his face with his palm. He'd just watched his opponent, Edwin Evers, weigh in 8 pounds, 2 ounces of Alabama River bass. DeFoe, a 25-year-old Bassmaster Elite Series rookie, was sweating it.
And then, a minute later, the Bassmaster rookie was a rookie no more. He had scored his first Bassmaster win, a rite of passage for any pro, rookie or not.
Bringing in 8-7 to Evers' 8-2 on Sunday, DeFoe won the Evan Williams Bourbon All-Star Championship. He outlasted not only Evers but Friday and Saturday rounds of one-on-one matches against some of the sports' biggest names, including Michael Iaconelli and Gerald Swindle.
For his first Bassmaster win, DeFoe won $100,000.
"This is where I've wanted to be since I was a little kid," he said. "This trophy will be cherished forever."
DeFoe has been called the "rookie phenom" all season. He's only 25, but he's a seasoned 25. He was so young when he first went fishing, he can't remember it. He fished his first tournament at age 7, and turned to pro events at age 16. After competing in other circuits for several years, he decided in 2010 to try to qualify for the Elite Series. He did it in one try. By the end of his first Elite Series season, he'd done so well he was fourth in points, qualified for the postseason and won the 2011 Bassmaster Rookie of the Year honor.
Such deep experience helped DeFoe triumph in Toyota Trucks All-Star Week. First was his resolution to stick to his shallow-water strengths. He traveled as far north on the Alabama as competitors were allowed to, to find the water he needed. He hit the mouth of the Walter Bouldin Dam canal hard, targeting spotted bass in current breaks as well as in patches of shade created by overhanging tree branches. He also traveled up the Coosa River to the Highway 14 bridge, navigating rocks and swift current. He even ventured up the Tallapoosa, another Alabama River tributary.
"Current was the key," he said. "The more the better, up to a point. Current positions the fish and dirties up the water a little bit, and that makes the fish less likely to be spooked."
His main lures included a Super Spook Junior in a minnow finish.
"That was my big-fish bait, what I used in the current breaks," he said.
He also chose a soft jerkbait, 5 inches in a blue color tied on an 18-inch leader of 15-pound Berkley Trilene Fluorocarbon. That he worked in a fast, erratic retrieve around schooling fish and on points.
DeFoe credited Swindle, the pro he'd beat the day before, with giving him a productive tip. On a spot near the check-in point, Swindle told him, throw a finesse worm on a drop shot. DeFoe tried it, and he upgraded his weight just before he came in.
Evers, left as runner-up for the third time this season — once for the Toyota Tundra Bassmaster Angler of the Year title, and now twice in a tournament — was philosophical.
"I fished as hard as I know how," Evers said. "When you have that rare opportunity to win, you need to take it. I just didn't get it done."
Evers was tripped up Sunday by falling water level that cut him off from a sweet spot he'd been saving for Sunday, except for a brief stop there on Day One. The water was so low, he couldn't get his boat back into it. He gave up and continued on as far south on the Alabama River as competitors were allowed to go, to the first dam. He worked shallow wood cover, pitching his bait to wood cover.
"I tried to be methodical, to slow down and fish each spot as hard as I could," he said.
His go-to lure was a Yum Wooly Bug. For muddy water, he picked the blue black shadow color. For clear water, the color choice was "Big O Craw." He also turned to a Booyah jig, black and blue, and a square-billed crankbait.
"The first two days I played the water level pretty good, made good decisions," he said. "I was banking on that good spot."
He tried it again on the way back, but he still couldn't squeeze into it. He moved on. Ten minutes before he was due to check in a 4 p.m., he missed a bass he estimated to be 2 1/2 to 3 pounds.
"It wasn't meant to be," he said.
With better luck on Sunday was Cynthia Bryan of Farmerville, La., the Bassmaster fan who won a Triton 18XS bass boat with a Mercury 150 OptiMax engine. DeFoe's virtual partner via a Bassmaster sweepstakes, Bryan drove to Montgomery when she learned he was a finalist, and appeared on stage to accept her prize.
"I've never won anything so awesome," she said.
FINAL STANDINGS- EVAN WILLIAMS BOURBON
 ALL-STAR CHAMPIONSHIP

2011 Evan Williams Bourbon All-Star Championship
7/29-7/31 Alabama River, Montgomery  AL
(PROFESSIONAL) Standings Day 3

   Angler    Hometown       No./lbs-oz
Ott DeFoe    Knoxville, TN    5  08-07

Edwin Evers  Talala, OK       5  08-02

--------------------------------------
Totals
Day   #Limits    #Fish      Weight
 3        2        10       16-09
----------------------------------
2011 Bassmaster Elite Series Official Sponsors: Toyota, Bass Pro Shops, Berkley, Evan Williams Bourbon, Humminbird, Mercury, Minn Kota, Skeeter Boats, Triton Boats, Yamaha
2011 Bassmaster Elite Series Supporting Sponsors: Lowrance, Luck "E" Strike, Nitro Boats, Power-Pole, Ramada
Pages: 1· 2