Legends Put On A Show during Bassmaster Elite Series postseason
By editor on Aug 1, 2011 | In Bass Tournaments, BASS, Pro Anglers

B.A.S.S. News
Cook, Eaker win a squeaker by 2 ounces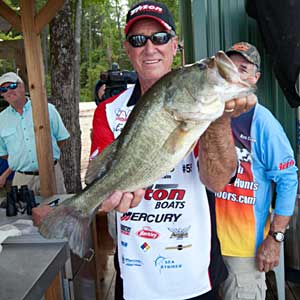 Bassmaster Guy Eaker with one of the big largemouth bass that helped Ken Cook and him win the All-Star Week Legends tournament. Photo Credit: B.A.S.S.
MONTGOMERY, Ala. — Leave it to the legends to put on a dramatic show. In an event in which the top three teams were separated by only 3 ounces, Guy Eaker and Ken Cook won the Bassmaster Legends Tournament by 2 ounces Sunday over Rick Clunn and Tommy Martin at the Bassmaster Toyota Trucks All-Star Week.
Bill Dance and Jerry McKinnis finished only 3 ounces behind the winners in an event that was held at a 100-acre private fishery located 40 miles northeast of Montgomery.
In the spirit of the smack-talking that went on all day among this group of longtime friends, McKinnis accepted the results under protest.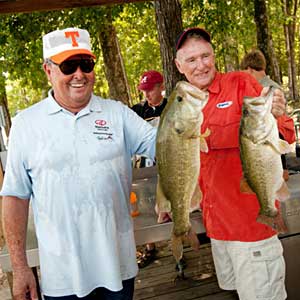 Bill Dance and Jerry McKinnis show off a couple of their big bass caught during the All-Star Week Legends tournament. Photo Credit: B.A.S.S.
"We were so much better anglers than them, I assumed we were going to win," said McKinnis, who is now a part-owner of B.A.S.S. "Bill and I are going to go study the tapes, analyze all that and make sure this is all on the up and up, then I'll be glad to comment."
McKinnis, 75, who hosted The Fishing Hole on ESPN for more than 25 years, and Dance, 69, who still hosts his show Bill Dance Outdoors, might not ever have had more fun than they did in the 4 1/2 hours of competition today.
"If we do it again next year, which I really want to do, we will have more teams and really make it a blow-out deal," McKinnis said. "This was just a spur of the moment thing. We said, 'Let's go have some fun.' And we darned sure did that."
They caught plenty of bass on the way to doing it. Eaker, who is from Cherryville, N.C., and Cook, who now manages his hunting ranch near Lawton, Okla., caught a five-bass limit that weighed 19 pounds, 3 ounces. Clunn from Ava, Mo., and Martin of Hemphill, Texas, finished second with 19-0. McKinnis, who lives in Little Rock, and Dance, who is from Collierville, Tenn., took third with 19-0. Bobby Murray of Hot Springs, Ark., and Guido Hibdon from Sunshine Beach, Mo., finished fourth with 9-11.
Those big names in B.A.S.S. history own nine Bassmaster Classic trophies, six Toyota Tundra Bassmaster Angler of the Year titles, 40 Bassmaster wins and 312 top-10 finishes.
Eaker, 71, fished the Bassmaster Elite Series through 2010, won more than $600,000 in B.A.S.S. events and qualified for 10 Bassmaster Classics. He ranked Sunday's tournament as one of this top-five fishing memories of all time.
"We really had a great time," Eaker said. "We caught most of our weight in the first hour-and-a-half. But we did cull some fish after that. And we were culling by ounces. If I hadn't weighed the fish on a scale, we might have thrown the tournament away."
As the four teams were leaving the dock at 9 a.m. Sunday, Dance landed a 5-3 largemouth. It came at 9:04 a.m., and it was fitting because Dance caught the first-ever bass in a B.A.S.S. tournament. In 1967, founder Ray Scott held his first tournament on Arkansas' Beaver Lake. Dance had borrowed a boat that had a 60-hp motor on it. He raced out ahead of the field, stopped while the others were still leaving the takeoff area and caught a fish on his first cast.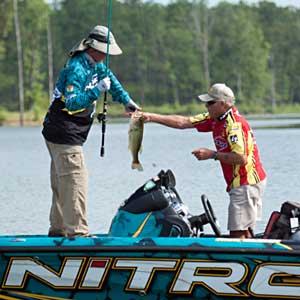 Bassmaster Rick Clunn fished with Tommy Martin during the All-Star Week Legends tournament. Photo Credit: B.A.S.S.
Dance and McKinnis figured their chief competition would come from Clunn, 65, the four-time Bassmaster Classic champion, and Martin, 70, who had been catching fish from one area of the lake all morning long.
"Rick figured out a pattern in about 15 minutes, and we just blistered them," said Martin, who qualified for 19 Bassmaster Classics and won it in 1974.
BASSMASTER LEGENDS STANDINGS- EVAN WILLIAMS BOURBON
 ALL-STAR CHAMPIONSHIP

2011 Bassmaster Legends Fishing Event  7/31/11
Private Lake, AL
Standings

Team                   No./lbs-oz
Guy Eaker/Ken Cook         19-03

Rick Clunn/Tommy Martin    19-01

Bill Dance/Jerry McKinnis  19-00

Guido Hibdon/Bobby Murray  09-11
2011 Bassmaster Elite Series Official Sponsors: Toyota, Bass Pro Shops, Berkley, Evan Williams Bourbon, Humminbird, Mercury, Minn Kota, Skeeter Boats, Triton Boats, Yamaha
2011 Bassmaster Elite Series Supporting Sponsors: Lowrance, Luck "E" Strike, Nitro Boats, Power-Pole, Ramada
Pages: 1· 2