Perkins, Ohotto Win North American Bass Circuit Bays De Noc Smallmouth Bonanza!
By editor on Jul 31, 2011 | In Bass Tournaments, NABC

NABC News
Presented By Stratos Boats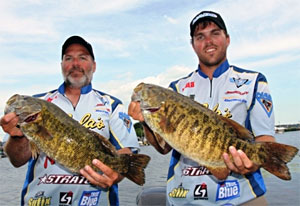 Bob Perkins and Justin Ohotto won the North American Bass Circuit Bay de Noc tournament with 22.15 pounds of smallmouth bass. Photo Credit: NABC
JULY 30, 2011—GLADSTONE, MI—Minnesotans Bob Perkins and Justin Ohotto won top honors in a hotly contested, big-bass blitz Saturday, July 30 at the North American Bass Circuit's Bays de Noc tournament with an impressive 22.15-pound, 5-fish limit.
Their limit of beefy bronzebacks—anchored by a 6.62-pound smallie that was big bass of the tournament—earned them a $5,000 first-place check, along with bonuses including $1,000 Ranger Cup, $500 Cabela's Angler Cash, $160 U2/Oxygenator, $625 in Big-Fish Pot winnings and a great prize package including Rapala, Trigger X and Sufix products.
"It was a great day on the water," said Perkins, of Crosslake. He explained that the team used a mix of topwaters such as Rapala Skitter Props, along with natural-colored Trigger X tubes that matched the algae-covered bottom. "Rigging softbaits on the new VMC hooks with swivels on them was key to winning," he added. "The swivel allowed the bait to come in true; if it was swinging at all, the fish would turn away from it."
"The fishing was phenomenal," added Ohotto, of Nisswa, noting that the majority of their bass came from six to 10 feet on reefs in Big Bay de Noc.
In all, the top seven teams shared the $8,640 payout plus $1,250 from the Big Bass Pot and sponsor contingencies. Second-place finishers, Minnesotans Keith Tuma, of Baxter, and Jim Smith, of Brainerd, earned the $250 Optima True Blue Rewards contingency. As a bonus courtesy of Rapala, Trigger X and Sufix line, the top four teams also received a great line and bait package comprised of these fine products.
The Bays de Noc fishery produced an amazing number of smallmouths for the NABC teams—who hailed from Illinois, Michigan, Minnesota and Wisconsin—producing a great show for the weigh-in crowd gathered at scenic Van Cleve Park in Gladstone. One-hundred and twenty smallies weighing a total of 423.69 pounds were weighed in under the NABC's catch-and-release format.
The Circuit's Bass Conservation Fund donated $15 per boat to the Michigan Department of Natural Resources for fisheries projects on the Bays de Noc system. To date, the NABC and its sister trail—the Cabela's Masters Walleye Circuit—has donated more than $300,000 to fisheries projects in states where its tournaments are held.
Following the weigh-in, the NABC and National Professional Anglers Association presented kids age 12 and under with great gifts, including free rod-and-reel combos, free tackle packages from Northland Fishing Tackle, NPAA "Future Pro" T-Shirts and more.
This was the second stop of the NABC's inaugural season, which began on the mighty Winnebago Chain out of Oshkosh, Wisconsin June 11. The third and final qualifier is August 19 on Minnesota's legendary Lake Minnetonka. With only 10 spots remaining at press time to fill the Minnetonka tournament with a 50-boat field, the event is guaranteed to reward teams with more than $12,000 in cash—including $8,000 for first place—plus contingencies. A full field would bring the total to $10,000 cash for first. In addition to great payouts and prizes at each event, NABC teams are vying for a coveted invite to the World Bass Championship, set for Sept. 24-25 on Leech Lake, Minnesota, which pays $20,000 for first place.
The NABC is open to all anglers. And its popular team format—which lets you choose your partner and cut your costs—has stood the test of time for 26 tournament seasons on the Cabela's MWC. Teams interested in fishing the Minnetonka tournament may register by mail, fax, or online. For details visit northamericanbasscircuit.com, call toll-free (877) 893-7947, or email events@namginc.com. Keep in mind, a $50 late fee applies for registrations received after Sunday, July 31 at midnight.
Title sponsors of the NABC include Cabela's, the World's Foremost Outfitter for hunting, fishing and outdoor gear, Ranger Boats, Stratos Boats and the North American Fishing Club. Supporting sponsors include Mercury Marine, Rapala, Sufix, Trigger X, Detwiler-MarineTech Products, Gemini Sports Marketing, Wave Fishing, O2 Marine Technologies and Optima Batteries.