Hope For The Warriors® fishing event at Bassmaster Elite Series postseason
By editor on Jul 31, 2011 | In Bass Tournaments, BASS Elites, BASS, Pro Anglers

B.A.S.S. News
Johnson lands 8-pounder to highlight tourney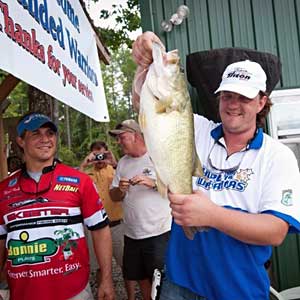 LCpl Travis Johnson USMC Retired lands an 8 pounds largemouth bass while fishing with Elite Angler Keith Poche during the 2011 Hope for the Warriors tournament. Photo Credit: B.A.S.S./Adam Harbottle
MONTGOMERY, Ala. — Travis Johnson felt a tug on his line while he was getting a bass fishing lesson Saturday morning from Bassmaster Elite Series pro Keith Poche. "I felt something, so I pulled on it a little bit, and it pulled back," Johnson said. "I went to set the hook and it darn near took the pole out of my hands."
Johnson, a retired U.S. Marine lance corporal from Greenup, Ky., had an 8-pound, 7-ounce largemouth bass on the end of his line.
"It made me nervous," Poche said. "But Travis did an awesome job working the fish and not letting it jump or break his line. I kind of coached him and we landed the fish."
Johnson couldn't keep a smile off his face after that, which is what this event was all about. For the second year in a row, as part of the Bassmaster Elite Series Toyota Tundra All-Star week, Hope For The Warriors® brought six veterans here to compete in their own bass fishing tournament on a private lake.
Hope For The Warriors® (www.hopeforthewarriors.org) is a national, nonprofit organization that supports wounded U.S. service members, their families, and families of the fallen. A group of military wives founded the organization in 2006.
"There are other organizations like ours," said public relations coordinator Anne Woods. "Each one of them has just a little different focus.
"This is a great event. It's very therapeutic."
It felt therapeutic for both the wounded servicemen and the professional anglers.
"I had an awesome time visiting with Lance and just hanging out with him," said Poche, who lives in Troy, Ala., and finished 10th in the Bassmaster Elite Series' Toyota Tundra Bassmaster Angler of the Year race this season. "We had a fun day."
Not only did Johnson and Poche have that 8-pounder to their credit, they had a five-bass limit weighing 18 pounds, 2 ounces to win the tournament. The results were announced during the weigh-in of the Elite Series Evan Williams Bourbon All-Star Championship Saturday at the Union Station Train Shed in Montgomery.
"The other fish we caught were the biggest bass I'd ever caught," Johnson said. "When I landed that big one, it just blew my mind."
Johnson was medically retired after suffering a broken leg and a back injury while deployed in Iraq.
Army sergeant Paul Walter of Selden, N.Y., was in Iraq on Jan. 12, 2005, when a passing vehicle loaded with explosives detonated. He suffered severe head trauma as well as shoulder and leg injuries, and was awarded the Purple Heart as a result.
Walter was paired with Elite Series pro Terry Scroggins Saturday. They finished second in the tournament with 13-15, which included a 4-pound, 6-ounce bass.
"I rarely get to go bass fishing, so this was a great day, unbelievable," Walter said.
Walter has done some saltwater fishing. Although he hasn't bass fished much, he is familiar with B.A.S.S. and Terry Scroggins, the San Mateo, Fla., pro who finished sixth in this year's Angler of the Year race.
"Terry is one of the guys I've heard of before, and to get to go with him was awesome," Walter said. "He's one helluva fisherman. It was definitely a great day."
Scroggins has participated in these types of events before.
"Anytime we are asked to do something for our military veterans, I'm all about it," Scroggins said. "What they've sacrificed for our freedom means a lot to me.
"And I have a lot of fun doing it. A lot of times these guys don't know a lot about fishing, but they're eager to do it. Today I was able to teach Paul how to cast at targets. He was a little rusty at it, but by the end of the day, he was where he needed to be. It's fun to watch someone figure it out and get into it the way he did. We had a big time."
The team of Skeet Reese and Marine corporal Bobby Davis of Mobile, Ala., finished third with 13-13. Aaron Martens and Army chief warrant officer John Lightsey of Atlanta, Ga., were fourth with 11-14. There was a tie for fifth place with 7-14 between the teams of Steve Kennedy and Marine corporal Daniel Mullins of Gainesville, Fla., and Greg Vinson and Navy HM2 Dean Carr of Jacksonville, N.C.
For more information about the Hope For The Warriors® fishing event, and for a list of other events happening on the final day of Toyota Trucks All-Star Week, visit Bassmaster.com. Watch as the winner of the 2011 Evan Williams Bourbon All-Star Championship takes the title and a check for $100,000.
HOPE FOR THE WARRIORS® STANDINGS- 
EVAN WILLIAMS BOURBON ALL-STAR CHAMPIONSHIP

2011 Hope For The Warriors® Fishing Event  7/30/11
Private Lake, AL
Standings

Angler/pro                     Hometown        lbs-oz
LCpl Travis Johnson USMC (Ret) Greenup KY      18-02
Keith Poche (Troy AL)

Sgt Paul Walter USA (Ret)      Selden NY       13-15
Terry Scroggins (San Mateo FL)

Cpl Bobby Davis USMC (Ret)     Mobile AL       13-13
Skeet Reese (Auburn CA)

CWO4 John Lightsey USA         Atlanta GA      11-14
Aaron Martens (Leeds AL)

Cpl Daniel Mullins USMC        Gainesville FL  07-14
Steve Kennedy (Auburn AL)

HM2 Dean Carr USN (Ret)        Jacksonville NC 07-14
Greg Vinson (Wetumpka AL)
Pages: 1· 2