Ashley, Evers, DeFoe and Swindle survive first round of Bassmaster Elite Series postseason finals
By editor on Jul 30, 2011 | In Bass Tournaments, BASS Elites, BASS, Pro Anglers

B.A.S.S. News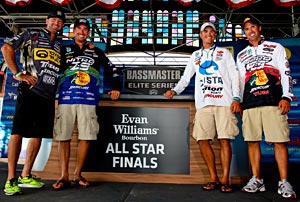 Gerald Swindle, Ott DeFoe, Casey Ashley and Edwin Evers earned their way into the second round of the Evan Williams Bourbon All-Star Championship on the Alabama River. Photo Credit: B.A.S.S./James Overstreet
MONTGOMERY, Ala. — Eight came, four remain and in one case, the decision went down to 1 ounce.
By besting their Friday opponents, Casey Ashley, Edwin Evers, Ott DeFoe and Gerald Swindle earned their way into the second round of the Evan Williams Bourbon All-Star Championship on the Alabama River.
Saturday's matches, predetermined by a bracketed playoff structure, will be Ashley vs. Evers, and DeFoe vs. Swindle. Sunday, only the two winners from Saturday will compete for a winner-take-all prize of $100,000.
The tournament's match play — unique in the sport of pro bass fishing — set up heated head-to-head contests Saturday, not the least of which was Swindle vs. Terry Scroggins. They're travel buddies when they're on the Bassmaster Elite Series trail, and good friends who are used to sharing information. Even though they went head-to-head Friday, both said they still traded information on techniques and patterns.
Swindle won — by 1 ounce. He had 12 pounds, 5 ounces, to Scroggins' 12-4.
"I've been looking for that one ounce since I left Toledo Bend, and I finally found it," said Swindle, the Warrior, Ala., pro who lost a win by 1 ounce to Dean Rojas on Toledo Bend during the regular Bassmaster Elite Series season.
Swindle said he had bittersweet feelings about besting his buddy Scroggins.
"That's my boy. To put him out, that hurts," he said. "Tomorrow will be different. I can turn the fire up (now that) the personal, emotional side is taken away."
Minutes after he was off stage, Scroggins, the ever-popular pro from San Mateo, Fla., was smiling, mingling with fans, signing autographs and posing for photos.
"We treated this the same as any other tournament," he said. "We fish against the fish, not against each other. One of us was going to win. Then we move on."
Scroggins checked in about an hour early, a decision he could second-guess in days to come. It was a strategic move centered on fish-care insurance vs. the slim chance he'd be able to improve his weight during the afternoon doldrums.
"I was still catching fish, but nothing to help me," Scroggins said. "My smallest was a 2 1/2, which meant I'd have to catch near a 3 to beat it. That's hard to do on the river in the afternoon."
The pro who will face Swindle's "fire," DeFoe, 25, of Knoxville, Tenn., had Friday's best weight, 12-13. DeFoe keyed in on shallow water that "always had current," he said. "That's what makes the area always OK — and sometimes great, and sometimes not."
He said he caught one largemouth on his first cast of the day, but suffered through a dry spell of more than two hours before he boated another keeper. Then a flurry filled his five-fish limit by 11 a.m., but his weight was still slim. In the afternoon, he hooked into three spotted bass back-to-back that clinched his victory over Michael Iaconelli.
"I was breathing a little easier after that, but I didn't quit," said DeFoe, the 2011 Bassmaster Rookie of the Year who beat the Pittsgrove, N.J. pro's 7-13.
Ashley, the 27-year-old pro from Donalds, S.C., who last Sunday won the semi-final round on Lake Jordan, outfished Skeet Reese of Auburn, Calif. It was another contest determined by ounces: Ashley had 7-14 to Reese's 7-1.
"I kind of stumbled today, but I still got the job done," Ashley said.
Like DeFoe, Ashley worked shallow water for his Friday catch. But for Saturday, given the lower water levels he's been seeing, Ashley said he will abandon his pattern and turn to deeper water.
"The shallow water bite is pretty much dead," he said.
Ashley's Saturday opponent will be Evers of Talala, Okla. Evers brought in 9-6, enough to get the better of Aaron Martens of Leeds, Ala. Martens had 8-3.
"Man, that was close," said Evers, who finished in second place on the Alabama River in the 2010 postseason event. "I'm excited, I was really nervous about beating Aaron, he's such a good competitor."
Evers said several of the spots he'd mapped to fish Friday were occupied with other competitors when he got there. That eliminated much of the water he'd hoped would be productive for him.
"You wouldn't think that with eight boats on the water,a that the areas I was counting on would have boats on them," he lamented. But he quickly turned his attention to the next round.
"I've got to get the big bites, somehow, some way," he said.
Come Sunday, one Bassmaster fan virtually paired with the champ will win, too. Through an online sweepstakes, 12 fans were hooked in name only to the 12 pros who started out in Toyota Trucks All-Star Week on Lake Jordan. As the pros were eliminated, so were their fan pairings. The fan whose All-Star pro is the champ will win a Triton 18XS bass boat with a Mercury 150 OptiMax engine. All 12 finalists will win a tackle pack of Berkley and Havoc products.
Toyota Trucks All-Star Week will continue through Sunday. Weigh-ins each day are set for 5 p.m. CT under the Union Station Train Shed in downtown Montgomery. All-Star events are free and open to the public.
Results on the GreatLakesBass.com B.A.S.S. Forum.
2011 Bassmaster Elite Series Official Sponsors: Toyota, Bass Pro Shops, Berkley, Evan Williams Bourbon, Humminbird, Mercury, Minn Kota, Skeeter Boats, Triton Boats, Yamaha
2011 Bassmaster Elite Series Supporting Sponsors: Lowrance, Luck "E" Strike, Nitro Boats, Power-Pole, Ramada
About B.A.S.S.
For more than 40 years, B.A.S.S. has served as the authority on bass fishing. The organization advances the sport through advocacy, outreach and an expansive tournament structure while connecting directly with the passionate community of bass anglers through its Bassmaster media vehicles.
The Bassmaster brand and its multimedia platforms are guided by a mission to serve all fishing fans. Through its industry-leading publications — Bassmaster Magazine and B.A.S.S. Times — comprehensive website Bassmaster.com, ESPN2 and Outdoor Channel television programming, Bassmaster provides rich, leading-edge content true to the lifestyle.
The Bassmaster Tournament Trail includes the Bassmaster Elite Series, Bass Pro Shops Bassmaster Open Series, B.A.S.S. Federation Nation events presented by Yamaha and Skeeter Boats and the ultimate celebration of competitive fishing, the Bassmaster Classic.
B.A.S.S. offers an array of services to its more than 500,000 members and remains focused on issues related to conservation and water access. The organization is headquartered in Celebration, Fla.