Florida's 'Big Show' Scroggins leads at Toyota Trucks All-Star Week
By editor on Jul 24, 2011 | In Bass Tournaments, BASS Elites, BASS, Pro Anglers, KVD

B.A.S.S. News
Terry Big Show Scroggins leads the All-Star Semi-Final field after day one on Lake Jordan. Photo Credit: B.A.S.S./James Overstreet
WETUMPKA, Ala. — Terry Scroggins led the 12-pro Ramada All-Star Semi-Final field on Saturday by 5 ounces, but it was the 5 pounds between first and eighth place that triggered the big smile that's trademark "Big Show."
That's because by Sunday, first place will be as good as eighth place. The top eight will move up into next week's $100,000 winner-take-all postseason finale, the Evan Williams Bourbon All-Star Championship on the Alabama River out of Montgomery. The bottom four anglers will go home, their time at Toyota Trucks All-Star Week over.
"I'm feeling good about this," Scroggins said Saturday after he brought in 12 pounds, 15 ounces, of Lake Jordan bass. "I don't think I have enough to make the (top eight) cut right now without catching anything tomorrow, but I think with 6 or 7 pounds, I should be in pretty easy."
The bubble at eighth place was shared by Skeet Reese and Michael Iaconelli, each with 8-0. After Day One, Jeff Kriet was 10th with 6-12, Steve Kennedy was 11th with 6-3 and Davy Hite was 12th with 1-1.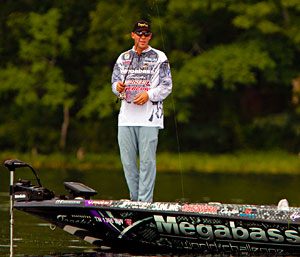 Aaron Martens holds down 2nd place at the All-Star Semi-Final field after day one on Lake Jordan. Photo Credit: B.A.S.S./James Overstreet
Aaron Martens from Leeds, Ala., just off a tournament victory on Lake Mead, turned in another top performance Saturday. He weighed 12-10 for second place. Like Scroggins, he's confident that Saturday's weight, paired with another 6 or 8 pounds, will be enough to make the cut.
"I think I can catch that. I have a good spot with a lot of keepers I was on this afternoon," Martens said.
Martens said he wasn't tired after his 31-hour trek from Nevada to get to the All-Star competition. He said he's physically fit enough to weather loss of sleep, and less than one day of practice on Lake Jordan didn't hurt him.
Ott DeFoe, the 2011 Bassmaster Rookie of the Year, was third with 12-4. Casey Ashley was fourth with 12-1 and Gerald Swindle had 11-9 for fifth.
That's a little too close to the eighth place, Swindle said.
"I think I really need to catch 9 or 10 tomorrow," he said. "You can't let up too much here."
Swindle's day began too slowly for his liking.
"I started out shallow, I really thought I could catch a few big ones on docks, but I just couldn't get any bites," he said. "I fished for an hour and a half and didn't get a bite. I backed out, but those deep fish were small."
Kevin VanDam, winner of last year's postseason event, eked out seventh place with 9-4.
"I don't like where I'm sitting now," VanDam said on stage in front of a Wetumpka crowd that stuck around for 45 minutes to wait out a rainstorm so that the weigh-in could begin. "I just couldn't make it happen today to get the big bites. These Coosa River spots are very selective, fickle and moody."
Scroggins said that the lack of a pull-through current on Lake Jordan kept the weights down Saturday, but he's not depending on current to get his fish. All fell for either a Yum Houdini Worm or XCalibur Zell Pop, he said.
The pro from San Mateo, Fla., known for his laid-back attitude, said he's relaxed about Sunday's competition.
"The neat thing about this is tomorrow's the last day on this lake, so I won't have to save anything," Scroggins said.
Bassmaster.com has more information about Toyota Trucks All-Star Week.
2011 Bassmaster Elite Series Official Sponsors: Toyota, Bass Pro Shops, Berkley, Evan Williams Bourbon, Humminbird, Mercury, Minn Kota, Skeeter Boats, Triton Boats, Yamaha
2011 Bassmaster Elite Series Supporting Sponsors: Lowrance, Luck "E" Strike, Nitro Boats, Power-Pole, Ramada
About B.A.S.S.
For more than 40 years, B.A.S.S. has served as the authority on bass fishing. The organization advances the sport through advocacy, outreach and an expansive tournament structure while connecting directly with the passionate community of bass anglers through its Bassmaster media vehicles.
The Bassmaster brand and its multimedia platforms are guided by a mission to serve all fishing fans. Through its industry-leading publications — Bassmaster Magazine and B.A.S.S. Times — comprehensive website Bassmaster.com, ESPN2 and Outdoor Channel television programming, Bassmaster provides rich, leading-edge content true to the lifestyle.
The Bassmaster Tournament Trail includes the Bassmaster Elite Series, Bass Pro Shops Bassmaster Open Series, B.A.S.S. Federation Nation events presented by Yamaha and Skeeter Boats and the ultimate celebration of competitive fishing, the Bassmaster Classic.
B.A.S.S. offers an array of services to its more than 500,000 members and remains focused on issues related to conservation and water access. The organization is headquartered in Celebration, Fla.