Mercer signs two-year deal to extend role as Bassmaster Elite Series emcee
By editor on Jul 23, 2011 | In BASS Elites, BASS, Bassmaster Classic

B.A.S.S. News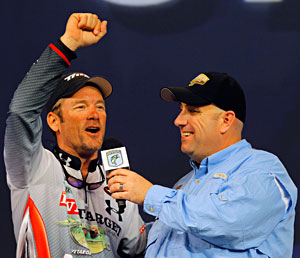 Stephen Browning being interviewed by Bassmaster emcee Dave Mercer during the 2011 Bassmaster Classic. Photo Credit: B.A.S.S. / Seigo Saito
CELEBRATION, Fla. — B.A.S.S. announced today that Dave Mercer will stay on board as Bassmaster Elite Series emcee through 2013.
"There really are no words to express how excited I am about this opportunity. This past season was one of the most rewarding and exhilarating experiences of my career. Not only did I have the opportunity to work with many of my heroes, I quickly learned that the Bassmaster Elite Series pros are not just elite because of what they do on the water. The entire group of anglers, tournament staff, television crew and event sponsors could not have been more welcoming, accommodating, supportive and most importantly, fun to work with," said Mercer.
Everyone has to start somewhere. For Mercer of Toronto, Canada, that "start" happened to be on the largest stage in the industry when the eyes and ears of thousands of fans were on him at the 2011 Bassmaster Classic out of New Orleans this past February.
The Bassmaster Classic may have been the start of his B.A.S.S. career, but Mercer had been no stranger to fishing fans. Mercer entered TV land 16 years ago, then five years ago launched his own show, Facts of Fishing. For him, however, nothing compares to working with the Bassmaster Elite Series pros.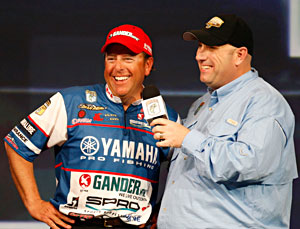 Stephen Browning being interviewed by Bassmaster emcee Dave Mercer during the 2011 Bassmaster Classic. Photo Credit: B.A.S.S. / Gary Tramontina
"This year I had the honor of witnessing and announcing so many amazing angling accomplishments. It's hard for me to imagine what can top this season, but with this group of anglers and the vision of the new B.A.S.S. ownership, I know it's only going to get bigger and better, and I'm thrilled to be a part of it!"
Following his debut at the 2011 Bassmaster Classic, he emceed eight regular-season Bassmaster Elite Series events and will host the final two postseason events.
Mercer's contagious charm, wit and knowledge of the industry have made him a celebrity in the bass fishing community.
"Dave Mercer did a great job at the Bassmaster Classic and Elite Series events for our anglers, sponsors and our fans," said Jerry McKinnis, one of three owners of B.A.S.S. "We are excited that he will be with B.A.S.S. in the coming years."
Mercer's next stop will be in Wetumpka, Ala., this week for the first leg of the Toyota Trucks All-Star Week, the Ramada All-Star Semifinal on July 23-24, and then he'll be in Montgomery, Ala., for the final event of the Bassmaster Elite Series season, the Evan Williams Bourbon All-Star Championship, July 29-31. Each day in Montgomery, the anglers will need to make a cut: Eight will fish Friday; four will fish Saturday; and the final two will go head-to-head Sunday to compete for $100,000.
Fans who won't be in attendance at Toyota Trucks All-Star Week can witness Mercer's dynamic personality and enthusiasm online at Bassmaster.com as he leads the Bassmaster Elite Series Toyota All-Star anglers through the competition.
About B.A.S.S.
For more than 40 years, B.A.S.S. has served as the authority on bass fishing. The organization advances the sport through advocacy, outreach and an expansive tournament structure while connecting directly with the passionate community of bass anglers through its Bassmaster media vehicles.
The Bassmaster brand and its multimedia platforms are guided by a mission to serve all fishing fans. Through its industry-leading publications — Bassmaster Magazine and B.A.S.S. Times — comprehensive website Bassmaster.com, ESPN2 and Outdoor Channel television programming, Bassmaster provides rich, leading-edge content true to the lifestyle.
The Bassmaster Tournament Trail includes the Bassmaster Elite Series, Bass Pro Shops Bassmaster Open Series, B.A.S.S. Federation Nation events presented by Yamaha and Skeeter Boats and the ultimate celebration of competitive fishing, the Bassmaster Classic.
B.A.S.S. offers an array of services to its more than 500,000 members and remains focused on issues related to conservation and water access. The organization is headquartered in Celebration, Fla.