Hope For The Warriors® event part of Bassmaster Elite Series' Toyota Trucks All-Star Week
By editor on Jul 23, 2011 | In BASS Elites, BASS

B.A.S.S. News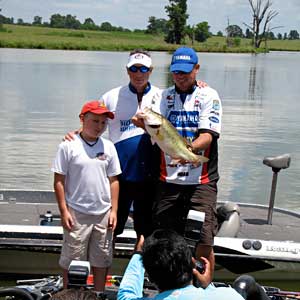 Elite angler Russ Lane fished with CWO4 John Lightsey and they caught this nice largemouth bass during the 2010 event. Photo Credit: B.A.S.S./Anne Woods
MONTGOMERY, Ala. — Six wounded service members sponsored by Hope For The Warriors® have been invited by B.A.S.S. to participate in Toyota Trucks All-Star Week. The wounded heroes will be paired with six Bassmaster Elite Series anglers to fish on a private lake near Montgomery, Ala., Saturday, July 30, 2011. Elite Series anglers participating are Keith Poche of Troy, Ala., Greg Vinson of Wetumpka, Ala., and four anglers eliminated from the All-Star competition. Anglers will be given four hours to fish, and final results will be revealed on the Bassmaster stage.
"I look forward to getting the chance to spend some time with someone that's given me what I have today, and has given me an opportunity to fish and live my dream. I'm very appreciative of them, and I'm thankful for who they are what they've done for this country," Poche said.
In addition to the special competition, the warriors will receive a gift bag provided by Bassmaster Elite Series sponsors, and each combat veteran will also receive a special tournament jersey from Gemini Custom Apparel.
"B.A.S.S. greatly respects these individuals and what they've done for our country," said Don Logan, one of three owners of B.A.S.S. "We're honored to have them participate in this special event, and we hope they enjoy their time on the water with some of the best anglers in the sport."
Hope For The Warriors® (www.hopeforthewarriors.org) is a national, nonprofit organization that supports wounded U.S. service members, their families, and families of the fallen. A group of military wives founded the organization in 2006. They stood together as they witnessed, firsthand, the effects of war on service members and their families. Since that time, Hope For The Warriors® has grown tremendously in the span of programs offered and the number of wounded and family members assisted.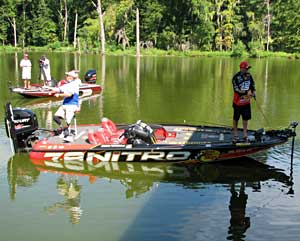 Bassmaster Kevin VanDam fishes with Sgt. 1st Class Jacque Keesler during the 2010 event. Photo Credit: B.A.S.S./Anne Woods
"Last year's event was not just a once in a lifetime opportunity, it was also life-changing for many of our wounded heroes," said Emma Riley, outdoor adventures director, Hope For The Warriors®. "The honor and respect paid to our wounded service members was endless. The anglers, their families, B.A.S.S. fans and the residents of Montgomery all made the week fun, exciting and memorable."
The 2011 Evan Williams Bourbon All-Star Championship is slated for July 29-31 on the Alabama River out of Montgomery, Ala. The All-Star championship will be the final event of the two-leg Elite postseason, in which the eight advancing finalists from the first leg, the Ramada All-Star Semi-Final in Wetumpka (July 23-24), will be seeded in a bracket-style head-to-head tournament. Winner takes all: $100,000.
Daily launches will be at 7:30 a.m. (CT) from Montgomery Riverfront, and weigh-ins will begin at 5 p.m. (CT) at the Union Station train shed.
For more information about the Hope For The Warriors® fishing event, and for a list of other events happening during Toyota Trucks All-Star Week, visit Bassmaster.com.
Warriors fishing:
1. HM2 Dean Carr, USN, (Ret.)         Jacksonville, N.C.
2. Cpl. Bobby Davis, USMC (Ret.)      Mobile, Ala.
3. LCpl. Travis Johnson, USMC (Ret.)  Greenup, Ky.
4. Sgt. Paul Walter, USA (Ret.)       Selden, N.Y.
5. Cpl. Daniel Mullins, USMC          Gainesville, Fla.
6. CWO4 John Lightsey,USA             Atlanta, Ga.
2011 Bassmaster Elite Series Official Sponsors: Toyota, Bass Pro Shops, Berkley, Evan Williams Bourbon, Humminbird, Mercury, Minn Kota, Skeeter Boats, Triton Boats, Yamaha
2011 Bassmaster Elite Series Supporting Sponsors: Lowrance, Luck "E" Strike, Nitro Boats, Power-Pole, Ramada
About B.A.S.S.
For more than 40 years, B.A.S.S. has served as the authority on bass fishing. The organization advances the sport through advocacy, outreach and an expansive tournament structure while connecting directly with the passionate community of bass anglers through its Bassmaster media vehicles.
The Bassmaster brand and its multimedia platforms are guided by a mission to serve all fishing fans. Through its industry-leading publications — Bassmaster Magazine and B.A.S.S. Times — comprehensive website Bassmaster.com, ESPN2 and Outdoor Channel television programming, Bassmaster provides rich, leading-edge content true to the lifestyle.
The Bassmaster Tournament Trail includes the Bassmaster Elite Series, Bass Pro Shops Bassmaster Open Series, B.A.S.S. Federation Nation events presented by Yamaha and Skeeter Boats and the ultimate celebration of competitive fishing, the Bassmaster Classic.
B.A.S.S. offers an array of services to its more than 500,000 members and remains focused on issues related to conservation and water access. The organization is headquartered in Celebration, Fla.