Why KVD could repeat his Bassmaster postseason success on the Alabama River
By editor on Jul 20, 2011 | In Bass Tournaments, BASS Elites, BASS, Pro Anglers, KVD

B.A.S.S. News
And why Evers and Reese would like to stop him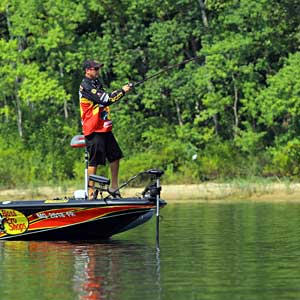 2011 Bassmaster Angler of the Year Kevin VanDam won the postseason tournaments on the Alabama river in 2010 and 2009. Photo Credit: BASS Communications / Seigo Saito
Sports commentators have called Kevin VanDam the "King Kong" of bass anglers. That's how tall he stands as a seven-time Toyota Tundra Bassmaster Angler of the Year and owner of 20 Bassmaster event titles, including four Bassmaster Classics.
He's also the defending champ in the Alabama River leg of Toyota Trucks All-Star Week out of Montgomery, Ala., the July 29-31 Evan Williams Bourbon All-Star Championship. Make that double defending champ: VanDam won the Alabama River competition in both the 2009 and 2010 Bassmaster Elite Series postseasons.
For a third river win, VanDam has several forces working in his favor. Against him are the strong ambitions and talents of 11 other All-Star anglers. Of them, Skeet Reese and Edwin Evers have Angler of the Year bones to pick. Evers was second to VanDam last month for the 2011 title, and also AOY runner-up in 2010 on the Alabama River. Reese lost his points lead to VanDam in the same 2010 contest.
The stage is set for redemption, revenge and world-class fishing.
On VanDam's side is momentum. It was just last month that he won his fourth consecutive and seventh Toyota Tundra Bassmaster Angler of the Year title, the top layer of bread on the season sandwich he started with his 2011 Classic win.
The second and most obvious thing VanDam has going for him is his aforementioned experience on the Alabama River. Specifically, he's shown a knack for patterning the river's bass. After his 2009 postseason win, he told Bassmaster.com:
"After a short time on the water in practice I realized that the fish I needed were feeding on shad and were located over relatively shallow sandbars near islands, cuts, washouts and creeks with some current moving across them. We had a lot of rain last week which caused the water level to fluctuate, so they kept moving from one bar to the next. But they were always feeding on shad, always over sand and always in the current."
In 2010, he won again, not by repeating, but by adapting.
"The water was way down, at least 2 feet. That moved the fish off a ways and concentrated them more than last year," he was quoted by Bassmaster.com in 2010.
Both years, conditions were ripe for use of one of his sharpest weapons, the crankbait.
The third item tipping the scales VanDam's way is the relative inexperience of the postseason field on the Alabama River. Of the 12 in the 2011 postseason field, only Reese, like VanDam, fished both previous postseasons. That gives Reese and VanDam two years of Alabama River postseason history, vs. one year each for Michael Iaconelli, Gerald Swindle, Edwin Evers and Aaron Martens. The other six in the 2011 All-Star field — Ott DeFoe, Steve Kennedy, Jeff Kriet, Terry Scroggins, Casey Ashley and Davy Hite — are new to the postseason, although a few have competed on the river.
Nothing guarantees entrance for any angler into the Alabama River leg of competition. They must make the July 23-24 Lake Jordan cut from 12 to eight anglers.
Those who survive will face a bracketed tournament structure. First they'll be seeded according to their finishes on Jordan. Then all weights will be zeroed. On the first day of Alabama River fishing, the No. 8 seed will face the No. 1 seed. The other pairings will be Nos. 3 vs. 6, Nos. 2 vs. 7, and Nos. 4 against 5.
Weights again zeroed, Day Two will shave down into two battles: the winners of Day One's 1-8 and 3-6 will go up against each other, as will the winners of the previous day's 2-7 and 4-5 pairings.
By Day 3, only two anglers will still be standing. The victor will be the 2011 Toyota Trucks All-Star Week Champion and claim the $100,000 winner-take-all purse.
Fans are invited to experience the unique July 29-31 Evan Williams Bourbon All-Star Championship in Montgomery. The anglers will launch at 7:30 a.m. CT at the Montgomery Riverfront. Weigh-ins will begin at 5 p.m. CT at Union Station under the train shed, 300 Water St., in downtown Montgomery.
After the Saturday weigh-in, Darryl Worley will perform. Easton Corbin will play July 31. Both are free concerts. Many other fan activities are planned for the weekend. A full list is available at Bassmaster.com.
Toyota Trucks All-Star Week Roster
The first eight anglers listed qualified for the event by being the top points earners of the regular Bassmaster Elite Series season. The final four were voted into the event by Bassmaster fans.
1.  Kevin VanDam       Kalamazoo, Mich.
2.  Edwin Evers        Talala, Okla.
3.  Gerald Swindle     Warrior, Ala.
4.  Ott DeFoe          Knoxville, Tenn.
5.  Steve Kennedy      Auburn, Ala.
6.  Terry Scroggins    San Mateo, Fla.
7.  Casey Ashley       Donalds, S.C.
8.  Davy Hite          Ninety Six, S.C.
9.  Michael Iaconelli  Pittsgrove, N.J.
10. Aaron Martens      Leeds, Ala.
11. Jeff Kriet         Ardmore, Okla.
12. Skeet Reese        Auburn, Calif.
By state:
Alabama:
  Steve Kennedy, Auburn
  Aaron Martens, Leeds
  Gerald Swindle, Warrior
California:
  Skeet Reese, Auburn
Florida:
  Terry Scroggins, San Mateo
Michigan:
  Kevin VanDam, Kalamazoo
New Jersey:
  Michael Iaconelli, Pittsgrove
Oklahoma:
  Edwin Evers, Talala
  Jeff Kriet, Ardmore
South Carolina:
  Casey Ashley, Donalds
  Davy Hite, Ninety Six
Tennessee:
  Ott DeFoe, Knoxville
Pages: 1· 2