Olsen & Olsen take Top Spot!
By editor on Jul 20, 2011 | In Bass Tournaments, NBAA

NBAA News
2011 Tracker Marine Owners Event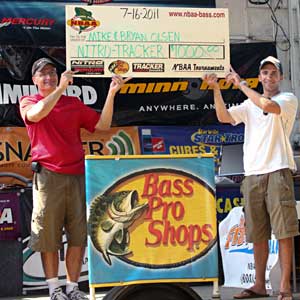 Mike and Bryan Olsen won the 2011 Tracker Marine Owners Event on Lake St. Clair with 21.90 pounds of smallmouth bass. Photo Credit: NBAA
The 2011 Tracker Marine Owners Event was a big success. Everything started the night before at the Auburn Hills Bass Pro Shops. All anglers that attended this special meeting received some great items to kick off their owners event experience. The anglers received in their gift bag a Bass Pro Shops coffee mug, key chain, t-shirt, candy, 15% off discount card, and a $20 gift card to Bass Pro Shops. This bag of items was valued at nearly $50. Needless to say, everyone did some shopping after the meeting.
Following the next day, it was time to get fishing. Anglers from Michigan, Ohio and Illinois came out to fish in the inaugural event on Lake St Clair. The weather was fantastic and the fish were biting. The top spot of the day went to the duo of Mike and Bryan Olsen. Mike and Bryan brought in a whopping 21.90 lbs to the scales to take home first place plaques and $1000.
Second place went to the team of Justin Sessink and Jessica Henrich. Justin and Jessica weighed in an impressive 20.17 lbs. Their big fish went 5.73 lbs and was large enough to take Big Bass honors of the event. Their total winnings topped $650.00.
Rounding out the top 3 was the team of John Maniaci and Darren Lear. John and Darren weighed in 19.89 lbs. The top finishing Tracker Team was the team of Bryan Conant and John Brawley. For their finish and being the top team fishing out of a Tracker Boat they earned a couple of fishing rods from WFN.
After the weigh in the anglers were treated to a special raffle. Prizes were available from several major sponsors including Bass Pro Shops, Aqua- Edge batteries, WFN, Minn Kota, Lazer Sharp, Tro-kar, Lucky Craft, Please Release Me, Star brite, National Angler, Intruder, Auto Value Part Stores, Power Pole, Humminbird & Gamma Line. In total, well over $3000 in cash and prizes were handed out at this special event.
NBAA would like to thank the staff at the Auburn Hill Bass Pro Shops for helping make this such a special event. They'd also like to thank all of the anglers for coming out and fishing in the first annual Tracker Marine Owners tournament. NBAA is already looking forward to another great Tracker Marine Owners event in 2012.