12 lucky fans are All-Star finalists
By editor on Jul 20, 2011 | In Bass Tournaments, BASS Elites, BASS, Pro Anglers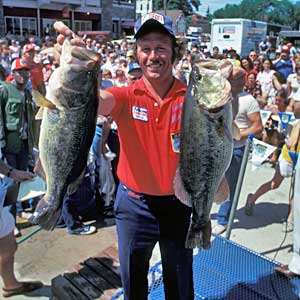 Bassmaster Tommy Martin helped College B.A.S.S. 2012 Bassmaster Classic qualifier Andrew Upshaw become a better tournament angler. Photo Credit: B.A.S.S.
Martin passes it forward: Tommy Martin, winner of the 1974 Bassmaster Classic, taught newest Classic qualifier Andrew Upshaw much of what he knows about competitive bass fishing.
Upshaw learned so much from Martin that the young angler brought up Martin's name in the first hours after winning his 2012 Bassmaster Classic berth. Upshaw qualified for the Classic just last week in the finale of the College B.A.S.S. circuit, claiming the first Classic entry for a collegiate-level angler.
"He taught me technique, but also my mental game," said Upshaw, whose lives in Hemphill, Texas, the same town Martin calls home. "He taught me the importance of being a humble person, to let my fishing do the talking."
Later, after being told what Upshaw said, Martin was happy to hear his student had listened so well.
"He's a great kid, and I didn't want him to fall into becoming overconfident, what young kids often do," Martin said. "At home here, he beats the older guys. I told him, 'Andrew, old men do not like to get beat by kids, so you have to be humble when you beat them — in other words, don't rub it in.'
"It's the same in any sport: the good players don't brag; they let their playing do the talking for them."
The two met through Upshaw's father, a high school football coach who had Martin's son on his team. Coach Upshaw helped him apply for a football scholarship to Sam Houston State College, according to Martin.
"Andrew's father was instrumental in helping my son, who went on to be an All-American," he said.
Martin said he was among the first people to take Upshaw fishing, but was just one of many people who influenced the young angler.
"I taught him as much as I could over the years," he said. "I understand that the college competition came down to the wire, and I hope he remembered something else I always told him."
That advice? "You can't ever quit. A lot of things can happen in the last five minutes."
Martin usually can be found these days guiding on Falcon Lake, Sam Rayburn, Toledo Bend or other Texas lakes near his home in Hemphill. He returned to Bassmaster competition this season in the Bass Pro Shops Bassmaster Central Open circuit. He is scheduled to compete July 31 in Bassmaster Legends, an event held in conjunction with Toyota Trucks All-Star Week.
Ashley says 'Bring it on': "I'm looking forward to these events. I've never been to either one of these bodies of water we're going to. It's going to be very hot, and tough fishing, and that's my style — junk fishing. Bring it on, I like it." — Bassmaster Elite Series pro Casey Ashley of Donalds, S.C., on the July 23-31 Toyota Trucks All-Star Week in Alabama. Ashley made the comment during Tommy Sanders' new Bassmaster.com show, The Livewell.
About B.A.S.S.
For more than 40 years, B.A.S.S. has served as the authority on bass fishing. The organization advances the sport through advocacy, outreach and an expansive tournament structure while connecting directly with the passionate community of bass anglers through its Bassmaster media vehicles.
The Bassmaster brand and its multimedia platforms are guided by a mission to serve all fishing fans. Through its industry-leading publications — Bassmaster Magazine and B.A.S.S. Times — comprehensive website Bassmaster.com, ESPN2 and Outdoor Channel television programming, Bassmaster provides rich, leading-edge content true to the lifestyle.
The Bassmaster Tournament Trail includes the Bassmaster Elite Series, Bass Pro Shops Bassmaster Open Series, B.A.S.S. Federation Nation events presented by Yamaha and Skeeter Boats and the ultimate celebration of competitive fishing, the Bassmaster Classic.
B.A.S.S. offers an array of services to its more than 500,000 members and remains focused on issues related to conservation and water access. The organization is headquartered in Celebration, Fla.
Pages: 1· 2