12 lucky fans are All-Star finalists
By editor on Jul 20, 2011 | In Bass Tournaments, BASS Elites, BASS, Pro Anglers

B.A.S.S. News
B.A.S.S. Reporter's Notebook: 12 lucky fans are All-Star finalists; Martens stacks back-to-backs; Murray weighs in on the Alabama River; Martin passes it forward; and … Ashley says 'Bring it on'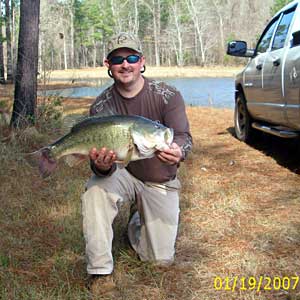 B.A.S.S. All-Star Week fan finalist Brian Fuller was virtually matched with defending champ Kevin VanDam. Photo Credit: B.A.S.S.
12 lucky fans are All-Star finalists: One dozen Bassmaster fans are now virtually paired with the 12 pros in the Bassmaster Elite Series Toyota Trucks All-Star Week.
One of those 12 fans will score a $30,000 bass boat, a Triton 18XS with a Mercury 150 OptiMax engine. The winning fan will be the one whose pro partner wins the July 23-31 All-Star event. But just by winning the sweepstakes to become a finalist, all 12 fans will receive a tackle pack from Berkley and Havoc and a replica fishing jersey of the pro who they're paired with.
The 12 fans and their pro pairings are:
• Tom Shoe of Star, N.C., paired with Skeet Reese
• Sean Graves of Spofford, N.H., paired with Edwin Evers
• Shane Martin of Lindstrom, Minn., paired with Terry Scroggins
• Steven McClendon of Nevada, Texas, paired with Jeff Kriet
• David Williams of Sulphur, La., paired with Michael Iaconelli
• Jason Carroll of Dubuque, Iowa, paired with Davy Hite
• John Bragg of Birmingham, Ala., paired with Casey Ashley
• Cynthia Bryan of Farmerville, La., paired with Ott DeFoe
• Brian Fuller of Prattville, Ala., paired with Kevin VanDam
• Eric Almy of West Chester, Ohio, paired with Steve Kennedy
• Robert Agee of Kingwood, Texas, paired with Gerald Swindle
• Tom Toth of Yalaha, Fla., paired with Aaron Martens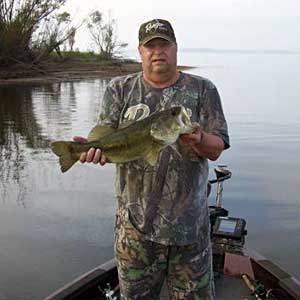 B.A.S.S. All-Star Week fan finalist Robert Agee was virtually matched with 2011 Angler of the Year runner-up Gerald Swindle. Photo Credit: B.A.S.S.
The pairings are virtual. Fans don't actually compete with or against anyone. They're likely to be watching closely, though, because they win only if their pro wins.
The All-Star pros get started July 23-24 on Alabama's Lake Jordan out of Wetumpka, Ala. Only eight will survive the cut and move to the Alabama River for three final days of bracketed elimination fishing July 29-31 out of Montgomery, Ala. On July 31, the winner will take home the entire purse of $100,000 while his virtual fan partner will collect the Triton-Mercury rig.
Martens stacks back-to-backs: Aaron Martens has some hard travel in front of him to reach Alabama in time to get in some practice on Lake Jordan, fishery for the first leg of Toyota Trucks All-Star Week.
All 12 competitors are allowed two days of practice on Jordan before the event begins July 23. But Martens is in Nevada competing in the July 18-20 WON Bass event on Lake Mead.
According to the organization's reports, Martens, a two-time past winner of the event, led after the first day.
Martens now lives in Leeds, Ala., but he was raised in California and on Western fisheries.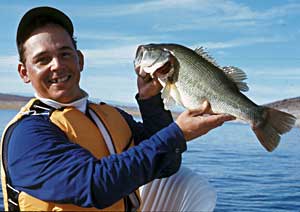 Retired Bassmaster Bobby Murray won the first Bassmaster Classic in 1971 on Lake Mead. Photo Credit: B.A.S.S.
Murray weighs in on the Alabama River: Two-time Bassmaster Classic champ Bobby Murray says the Alabama River will be a hard nut to crack.
Actually, he goes even further on that point. Few fisheries, said Murray, have ever given him such a hard time as the Alabama River did in the 1981 Classic.
"The Alabama River sent me into retirement," added Murray, laughing. "It's not really the reason I retired from competition — I had other business opportunities I wanted to pursue back then — but the Alabama River was my last Bassmaster event."
For the record, Murray finished 22nd in a field of 41 in the 1981 Classic. His two wins were the first Classic, in 1971 on Lake Mead, and again in 1978 on Mississippi's Ross Barnet Reservoir.
He said that from what he hears these days, the pros in the July 29-31 Evan Williams Bourbon All-Star Championship portion of Toyota Trucks All-Star Week will have to work hard to beat the Alabama.
"It's probably one of the very toughest fisheries in Alabama," Murray said. "There are plenty of fish there, of course, but I know a river like that can get the better of you quickly."
Brought up on deep, clear lakes, Murray said most rivers have too many miles of similar shoreline structure to suit him.
"And river fish concentrate. In 20 miles of river, you'll have three or four places with any fish on them," he said.
Murray, forever famous as winner of the first Classic, well remembers his triumph in 1971, "back before there was any money in it."
In that first Classic, 24 anglers competed, and the stakes were winner-take-all — "all of $10,000," Murray said.
The All-Star prize is also winner-take-all, but the amount is 10 times Murray's first Classic prize.
Murray is scheduled to be back in Alabama next week for the Bassmaster Legends event, a one-day team competition in conjunction with All-Star Week. Lucky for him, he won't be fishing the Alabama River. The Legends anglers will be far away, on a private lake outside of Montgomery. His teammate will be Guido Hibdon. They'll try to beat the other teams of Bill Dance and Jerry McKinnis, Tommy Martin and Rick Clunn, and Ken Cook and Guy Eaker.
Legends competitors will appear July 31 on the Bassmaster stage. One Legends team will claim first prize: a trophy and bragging rights.
Pages: 1· 2