Schmitz on top at Detroit
By editor on Jul 15, 2011 | In Bass Tournaments, FLW Outdoors, Everstart Series, Central

FLW Outdoors News by David A. Brown
Prebeck leads EverStart Central co-anglers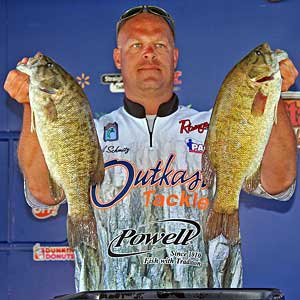 Pro leader Todd Schmitz found a big school of unmolested fish and exploited his gold mine for a big day-two bag. Photo Credit: David A. Brown
TRENTON, Mich. – The day got off to a dicey start for EverStart Central Division anglers on the Detroit River, but once the weather stabilized, area waters produced a round of fishing action that overshadowed yesterday's impressive opening round.
Day two dawned with a fiercely intense sunrise, but low-hanging clouds closed in and dimmed the skies as a rain storm moved through the area. Some areas of the Lake St. Clair-Lake Erie region saw showers, while other parts dodged the wet stuff.
The dim conditions deprived some anglers of early bites, as their fish seemed less active in the low light. However, skies started clearing by mid morning and competitors enjoyed a day that exemplified the bass machine that is the Detroit River region. Both pro and co-angler divisions exceeded their day-one stats in limits, number of fish caught and total weight.
On the pro side, Todd Schmitz, of Goshen, Ind. made a big move from seventh to first by sacking up the event's heaviest bag – a 23-pound, 2-ounce limit that lifted his two-day total to 42-12 and gave him a lead of 4-4.
Schmitz, whose co-angler Mark Myers weighed his division's only sack of 20-plus pounds, returned to an area he had fished on day one and found the residents ready to cooperate. He had located the area in practice, but he was unaware of the spot's potential until today.
"I caught a good one there yesterday and my (day-one) co-angler caught two, so we started there today and it was on," Schmitz said. "It was all good ones."
Schmitz described the spot as a large grassy area of about 300 yards in four feet of water in Lake St. Clair. He threw a green pumpkin Outkast tube on a 3/8-ounce head and a chartreuse Strike King KVD spinnerbait with gold willow blades.
"I started with the spinnerbait and when my co-angler started beating me really bad (with plastics), I switched," Schmitz said.
Most of his keepers came in the morning, but Schmitz said he bagged one of his key fish around midday. The key to his success, he said, was locating a group of untouched fish. With the majority of the field choosing St. Clair over a much larger Lake Erie to the south, key areas quickly became overrun and many anglers struggled to get to the spots they wanted to fish.
"I think location was the key," he said. "There's just a big school of fish there and I'm the only one who found them and I'm the only one who fished for them for two days."
Schmitz said he'll fish St. Clair again in Saturday's final round, but he's not sure if his key spot will remain viable – especially after pulling eight keepers from this area today.
"I hit 'em pretty hard," Schmitz said. "I wanted to make sure I made the cut.
Modrak makes big move to second
His was the biggest day-two move among the top-10 finalists and for Mark Modrak, of China Township, Michigan, catching the day's second heaviest bag (20-15) and improving from 15th place to second with 38-8 depended on a dynamic approach system with a trio of baits. He fished a Strike King Series 5 crankbait, a dropshot with Berkley 3-inch Fry and Lunch Money tubes with ¼- to 5/16-ounce KMR leadheads.
"I'd catch a couple of fish on one and when they'd shut down, I'd switch up and just kept rotating around," he said. "I caught (weight fish) on every one of those baits. My co-angler was trying to keep up with me, but it wasn't happening."
Modrak found his fish on a little gravel bar in the St. Clair River. "It's shallow, but the fish are there because of the river current. I went to the same spot yesterday, I caught almost 18 pounds and I left. I didn't stay because I figured if I could catch 18 a day, I should be able to make the cut.
"I spent about an hour and a half there and I caught a couple small fish. Once I weeded them out, the big ones started biting.
Rhode can't find kicker, slips to third
Day one leader Jared Rhode, of Port Clinton, Ohio kept the rod bent for much of the day, but his was a story of quantity over quality. After posting 21 pounds, 7 ounces yesterday, Rhode added a solid 17 pound limit today and yielded two spots to settle in third place with 38-7.
"I caught more fish than I did yesterday," he said. "Yesterday, I got lucky and caught two really big ones and a heavy 4, but today I just didn't get a big bite. I lost one fish that may have helped. I caught almost everything that bit, but just no big bites."
Targeting rock flats in Lake Erie, Rhode fished a tube and a dropshot with Berkley Gulp minnows.
"I'd use my dropshot for a while and if I'd catch one or two and I could still mark them, I'd use a heavy tube with a ¾- or 1-ounce weight and crack it or snap it off the bottom. It was a reaction bite – sometimes that would trigger one or two more fish. That wouldn't hit the dropshot."
Slow start drops Trombly to fourth
After placing second on day one, Michael Trombly, of Perrysburg, Ohio stayed with his day-one tactic of snapping a Mike's Rx Tube over rocks in Lake St. Clair, but his morning began slowly and he found himself with an empty well at 9:15. Trombly eventually found five bites and put all five in the boat. With that limit of 16-4, he slipped to fourth place at 37-15.
"One thing that happened that I think was significant was that we had a storm approach us," he said. "It never did rain on us, but anytime you're on St. Clair and you don't have that bright sunshine, it knocks that bite down.
"I slowed it down a little bit. I had been fishing fast and once I slowed down on a couple of key pieces of structure, I got bites."
In fifth place, Skip Johnson, of Goodells, Mich. caught 17-8 and moved up two spots with a two-day total of 37-15. Targeting St. Clair rock piles in 12-15 feet, he fished a Nemesis Sicko worm on a flick shake head. When that bite died around 10 a.m. he ran up to Port Huron at the upper end of the St. Clair River and finished his bag with Strike King jerkbait.
Best of the rest
Rounding out the top-10 pro leaders at the EverStart Series Detroit River event:
6th: Travis Fox, of Rogers, Ark., 37-11
7th: Todd Steele, of Port Huron, Mich., 37-5
8th: Randy Ramsey, of Battle Creek, Mich., 37-2
9th: Scott Dobson, of Clarkston, Mich., 36-12
10th: Wade Hendricks, of Thompsons Station, Tenn., 36-12
Bart Schutz earned the Snickers Big Bass prize for his 5-12.
Persistent tubing put Prebeck in the co-angler lead
Robert Prebeck, of Norwood, Mo. improved from sixth place to first on the strength of his day-two limit that went 18-1. Added to his 17-11 from day one, he took over the co-angler lead with 35-12.
Today, Prebeck used an avacodo tube with a slim profile was the key to his strategy of working in and out of the grass. With smallies patrolling the vegetation in search of food, plastics exiting the grass mimic fleeing baitfish and the bronze predators are quick to react.
"That slimline tube goes through the grass a lot better than a bulky one does," he said. "When you get to a couple of scattered clumps of grass, you'd pull it through those clumps and they'd nail it."
Mark Myers, of Cedar Falls, Iowa placed second with 35-6, while Arnold Payne Jr. of Noblesville, Ind. took third with 34-8. Derek Raider, of Lexington, Ky. was fourth with 32-13 and Chris Reiger, of Clinton Township, Mich. finished fifth at 32-11.
Best of the rest
Rounding out the top-10 co-angler leaders at the EverStart Series Detroit River event:
6th: Tony Grindstaff, of Toledo, Ohio, 31-14
7th: Spencer Mussio, of Belle River, Ont., 31-9
8th: John Miller, of Clay, Mich., 31-8
9th: Gary Emery, of Eastpointe, Mich., 31-2
10th: Brian Somrek, of Calvert City, Ky., 30-6
Snickers Big Bass went to Robert Derr, who caught a smallmouth that went 5-7.
Day three of EverStart Series Central Division action on the Detroit River continues at Saturday's takeoff, scheduled to take place at 6:00 a.m. (Central) at Elizabeth Park Marina located at 202 Grosse Isle Parkway in Trenton, Mich.