Rhode rides to EverStart lead on the Detroit River
By editor on Jul 15, 2011 | In Bass Tournaments, FLW Outdoors, Everstart Series, Central
FLW Outdoors News by David A. Brown
Hasty tops co-angler field at Detroit River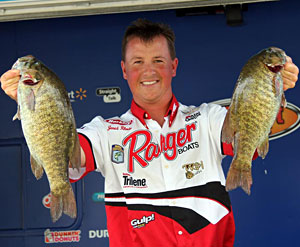 Although he ended up fishing shallower than he prefers, Jared Rhode put together the leading bag on day one. Photo Credit: David A. Brown
TRENTON, Mich. – Wind and waves presented challenging conditions for anglers fishing EverStart Central Division tournament on the Detroit River, but it's hard to suppress the double-dose of smallmouth paradise found in lakes St. Clair and Erie.
Located at the river's south end, Erie's massive size avails itself predictably to big waves and the 6- to 7-footers several weary boaters reported are simply no fun. St. Clair, which sits at the north end of the Detroit River, nestled between Detroit and Windsor, Ontario, frequently offers a welcome respite from an inhospitable Erie. However, today found this smaller lake in a snotty mood and anglers who ran its open water took a pounding in the process.
The good news is that the lakes' resident bass bite right through all that rough water stuff, so those who could reach their spots would catch fish. Apparently, the majority of boats did make it to productive locations, as solid two-plus hours of weigh-ins saw 101 pros and 70 co-anglers sacking up limits. Six pros broke 20 pounds and 15 pound bags went all the way to 50th place. Twenty-three co-anglers caught at least 15 pounds.
Indeed, it was an impressive parade of fat smallmouth with each division producing fish nearing the 6-pound mark. Even the green fish made a showing, with a 4-pound largemouth representing among his brown brethren.
Topping the pro division, Jared Rhode, of Port Clinton, Ohio weighed 21 pounds, 7 ounces. Targeting mostly rock flats in Erie, he caught his fish on tubes and dropshots. Rhode said he was surprised by where he ended up catching his fish.
"I like to fish deep – and I mean 25 feet-plus – but I caught my fish shallow," he said. "I caught my fish in 10-16 feet of water and then I went and looked deep, but I couldn't catch them. It's kind of deceiving. I had a big bag, but I only caught 10 fish."
There was a really weird current where I was fishing. The wind was coming from one direction and the current was coming from the other direction. I think that was why the bite was slow and I didn't catch the numbers. But the right ones were there."
Rhode said he was mostly drifting across large areas and using his trolling motor to investigate particular rock formations. His catches were spread throughout the day.
"I'd just pull up and mark a few fish on my graph, let the boat drift around aimlessly, drop it to them and they'd bite it," Rhode said. "I had one spot where I caught four in about 15 minutes around 10 o'clock, but I don't think it's a time of day thing."
Tubing takes Trombly to second
Snapping tubes in Lake St. Clair proved productive for second-place pro Michael Trombly. Snapping a Mike's Rx Tube was the deal and doing so produced a second-place bag of 21-1.
Trombly fished in about 16 feet of water and varied his tube jigs from 3/8- to ½-ounce based on depth. Smoke purple and light melon were the top colors. Trombly focused his efforts on weed beds in Lake St. Clair.
"I had fish going in both lakes, but I felt like I had a better chance to win in St. Clair," he said. "I didn't feel like I had that in Erie. I could catch a good bag, but I felt like my chances were best by going north."
Trombly said he tried to position his boat so he could cast up-current and bring his bait downstream in a natural presentation. His action started early and remained steady.
"I caught one as soon as I got to my first spot and then the bites pretty much came throughout the day. My co-angler caught his last fish on his last cast of the day. We just had to grind them out."
Blasey, Johnson tied for third
Ralph Blasey, of Pinckney, Mich. and Skip Johnson, of Goodells, Mich. shared the No. 3 spot with equal weights of 20-7.
Drawing upon the lessons of a recent disappointment, Blasey spent his day in Lake St. Claire and caught from two feet out to 19. Slowly dragging tubes was his most productive tactic. He used a mix of crawfish and perch colors.
"I struggled out here last Saturday in the BFL tournament and got a humbling experience – the worst I've ever done," he said. "I went back to some fish that I didn't touch and they were there. I also went back to where I couldn't get them to bite on Saturday and they were biting (today)."
Fishing structure in 15-17 feet on Lake St. Clair, Johnson got his fish by patiently staking out a key area and picking off fish on a dropshot baited with a pearl jerk shad.
"I had caught all my fish on one spot," he said. "I just waited them out. They were coming through in waves and when I'd get them, I'd get them two or three at a time, and then wait another hour. It was sporadic throughout the day. I'd get a bite about every hour or two."
Dobson mixes it up for fifth
Scott Dobson, of Clarkston, Mich. took fifth place with 20-5. He drew upon his 15 years of St. Clair experience and caught fish on a dropshot, tube, jerkbait and a Tiny Tim Taboo swimbait. His day varied from sight fishing in two feet of water to offshore in 16 feet.
"Fishing was pretty good this morning," he said. "I caught a lot of little ones and then just slowly and methodically started upgrading to a decent bag. The fish were biting kind of funny today and I missed a lot of fish, so I started focusing on the dropshot for the subtle bite."
Gary Isgrigg, of Mt. Washington, Ky. earned the Snickers Big Bass award for his 5-pound, 11-ounce bass.
Best of the rest
Rounding out the top-10 pro leaders at the EverStart Series Detroit River event:
6th: Chad Pipkens, of Holt, Minn., 20-4
7th: Todd Schmitz, of Goshen, Ind., 19-10
8th: Matthew Malmquist, of White Lake, Mich., 19-6
9th: Randy Haynes, of Counce, Tenn., 18-3
10th: Tommy Williams, of Shepherdsville, Ky., 18-2
Hasty gets the drop on co-angler lead
He was the last competitor to weigh, but Chuck Hasty, of Toledo, Ohio took first place in the co-angler division with a limit catch of 19-14. Hasty said he dropshotted a goby and caught most of his fish over weed beds in about 18 feet of water.
"It was windy and rough, but there was a lot of fish there and we had a good time,"
Pages: 1· 2