Hemphill, Texas' Upshaw earns Classic berth
By editor on Jul 14, 2011 | In Bass Tournaments, BASS, Bassmaster Classic, College BASS

B.A.S.S. News
SFA teammates battle to a photo finish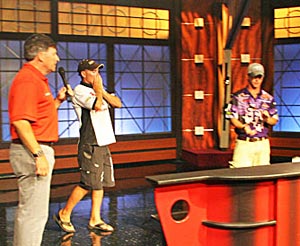 College bass angler Andrew Upshaw won the 2011 Mercury College B.A.S.S. national championship and a spot in the 2012 Bassmaster Classic in a fishoff against partner Ryan Watkins. Photo Credit: B.A.S.S./Mike Suchan
LITTLE ROCK, Ark. — If a college angler is going to be in the Bassmaster Classic, he should pass a grueling test to earn that right. The Mercury College B.A.S.S. National Championship proved to be all that.
Stephen F. Austin teammates Andrew Upshaw and Ryan Watkins passed the first three tests working in tandem — on first the Arkansas River, then Lake Maumelle and finally Beaver Fork Lake — in winning the national title Saturday.
But Sunday proved the toughest of the four-day event. Not only did the teammates compete against each other for the 2012 Bassmaster Classic berth, they did it on one of the toughest tournament days of their lives. A private reservoir near Little Rock was so difficult that with 12 minutes left to fish, Upshaw didn't have one 12-inch bass in the boat.
Finally, he caught a 12-inch fish that fell off his crankbait as he swung it in the boat, hit the gunnel and, instead of bouncing back into the lake, caromed into the console well where Upshaw grabbed it. On his next cast with a Norman Deep Little N, he caught a bass in the 2-pound range.
Then, with both Upshaw and Watkins having two fish in the livewells of identically rigged Bass Pro Shops Nitro Z-9 boats, it was time to go to the weigh-in. Six hours of fishing appeared to have produced a dead heat — "heat" being the enduring word on this 100-degree day.
Watkins weighed first, and the scale stopped at 2 pounds, 10 ounces. Upshaw weighed second, registering 3 pounds, 5 ounces.
"I had lost it (his composure) by noon," Upshaw said. "I knew Ryan had to have a limit. I know how good a fisherman he is. It was like fishing against Kevin VanDam for me."
Watkins caught his two bass around 9:30 a.m. on a Strike King KVD 2.5 bluegill colored crankbait.
Otherwise a lake that holds numerous bass in the 8- to 10-pound range proved unsolvable for the two anglers who had excelled the three previous days on three entirely different bodies of water.
"I left my whole heart out there on that lake," said Watkins, who is from Rockport, Texas, where his father, two uncles, a grandfather and a brother are in the charter boat fishing business. "Andrew is a great fisherman, and he got my best today."
Upshaw, who is from Hemphill, Texas, and lives on Toledo Bend, has dreamed of being a professional bass fisherman for many years.
"When I was in high school, I said I was going to fish professionally and people laughed at me," Upshaw recalled. "I just didn't pay any attention to that.
"I want to go to the Bassmaster Classic and win it. I don't want a Top 10 (finish) or a Top 20 finish. I want to win it."
That's a bold and seemingly unrealistic prediction for a 24-year-old who will be competing against the best professionals in the world at the 2012 Bassmaster Classic out of Shreveport-Bossier City, La. But it should be noted that Upshaw has competed in several high-level fishing circuits, including the Bass Pro Shops Bassmaster Opens, and held his own. And Upshaw has spent many days in the Red River/Louisiana Delta area where the Classic will be held.
Most importantly, Upshaw won't have to compete one-on-one against his best friend in the Classic, like he did Sunday.
For more information about the Mercury College B.A.S.S. National Championship, go to www.bassmaster.com.
2011 Mercury College B.A.S.S. Official Sponsor: Bass Pro Shops
About B.A.S.S.
For more than 40 years, B.A.S.S. has served as the authority on bass fishing. The organization advances the sport through advocacy, outreach and an expansive tournament structure while connecting directly with the passionate community of bass anglers through its Bassmaster media vehicles.
The Bassmaster brand and its multimedia platforms are guided by a mission to serve all fishing fans. Through its industry-leading publications — Bassmaster Magazine and B.A.S.S. Times — comprehensive website Bassmaster.com, ESPN2 and Outdoor Channel television programming, Bassmaster provides rich, leading-edge content true to the lifestyle.
The Bassmaster Tournament Trail includes the Bassmaster Elite Series, Bass Pro Shops Bassmaster Open Series, B.A.S.S. Federation Nation events presented by Yamaha and Skeeter Boats and the ultimate celebration of competitive fishing, the Bassmaster Classic.
B.A.S.S. offers an array of services to its more than 500,000 members and remains focused on issues related to conservation and water access. The organization is headquartered in Celebration, Fla.