Rookie tales, Text of friendship
By editor on Jul 14, 2011 | In BASS Elites, BASS, Pro Anglers, KVD

B.A.S.S. News
B.A.S.S. Reporter's Notebook: Rookie tales; Text of friendship; July 13 announcement; Elite pros back new company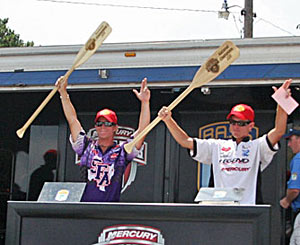 Andrew Upshaw and Ryan Watkins on stage after winning the 2011 College B.A.S.S. national championship before Andrew beat Ryan in the final fishoff for a Classic berth. Photo Credit: B.A.S.S./Mike Suchan
Rookie tales: The two newest Bassmaster Classic rookies could hardly be more different from each other.
One, Andrew Upshaw, is 24 years old, just out of college and living in Hemphill, Texas, working an office job. The other, Kelly Pratt, is a 52-year-old veteran tournament angler and landscape professional from Williamsburg, Va.
Yet the two have several things in common, not the least of which is qualifying on the same weekend for the 2012 Bassmaster Classic albeit via different routes. And both have been thrust suddenly into the limelight, both love to catch a bass, and both were taught early in their lives how to be competitive.
That last-mentioned trait will come in handy when they go up against some of the world's best anglers in the Feb. 24-26 Bassmaster Classic on the Red River out of Shreveport-Bossier City, La., for a $500,000 first-place prize.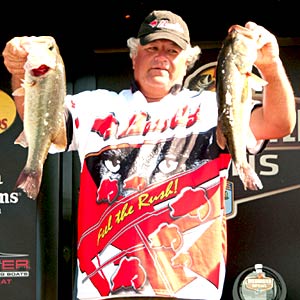 Kelly Pratt earned his 2012 Bassmaster Classic spot by winning the first 2011 Bassmaster Northern Open on the James River. Photo Credit: B.A.S.S./Adam Harbottle
Upshaw won his Classic berth July 10 through the Mercury College B.A.S.S. tour. Pratt landed a Classic spot July 9 by winning the Bass Pro Shops Bassmaster Northern Open on the James River out of Richmond, Va.
"I was always taught that first was better than second," Pratt said.
Like any other 2011 Open winner, Pratt will have to compete in all Opens in his division before his Classic prize will be awarded. He sees no reason he won't turn up for both tournaments. He pre-registered for the Northern's two remaining events; as a business owner, he is master of his work hours.
He said he'll fish just as hard at the other Opens as he did on the James River to claim the Classic seat.
So in all probability, he'll take up his role as Classic rookie come February. "Rookie" is the tag applied to any first-timer, but it's an especially unlikely description for such a veteran angler who describes himself as "born and raised with my feet in the water."
That was a reference to how he learned his fishing basics from his father. They fished from various river banks around his Virginia home, including the James. He didn't get into tournament fishing until he was about 20 years old, when a friend invited him to share his boat to fish an event.
He soon was hooked. He said that over the years he has won about 100 events on the James River. He's traveled "a little bit of everywhere" to try his hand at other fisheries in the eastern U.S. He fished the Bassmaster Opens in 2002-2003, a few Toyota Tundra Bassmaster Weekend Series operated by American Bass Anglers events, some FLW tournaments and many local tournaments.
The past few years, he didn't travel much because he wanted to stay near home and his ailing mother, who had suffered a stroke. After she died in the summer of 2010, Pratt could once again consider travel to tournaments.
"It was my time to get back to the Opens," he said. "With the first Northern Open on the James, it was also the right place."
As the record proves, he won the first event of his "comeback" season.
Like Pratt, Upshaw got into competitive bass fishing relatively late in life. Now 24, Upshaw was about 15 when he entered his first bass tournament. His fishing mentor was none other than 1974 Bassmaster Classic champ Tommy Martin, also from Hemphill. They met through Upshaw's father, a high school coach who at one time had Martin's son on his football team.
"Tommy Martin was the first to take me fishing," he said. "We went to Sam Rayburn and caught, like, 25 pounds."
That got Upshaw's interest. Martin continued to mentor him.
"He taught me technique, but also my mental game. He taught me the importance of being a humble person, to let my fishing do the talking."
Others became his teachers, too, including former Bassmaster Elite Series pro Ben Matsubu and Open pro Todd Castledine. But it was his father, Upshaw emphasized, who first taught him to push himself, to be an achiever.
"My father is a true hero to me. He brought me up to be athletic, to be competitive in anything I did. When I was in school, he made me try every sport in school," he said.
Upshaw competed throughout his college years on the Stephen F. Austin University fishing team while working on a marketing degree. He entered Bassmaster Opens in 2009 and 2010. He registered for all three 2011 Northern Opens. But when the 2011 Mercury College B.A.S.S. National Championship event fell on the same dates as the Northern Open's July 7-9 season opener — the event won by Pratt — Upshaw chose College B.A.S.S.
He and his teammate and friend, Ryan Watkins, captured the collegiate title. In the next phase of the competition, they were pitted against each other for the Classic berth. Upshaw won, and the prize was the first Bassmaster Classic seat awarded at the collegiate level.
Upshaw, now poised to be in the world championship of all bass fishing, and with sponsors such as Mercury, MotorGuide and Legend boats, is considering a career switch to professional bass angler.
"I don't know yet what, exactly, I'm going to do, but I sure do want to fish professionally," Upshaw said. "It's definitely a dream of mine."
Almost 30 years older than Upshaw, Pratt has already tried living on the road, but said he'd consider a pro career once again. At the end of the season, the top five in points in each Open division are invited to join the Bassmaster Elite Series.
"When I was younger, I had the desire, but not the means. Now I have the means, so I would think about it again," Upshaw said.
Pages: 1· 2