Virginia Tech Takes Big Lead; Rejzer, Blevins find hot spot in Arkansas River
By editor on Jul 9, 2011 | In Bass Tournaments, BASS, College BASS

B.A.S.S. News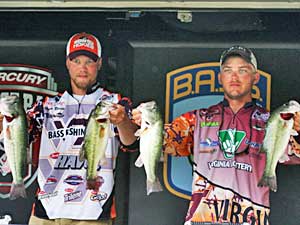 Virginia Tech's Carson Rejzer and Wyatt Blevins lead day one of the 2011 Mercury College B.A.S.S. National Championship after bringing in 15 pounds 9 ounces from the Arkansas River. Photo Credit: B.A.S.S.
LITTLE ROCK, Ark. — Virginia Tech's team of Carson Rejzer and Wyatt Blevins thought they had a good game plan as they were finishing practice for the Mercury College B.A.S.S. National Championship. But when they trolled out of an Arkansas River backwater area into the main river channel, they found a game-changer.
The shallow ridge of brush, rocks, metal and maybe even a shell bed led them to a five-bass limit weighing 15 pounds, 9 ounces on Thursday's opening day of the tournament. It left them 1 ounce shy of a 4-pound lead over Texas A&M's Wesley Brown and Andy Shafer, who totaled 11-10.
Most importantly, Rejzer and Blevins are in great shape to advance to Saturday's semifinals. Only the top five teams in this 36-boat field will continue after Friday's competition on Lake Maumelle.
"We were leaving a backwater area (Wednesday) and we found this ridge right off the main river channel," Rejzer said. "On the depthfinder it went from 10 feet deep to 2 feet, then to 15 feet in an area of about 5 or 6 feet. It looked like a mountain out there.
"I caught about a 15-incher that had three or four bigger ones chasing it, made a second cast and saw the same thing, then said 'let's get out of here.'"
It's where they started on Day One of the tournament, with instant results.
"On my third cast I caught a 3-pounder," Blevins said. "We got there about 6:15 (a.m.) and we were culling by 6:50. We probably caught about 20 to 25 fish today."
Most of their bass were caught on Strike King Series 5 crankbaits in either chartreuse-and-white or greenback-and-pearl color patterns. Their big bass weighed 4-8 and hit a jig.
"I think there's a log jam in there," Rejzer said. "But there's rock too, and I know there is some kind of metal in there, the way our lines were getting abraded. I'm not sure, but I think there's a (mussel) shell bed in it.
"It's just one little spot, but it's got everything the fish need."
Rejzer and Blevins still have to catch some bass on Lake Maumelle Friday, but they've got a comfort zone unavailable to the other teams trying to make the top five. Only 2 1/2 pounds separates the teams in second through sixth place.
A&M's Brown and Shafer anchored their second-place bag with the big bass of the day – a 5-pounder Brown caught near a wastewater treatment outlet pipe in the Little Rock Pool of the river. It hit a Zoom green pumpkin shaky head worm.
"I've been fishing here four years," Shafer said. "And four years ago I saw this guy from Oklahoma fish that area and totally dominate. I've fished it ever since."
They caught three keepers in that spot and fished rock jetties for the other two in their limit.
Stephen F. Austin's Ryan Watkins and Andrew Upshaw locked up to Pool 7 and caught enough bass that they didn't want to chance any late check-in penalties, so they were back at the Murray Park launch ramp an hour early Thursday. They used Sixth Sense crankbaits and 6-inch Roboworms on a drop shot rig to catch 18 keepers. Their best five weighed 11-2.
Upshaw had one of the best "fish stories" of the day. He was reeling in a 7-inch spotted bass that hit his drop shot rig when two 4-pounders followed it in. One of the big fish made a charge at the little spot and had "all but an inch-and-a-half of it in its mouth," Upshaw said. "I tried to just ease it into the net, but it let go."
They are confident they can catch fish at Lake Maumelle.
"We're going to fish deep, really deep," Upshaw said. "That's where I'm most comfortable."
Georgia's Chase Simmemon and Randy Tolbert had the most up-and-down day.
"We lost a 6-pounder and two 3-pounders, and it just seemed like everything was going wrong," Tolbert said.
Then they spun the hub in their outboard motor and had to settle for idle speed and their trolling motor until a replacement boat could be brought to them. That didn't keep the Georgia team from catching three bass that weighed 10-7, leaving them in fourth place.
North Carolina State's Josh Hooks and Chris Wood rounded out the top five with 10-4. They were using crankbaits, shaky head worms and spinnerbaits around rock jetties.
"We probably caught 10 keepers and 20 other fish," Hooks said.
After Friday's competition at Maumelle, the top five teams will have their two-day weights zeroed before starting competition Saturday on a "mystery lake" where no one has had a chance to practice. The winning team Saturday will be crowned Mercury College B.A.S.S. National Champion.
Then the two teammates will go one-on-one Sunday at another as yet unnamed body of water to determine a qualifying spot in the 2012 Bassmaster Classic.
Boats will launch tomorrow at Jolly Rogers Marina on Lake Maumelle at 5:30 a.m. CT. Weigh-ins will take place at Murray Park starting at 2:45 p.m. CT.
For more information about the Mercury College B.A.S.S. National Championship, go to www.bassmaster.com.
Standings are available on the College Fishing Forum.
2011 Mercury College B.A.S.S. Official Sponsor: Bass Pro Shops
About B.A.S.S.
For more than 40 years, B.A.S.S. has served as the authority on bass fishing. The organization advances the sport through advocacy, outreach and an expansive tournament structure while connecting directly with the passionate community of bass anglers through its Bassmaster media vehicles.
The Bassmaster brand and its multimedia platforms are guided by a mission to serve all fishing fans. Through its industry-leading publications — Bassmaster Magazine and B.A.S.S. Times — comprehensive website Bassmaster.com, ESPN2 and Outdoor Channel television programming, Bassmaster provides rich, leading-edge content true to the lifestyle.
The Bassmaster Tournament Trail includes the Bassmaster Elite Series, Bass Pro Shops Bassmaster Open Series, B.A.S.S. Federation Nation events presented by Yamaha and Skeeter Boats and the ultimate celebration of competitive fishing, the Bassmaster Classic.
B.A.S.S. offers an array of services to its more than 500,000 members and remains focused on issues related to conservation and water access. The organization is headquartered in Celebration, Fla.