Virginia's Kelly Pratt leads Bass Pro Shops Bassmaster Northern Open
By editor on Jul 9, 2011 | In Bass Tournaments, BASS Opens, BASS, Northern

B.A.S.S. News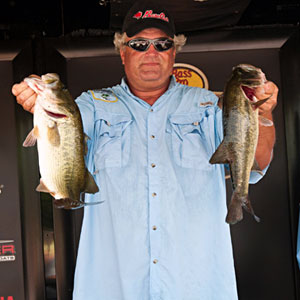 Local Kelly Pratt leads the B.A.S.S. Northern Open on the James River after day one with 16 pounds 6 ounces. Photo Credit: B.A.S.S.
RICHMOND, Va. — Kelly Pratt of Williamsburg, Va., put his vast knowledge of the James River to work for him today as he sacked 16 pounds, 6 ounces to take the lead in the first stop of the 2011 Bass Pro Shops Bassmaster Northern Opens. Though he burned a considerable amount of gas, most of his fish came from one log.
"After I caught 'em from there, I just went practicing and made a few casts all over the place," he said. "However, if it clouds up and rains tomorrow, it'll scatter 'em, and I'll have to run and hunt even more."
Though he's dealing with some boat traffic, Pratt is hopeful that his familiarity with the river and its tidal fluctuations will carry him to the final day, Saturday. He played his cards close to his vest and wouldn't go into specifics about his pattern.
One ounce behind Pratt is Wilkesboro, N.C., pro Tracy Adams with 16-5. Adams earned a spot in the 2011 Bassmaster Classic via the Northern Opens last year, and is off to the right sort of start to gain entry into the 2012 Classic.
"The main thing today was the timing of the tide," he said. "You had to be in the right place at the right time. The first place that I went to I had to wait on it a bit, and once it started moving, they started biting, then I made a move and caught a few other good ones."
Adams stressed that he could've been in the correct area with the wrong tide and caught nothing.
"It could've gone that way just as easy," he said. "Leaving earlier tomorrow is going to be pushing it (as far as catching the right tide in his area), and I really don't have another spot, so I'm not sure about tomorrow. If I make the cut, I'm going to have to adjust. But, so far so good."
In third place is Terry Baksay of Easton, Ct., with 14-14. Baksay dealt with considerable pressure from other pros, but is confident that he's doing something no one else in the area is, evidenced by his quality catch. In fourth is Elite Series pro Bernie Schultz of Gainesville, Fla., with 14-03. Schultz used a buzzbait, crankbait and a Yamamoto flipping bait to catch his limit. In fifth is Mike Hicks of Goochland, Va., with 14-01.
Pro anglers are competing for a trio of prizes: a berth in the 2012 Bassmaster Classic set to take place on the Red River out of Shreveport-Bossier City, La., several thousand dollars in cash and a Triton bass boat with a Mercury outboard. The pro winner of each of the Bass Pro Shops Bassmaster Opens receives a berth in the Classic, with the top five points finishers earning an invite to fish the 2012 Bassmaster Elite Series.
Co-anglers are fishing for a brand new Triton/Mercury rig as well, and leading that race is Steve Duri, a Canuck-turned-Virginian who resides in Hardy, Va. His three-fish limit weighed 7-1 and came from the back of Pratt's boat. Duri credits Pratt for putting him on fish.
"I've only been fishing for 2 1/2 years, and I love this place," he said. "I had a great time out there with Kelly today."
Currently in second is Jake Morris of McKee, Ky., with 7-0; in third is Ike Rogers of Madison, Al., with 6-13; in fourth place is Michael Rinaldi of North Haledon, N.J., with 6-4; and rounding out the top five is Ryan Cooper of Nashua, N.H., also with 6-4.
Daily launches will be at 5:45 a.m. ET out of Osborne Park, 9530 Osbourne Turnpike, Henrico, Va., 23231. Weigh-ins will be at 3 p.m. at Osborne Park on Days 1 and 2, but will move to 4 p.m. ET on Saturday at Bass Pro Shops, 11550 Lakeridge Parkway, Ashland, VA 23005.
Complete day one standings available on the B.A.S.S. Forum.
2011 Bass Pro Shops Bassmaster Opens Official Sponsors: Toyota, Bass Pro Shops, Berkley, Evan Williams Bourbon, Mercury, Skeeter Boats, Triton Boats, Yamaha
2011 Bass Pro Shops Bassmaster Opens Supporting Sponsors: Humminbird, Luck "E" Strike, Minn Kota, Nitro Boats
About B.A.S.S.
For more than 40 years, B.A.S.S. has served as the authority on bass fishing. The organization advances the sport through advocacy, outreach and an expansive tournament structure while connecting directly with the passionate community of bass anglers through its Bassmaster media vehicles.
The Bassmaster brand and its multimedia platforms are guided by a mission to serve all fishing fans. Through its industry-leading publications — Bassmaster Magazine and B.A.S.S. Times — comprehensive website Bassmaster.com, ESPN2 and Outdoor Channel television programming, Bassmaster provides rich, leading-edge content true to the lifestyle.
The Bassmaster Tournament Trail includes the Bassmaster Elite Series, Bass Pro Shops Bassmaster Open Series, B.A.S.S. Federation Nation events presented by Yamaha and Skeeter Boats and the ultimate celebration of competitive fishing, the Bassmaster Classic.
B.A.S.S. offers an array of services to its more than 500,000 members and remains focused on issues related to conservation and water access. The organization is headquartered in Celebration, Fla.