2011 Bassmaster College Classic event to take place on Lake Jordan
By editor on Jul 9, 2011 | In Bass Tournaments, BASS, College BASS

B.A.S.S. News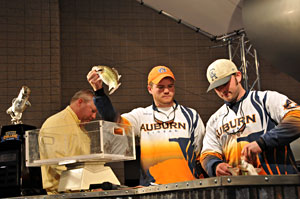 Auburn University team anglers weigh-in during the 2010 Bassmaster College Classic. Photo Credit: B.A.S.S.
The 2011 Bassmaster College Classic will coincide with the final leg of the Bassmaster Elite Series' Toyota Trucks All-Star Week, the Evan Williams Bourbon All-Star Championship on the Alabama River out of Montgomery, Ala., July 29-31.
Three two-man teams representing Auburn University and three teams representing University of Alabama will compete Sunday, July 31 on Lake Jordan to fish for a chance to take home a trophy and bragging rights.
"We started the Bassmaster College Classic back in 2010 with Auburn and Alabama squaring off on Logan Martin Lake. Alabama was victorious in that tournament. I'm sure Auburn would like to redeem themselves if they can," said Hank Weldon, director of Mercury College B.A.S.S.
Competitors, who will fish within the confines of a five-fish limit, will weigh their catches on the Bassmaster Elite Series main stage at the Montgomery Riverfront immediately before the final two Bassmaster Elite competitors of the All-Star championship. The team with the heaviest cumulative weight will score victory in the competition circuit and will be recognized on the Elite Series stage.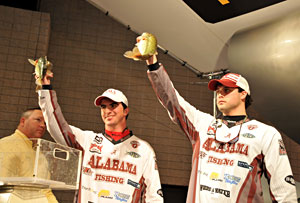 University of Alabama team anglers weigh-in during the 2010 Bassmaster College Classic. Photo Credit: B.A.S.S.
"These events are always great. The anglers love it, and so do the fans. Whether it is football, baseball, or in this case fishing, fans want their school to beat the other one," Weldon said.
The Bassmaster College Clasic weigh-in will be streamed live on Bassmaster.com. The full list of competitors can be found below.
The All-Star championship features the eight Bassmaster Elite Series anglers who advanced as finalists from the first leg, the Ramada All-Star Semi-Final in Wetumpka (July 23-24). The anglers will be seeded in a bracket-style head-to-head tournament. Winner takes all: $100,000.
Daily launches will be at 7:30 a.m. (CT) from Montgomery Riverfront, and weigh-ins will begin at 5 p.m. (CT).
For more information about Toyota Trucks All-Star Week and the Bassmaster College Classic, visit Bassmaster.com.
Auburn University Team:
Jordan Lee
Shane Powell
Matt Lee
Kevin Tignor
Chris Seals
Daniel Holland
University of Alabama Team:
Warren Hoffman
Dustin Connell
Jeremy Christian
Logan Johnson
Keith Kirkley
Kyle Worsham
2011 Bassmaster Elite Series Official Sponsors: Toyota, Bass Pro Shops, Berkley, Evan Williams Bourbon, Humminbird, Mercury, Minn Kota, Skeeter Boats, Triton Boats, Yamaha
2011 Bassmaster Elite Series Supporting Sponsors: Lowrance, Luck "E" Strike, Nitro Boats, Power-Pole, Ramada
About B.A.S.S.
For more than 40 years, B.A.S.S. has served as the authority on bass fishing. The organization advances the sport through advocacy, outreach and an expansive tournament structure while connecting directly with the passionate community of bass anglers through its Bassmaster media vehicles.
The Bassmaster brand and its multimedia platforms are guided by a mission to serve all fishing fans. Through its industry-leading publications — Bassmaster Magazine and B.A.S.S. Times — comprehensive website Bassmaster.com, ESPN2 and Outdoor Channel television programming, Bassmaster provides rich, leading-edge content true to the lifestyle.
The Bassmaster Tournament Trail includes the Bassmaster Elite Series, Bass Pro Shops Bassmaster Open Series, B.A.S.S. Federation Nation events presented by Yamaha and Skeeter Boats and the ultimate celebration of competitive fishing, the Bassmaster Classic.
B.A.S.S. offers an array of services to its more than 500,000 members and remains focused on issues related to conservation and water access. The organization is headquartered in Celebration, Fla.