Classic chase, The final push to All-Star Week
By editor on Jul 8, 2011 | In Bass Tournaments, BASS Elites, BASS, Bassmaster Classic, Pro Anglers

B.A.S.S. News
B.A.S.S. Reporter's Notebook: Classic chase; The final push to All-Star Week; Who's getting the vote?; B.A.S.S. angler releases book; and Lane's Reeling in Future Pros
Classic chase: This week two entries into the 2012 Bassmaster Classic are on the line in two very different tournament circuits.
One is the Mercury College B.A.S.S. circuit. Its July 7-9 Mercury College B.A.S.S. National Championship on the Arkansas River out of Little Rock, Ark., will whittle down the field to two for a face-off on Sunday, July 10. The winner will claim the first Classic berth awarded through the college circuit.
An interesting twist to the one-on-one competition is that the anglers will be the same two who formed the team that won the championship. That means that on July 9 they'll be joined in claiming victory for their college, and the next morning they'll be up against each other for a Classic berth.
The six-hour fish-off will be on a body of water near Little Rock, according to College B.A.S.S. Director Hank Weldon. The mystery location won't be announced until the finalists are determined.
The other circuit operating this week with a Classic berth on the line is the Bass Pro Shops Bassmaster Northern Open. The July 7-9 competition on the James River out of Richmond, Va., offers a Classic berth to the winner — but won't award it until the winner completes all three Northern division events, a requirement to claim the prize. Northern No. 2 is set for August, and Northern No. 3 for September.
Daily results of this week's competitions will be available at Bassmaster.com.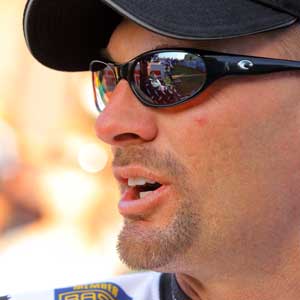 Randy Howell is interviewed April 15, 2011 at the Trokar Battle on the Bayou on Toledo Bend. Photo Credit: B.A.S.S. / Seigo Saito
The final push to All-Star Week: Whether he wins or loses the All-Star election, Randy Howell has become a sharper marketer of himself and stronger emissary for the sport of bass fishing.
He's no different from most other Bassmaster Elite Series pros, he said.
"It's made all of us get on our A game to try to get the word out," he said. "Not just about us as individuals, but for the sport as a whole. It (the campaign) has been a neat opportunity to get more people to recognize our sport."
Like 90 other Elite Series pros, Howell is hoping to be selected by fans for a final-four spot in the July 23-31 Bassmaster Elite Series Toyota Trucks All-Star Week in Alabama. Selection is via daily voting at Bassmaster.com. The online polls close July 10 at midnight, and the four winners will be announced at 2 p.m. ET on July 13.
Howell, who lives in Springville, Ala., would like to stage a last-hour push that will take him to the top of his region (Region 3). Trouble is, he feels he has already pulled out all the stops, from Facebook to family and friends in Alabama and beyond. He said there's simply nothing else he can think of to do to encourage fans to vote, and to vote for him.
"I've been working hard, doing my best, trying to think of creative ways to get the vote," he said. "If all the people I've reached out to would vote, I think this could turn my way."
Howell is still hoping to see his name in the top-five tally of Region 3. So far, that hasn't happened.
Because there are 11 pros from the state that's hosting the postseason, the Alabama vote is being split, Howell theorizes. He quickly became aware that the Alabama candidates know many of the same people.
"A lot of people have told me they want to vote for me, but they also want to vote for Russ Lane, or Tim Horton, or someone else from Alabama," said Howell, who moved from the Lake Gaston, N.C., area years ago to the state he now calls home.
But that circumstance, Howell added, is somewhat mitigated by the fact that Region 3 doesn't contain Rick Clunn and Denny Brauer, legends of the sport, or Michael Iaconelli and Shaw Grigsby, fishing show TV stars. Those four are among those with instant name recognition, even among people who don't closely follow the Elite Series, Howell said.
"There's no substitute for TV time," he added. "People see a face and name from TV, that gets the vote."
If Mike Iaconelli and Shaw Grigsby weren't in the same region, Howell said he believes they'd both be voted in because people know them from their TV shows.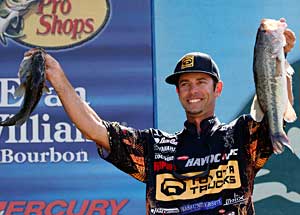 Michael Iaconelli leads the 2011 All-Star Week voting in region 1 so far. Photo Credit: B.A.S.S. / Seigo Saito
Who's getting the vote?: The short answer is Michael Iaconelli, Jeff Kriet, Aaron Martens and Skeet Reese.
The long answer: As of July 5, New Jersey's Iaconelli in Region 1, Oklahoma's Kriet in Region 2, Alabama's Martens in Region 3, and California's Reese in Region 4 are the top vote-getters for the four remaining berths in the Toyota Trucks All-Star Week, the postseason of the 2011 Bassmaster Elite Series.
So far, that is.
Voting doesn't close until midnight on July 10, so anything can happen between now and then. Fans are encouraged to vote every day for their favorite anglers.
The $100,000 competition is set to begin July 23-24 in Alabama on Lake Jordan, then move to the Alabama River for the July 29-31 finale. Eight Elite Series anglers qualified via the 2011 Toyota Tundra Bassmaster Angler of the Year points system. The final four are being selected by fans. The polls are open daily at Bassmaster.com.
Results will be announced at 2 p.m. ET on July 13 at the ICAST trade show. Fans can get voting results online at Bassmaster.com.
Pages: 1· 2