Along the All-Star Week campaign trail
By editor on Jun 28, 2011 | In BASS Elites, BASS, Pro Anglers, KVD
From the article: "Keep tension on the line so you can react if the fish moves," Van Dam says. If it swims away, point the rod toward it so it doesn't break your line or pull off the hook. When the fish moves toward you, quickly reel in the slack. Repeat until you lose it or land it.
VanDam's instructions made catching a bass sound simple, as only an expert can make his skills seem.
He has caught thousands upon thousands of bass in his career. No one keeps records of boated bass, but VanDam has weighed 8,914 pounds and 15 ounces of bass in his Bassmaster career of 241 tournaments.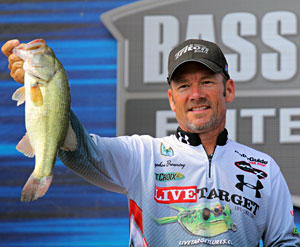 Elite angler Stephen Browning with an Arkansas River bass from the 2011 Diamond Drive Elite Series event. Photo Credit: B.A.S.S. / Seigo Saito
Day in the rain: Tuesday's live-streamed program on Bassmaster.com with Stephen Browning was interrupted by a dangerous storm.
The June 28 show, A Day on the Lake Live presented by Z-Man, began at 9 a.m. ET as Browning launched on the Arkansas River out of Little Rock, Ark. He was accompanied by host Steve Bowman, editor of Bassmaster.com.
About two hours into it, lightning forced them to take cover. But the camera didn't stop rolling. Once they were safely out of the water and parked under the I-30 bridge approach, Bowman interviewed Browning on how to fish a river's wing dam. The storm was so violent, even the camera lens was dotted with the driving rain; cracks of thunder covered their words, and they had to quit a few minutes early.
The show can be viewed anytime on Bassmaster.com.
About B.A.S.S.
For more than 40 years, B.A.S.S. has served as the authority on bass fishing. The organization advances the sport through advocacy, outreach and an expansive tournament structure while connecting directly with the passionate community of bass anglers through its Bassmaster media vehicles.
The Bassmaster brand and its multimedia platforms are guided by a mission to serve all fishing fans. Through its industry-leading publications — Bassmaster Magazine and B.A.S.S. Times — comprehensive website Bassmaster.com, ESPN2 and Outdoor Channel television programming, Bassmaster provides rich, leading-edge content true to the lifestyle.
The Bassmaster Tournament Trail includes the Bassmaster Elite Series, Bass Pro Shops Bassmaster Open Series, B.A.S.S. Federation Nation events presented by Yamaha and Skeeter Boats and the ultimate celebration of competitive fishing, the Bassmaster Classic.
B.A.S.S. offers an array of services to its more than 500,000 members and remains focused on issues related to conservation and water access. The organization is headquartered in Celebration, Fla.
Pages: 1· 2