Little Wins Walmart Bass Fishing League Shenandoah Division On James River
By editor on Jun 27, 2011 | In Bass Tournaments, BFL, FLW Outdoors

FLW Outdoors News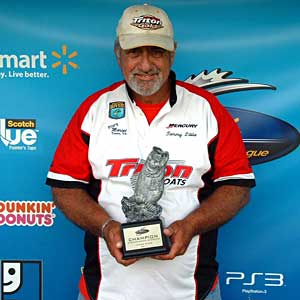 Boater Tommy Little of Chester, Va., won the June 25 BFL Shenandoah Division tournament on the James River to earn $2,985. Photo Credit: FLW Outdoors
Boater Tommy Little of Chester, Va., caught a five-bass limit weighing 15 pounds, 14 ounces June 25 to win $2,985 in the Walmart BFL Shenandoah Division tournament on the James River. Little was power fishing while running the tide to catch his limit.

The remaining top 10 anglers:
2nd: Joshua Wagy, Dewitt, Va., five bass, 12-0, $1,493
3rd: Steve Wagner, New Kent, Va., five bass, 11-14, $994
4th: Brian Bersik, Disputanta, Va., five bass, 11-12, $697
5th: David Andrews, Lorton, Va., five bass, 11-5, $597
6th: Mike Hicks, Goochland, Va., five bass, 11-3, $547
7th: Mike Downes, Aylett, Va., four bass, 10-15, $498
8th: Scott Howard, Huddleston, Va., five bass, 10-3, $423
8th: Dan Treadaway, Rocky Mount, N.C., five bass, 10-3, $423
10th: Duracell/Gillette pro Jacob Powroznik, Prince George, Va., five bass, 10-2, $348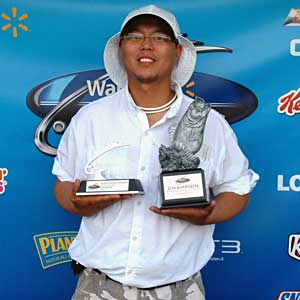 Yoomin Yi of Springfield, Va., won the co-angler title in the Shenandoah Division on the James River to earn $1,493. Photo Credit: FLW Outdoors
Yoomin Yi of Springfield, Va., caught four bass weighing 9 pounds, June 25 to win $1,493 in the Co-angler Division. Yoomin was finesse fishing with green pumpkin worms in the Appomattox River to catch his limit.

The remaining top 10 co-anglers:
2nd: Derek Brown, Charlottesville, Va., four bass, 7-5, $746
3rd: Duane Glassco, Chester, Va., three bass, 6-5, $497
4th: Ryan Gilbert, Manchester, Pa., four bass, 6-4, $348
5th: Troy Pipken, Dulles, Va., two bass, 6-3, $299
6th: Terry Hebb, Staunton, Va., four bass, 5-15, $274
7th: Jerry Comperatore, Tarentum, Pa., two bass, 5-7, $249
8th: Adam Freeman, Meherrin, Va., three bass, 5-2, $224
9th: James Flanagan, Prince George, Va., three bass, 5-1, $199
10th: John Mudge, Lewisberry, Pa., three bass, 4-12, $174
The next and final BFL Shenandoah Division tournament is scheduled for Sept. 24-25 on the Potomac River in Woodbridge, Va. After the fifth Shenandoah Division tournament is complete, the top 40 boaters and 40 co-anglers based on point standings will qualify for the Nov. 3-5 Regional Championship on Lake Hartwell in Anderson, S.C. Boaters will compete for a top award of a Ranger 198VX with a 200-horsepower Evinrude or Mercury outboard and a Chevy pick-up, while co-anglers will fish for a new Ranger 198VX.
For regular updates, photos, tournament news and more, follow the BFL on Facebook at Facebook.com/BassFishingLeague. For news surrounding FLW Outdoors on Facebook, follow Facebook.com/FLWFishing and on Twitter at Twitter.com/FLWOutdoors.
ABOUT FLW OUTDOORS
FLW Outdoors is the best in fishing, on and off the water. Anglers worldwide can compete for millions over the course of 191 tournaments in 2011. FLW Outdoors has taken fishing mainstream with the world's richest fantasy sports game, FLW Fantasy Fishing presented by Straight Talk, where competitors can play for free as well as sign up for Player's Advantage to gain an edge. For more information about FLW Outdoors and FLW Fantasy Fishing, visit FLWOutdoors.com or FantasyFishing.com.