King Blasts 20, Menendez Overcomes Mishap to Land in Second
By editor on Jun 27, 2011 | In Bass Tournaments, PAA

PAA News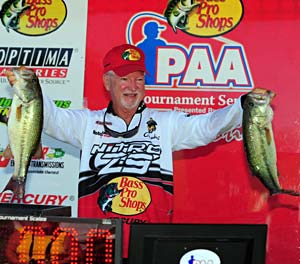 Bass pro Stacey King leads at the PAA bass tournament on Table Rock Lake on day one thanks to a big limit of bass. Photo Credit: PAA
BRANSON, Mo. (June 23, 2011) - For Nitro pro Stacey King, everything about the first day of the Bass Pro Shops PAA Tournament Presented by Carrot Stix went according to plan. He caught a big bag by 8:30 am, culled twice more up to 20.12 pounds, and stayed off many of his best spots.
For Kentucky pro Mark Menendez, the beginning of the day looked like it was going to be a disaster. After running aground en route to the take-off site, he feared that he might not even get to fish. Thanks to the help of some of his fellow pros, his boat was towed off the offending mud bar. Their helpfulness came back to bite them as he sacked 18.60 pounds of Table Rock bass and sits in second, just a pound and a half behind King.
Kelly Power (17.87 lbs.), James Watson (17.07 lbs.) and Brian Travis (16.73 lbs.) round out the top five.
Today's slick conditions and lack of man-made current slowed the bite for some, but it didn't hurt King at all. He relied upon decades of experience on Table Rock.
"This pattern will last all summer," he said. While he declined to state exactly how or where he's fishing, King did say that he has a bait tweak that he believes provides a distinct advantage, even in a crowd. "There are several people fishing in the same area as me. I don't mind following people."
He'd love to earn a win in front of a hometown crowd. "Any time you can win on your home lake it's awesome, especially when you're fishing against the caliber of fishermen in this event."
Menendez didn't practice yesterday, having figured out a "one-two punch" that he felt could last for three days of competition. But his relaxed state of mind came to a grinding halt along with his boat when he ran onto a shallow bar in the dark prior to blast-off early this morning.
"It's pretty scary when you're putting along in the dark and come to a complete stop," he said. His boat and motor suffered some damage due to the impact, but not enough to prevent him from fishing. He caught keeper fish all day, and stated that he had "lots of extras." His haul included the big fish of the day, a 5.53 pound largemouth that he caught around 8 o'clock.
Missouri pro Kelly Power didn't suffer the same sort of morning mishap as Menendez, but his day didn't get started the way he wanted it to, either. After catching three quick keepers, he lost several near the boat and broke another one off.
"Then someone told me that Stacey (King) had 18 pounds so I put my head down and fished harder," he said. Unlike many of the pros who are catching their fish in the shallow bushes, Power, another Table Rock expert, is dragging a peanut butter and jelly colored Jewel football head jig in 15 to 18 feet of water.
James Watson of Waynesville, Mo., another Table Rock stalwart, sits less than a pound behind Power and just over four pounds out of first. His catch included a 4.99 pound largemouth. Unlike the other two Missourians in the top five, he's fishing shallow.
"I love to flip so I kept my flipping stick in my hand all day," Watson said. "I got three quality bites." While he may not be fishing the typical seasonal pattern for Table Rock, he is relying upon history, fishing specific stretches of bank that have produced for him in prior years. "I guess you could say I have a little bit of home field advantage. I'm fishing with a lot of confidence." His primary lure was a Luck E Strike Ringer worm in the tequila sunrise color pattern.
Rounding out the top five is Frog Tape pro Brian Travis who is not a Table Rock local, but nevertheless relied upon past experience to amass his big limit today.
"I have confidence in a few areas that I fish every time we come here," he said. He has his water to himself, but like King he amassed the bulk of his weight early in the morning. After 8 o'clock he had trouble getting keeper bites.
The tournament continues through Saturday going out of Chateau on the Lake marina. Daily launches and free 3 p.m. weigh-ins the first two days will take place at Chateau on the Lake. The final day weigh-in will begin at 4:30 p.m. at the Bass Pro Shops fountains at Branson Landing in Branson. At stake for the winner is cash and a new Nitro Z-8 with a Mercury 225 Optimax and T-H Marine Atlas jackplate, with a Humminbird 898c Si Combo to the Humminbird Big Bass of the Tournament winner.
Complete Day 1 Results - Click Here
About the PAA
The Professional Anglers Association is a non-profit organization that gives
professional anglers a unified voice in order to aid in the growth of the
sport of professional bass fishing. The PAA also aims to administer
educational programs to the average angler, to increase enjoyment of the
sport, and to embrace sound conservation practices to further the future of
the sport. Web: www.FishPAA.com
2011 PAA Tournament Series
What: 2011 Bass Pro Shops Tournament Series presented by Carrot Stix
Where: Table Rock Lake, at Chateau on the Lake and Table Rock State Park
When: June 23-25
Launch/weigh-in: First two days, launch at 6 a.m. and weigh-in at 3 p.m. at
Chateau on the Lake, 415 North State Highway 265 Branson, Mo. 65616
Final day launch/weigh-in: Launch at 6 a.m. at Table Rock State Park;
weigh-in at 4:30 p.m. at Bass Pro Shops at Branson Landing, 1 Bass Pro
Drive, Branson, Mo. 65616
At stake: Cash and a 2011 Nitro Z8 with Mercury 225 and T-H Marine Atlas
Jackplate, along with points toward PAA Angler of the Year title and
qualification for the 2011 Toyota Texas Bass Classic
Online: www.FishPAA.com
2011 PAA Tournament Series Premier Sponsors: Bass Pro Shops, E21 Carrot
Stix, Optima Batteries, Nitro Performance Bass Boats
2011 PAA Tournament Series Associate Sponsors: Lazer TroKar, Jasper Engines
& Transmissions, Mercury Marine, Boat U.S. Foundation, Fishouflage, U.S.
Reel, Sign Designs, Toyota Texas Bass Classic