Dobson Wins Walmart Bass Fishing League Michigan Division On St Clair River
By editor on Jun 27, 2011 | In Bass Tournaments, BFL, FLW Outdoors
FLW Outdoors News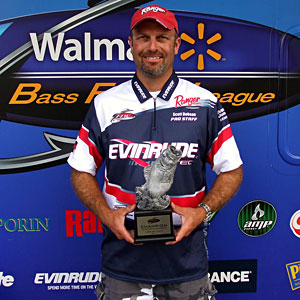 Boater Scott Dobson of Clarkston, Mich., won the June 25 BFL Michigan Division tournament on the St. Clair River to earn $6,514. Photo Credit: FLW Outdoors News
Boater Scott Dobson of Clarkston, Mich., caught a five-bass limit weighing 23 pounds, 12 ounces June 25 to win $3,514 plus a $2,000 Ranger Cup and $1,000 Evinrude bonus in the Walmart BFL Michigan Division tournament on the St. Clair River. Dobson was targeting spawn and pre-spawn bass on sand flats with jerkbaits, spinnerbaits and tubes to catch his limit.

The remaining top 10 anglers:
2nd: Brian Jackson, Crete, Ill., five bass, 22-7, $1,757
3rd: Mark Modrak, China Township, Mich., five bass, 19-5, $1,172
4th: Randy Ramsey, Battle Creek, Mich., five bass, 19-3, $820
5th: Dave Hasty, Toledo, Ohio, five bass, 18-12, $703
6th: Matt Vermilyea, Perrysburg, Ohio, five bass, 18-9, $644
7th: Michael Trombly, Perrysburg, Ohio, five bass, 18-5, $586
8th: Donald Hewkin, Zion, Ill., five bass, 18-4, $527
9th: Brent Dunmyer, Weston, Ohio, five bass, 18-2, $469
10th: Mark Flick, Plainwell, Mich., five bass, 18-1, $410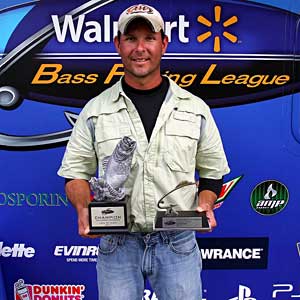 Matthew Hook of Plainwell, Mich., won the co-angler title in the Michigan Division on the St. Clair River to earn $1,757. Photo Credit: FLW Outdoors News
Matthew Hook of Plainwell, Mich., caught a five-bass limit weighing 18 pounds, 1 ounce June 25 to win $1,757 in the Co-angler Division. Hook was fishing near the mouth of the Detroit River targeting spawning flats for post spawning bass. He was using tubes and spinnerbaits to catch his limit.

The remaining top 10 co-anglers:
2nd: Benjamin Vania, Griffith, Ind., five bass, 16-7, $879
3rd: Joseph Nega, Chicago, Ill., five bass, 16-0, $585
4th: Kenneth Adams, Jr., Gaines, Mich., five bass, 15-15, $410
5th: Mark Fennell, Lagrange, Ind., five bass, 15-1, $351
6th: Jay Ahonen, Ortonville, Mich., five bass, 14-15, $322
7th: Kyle Moxon, Windsor, Ontario, five bass, 14-13, $293
8th: David Adams, Schererville, Ind., five bass, 14-12, $249
8th: Mark Frickman, Grand Ledge, Mich., five bass, 14-12, $249
10th: Christopher Majerle, Trenton, Mich., five bass, 14-10, $205
The next BFL Michigan Division tournament is scheduled for July 9 on the Detroit River in Trenton, Mich. After the fifth Michigan Division tournament is complete, the top 40 boaters and 40 co-anglers based on point standings will qualify for the Oct. 20-22 Regional Championship on the Barren River in Scottsville, Ky. Boaters will compete for a top award of a Ranger 198VX with a 200-horsepower Evinrude or Mercury outboard and a Chevy pick-up, while co-anglers will fish for a new Ranger 198VX.
For regular updates, photos, tournament news and more, follow the BFL on Facebook at Facebook.com/BassFishingLeague. For news surrounding FLW Outdoors on Facebook, follow Facebook.com/FLWFishing and on Twitter at Twitter.com/FLWOutdoors.
ABOUT FLW OUTDOORS
FLW Outdoors is the best in fishing, on and off the water. Anglers worldwide can compete for millions over the course of 191 tournaments in 2011. FLW Outdoors has taken fishing mainstream with the world's richest fantasy sports game, FLW Fantasy Fishing presented by Straight Talk, where competitors can play for free as well as sign up for Player's Advantage to gain an edge. For more information about FLW Outdoors and FLW Fantasy Fishing, visit FLWOutdoors.com or FantasyFishing.com.