Amazing NBAA Lake St Clair 2011 Super Bass Results!
By editor on Jun 23, 2011 | In Bass Tournaments, NBAA

NBAA News
Skip Johnson, Jeff Cox take Top Honors
Skip Johnson and Jeff Cox took first place at the June 18, 2011 NBAA Lake St Clair Super Bass Open with over 23 pounds. Photo Credit: NBAA
You can sum up the NBAA 2011 Lake St Clair Open with one word – AMAZING! 81 teams took to Lake St Clair this past Saturday at the annual open. With expectations high and the smallmouth of St Clair cooperating the bite was unbelievable. An astounding 70 limits came to the scales. The team that topped them all was Jeff Cox and Skip Johnson. Jeff & Skip weighed in a huge limit of smallmouth that topped the scales at just over 23 lbs. Their big bag of bass was worth two great plaques and a check for $5000.00.
In second place was the team of Chip Harrison & Bryan Plenzler. Again, Chip and Bryan had a great bag of smallmouth's that weighed in at 21.32 lbs and was worth another great set of plaques and $1250.00.
Third place went to the team of Scott Dobson & Kyle Greene with a limit weighing in at 20.95 lbs and was worth a pair of plaques and a $1000.00. Big bass of the day went to the team of Dan O'Neil and Barry McBride with a giant smallmouth weighing in at 5.26 lbs.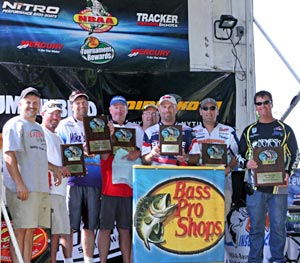 The top three teams at the June 18, 2011 NBAA Lake St Clair Super Bass Open from L NBAA national director Jack Horning, 3rd place Kyle Greene, 1st place Jeff Cox, 2nd place Chip Harrison, NBAA owner Jim Sprague, 3rd place Scott Dobson, 2nd place Bryan Plenzler, 1st place Skip Johnson. Photo Credit: NBAA
To put it all in perspective, the weigh in was so good and so many big smallmouth came to the scales. The top 17 teams had over 19 lbs!!
Besides the fantastic fishing other special deals were going on at this year's St Clair Open. 5 Hour Energy was on hand given out samples of the fabulous energy drink. NBAA would like to thank 5 Hour Energy for coming out and participating in this year's open. Wayne Carpenter from Xtreme Bass Tackle was also on hand. Wayne is a very popular figure around Lake St Clair. Check out Wayne's great line up of tackle at www.xtremebasstackle.com.
See complete results on the NBAA Forum.
There was also a special raffle held in the dedication of David Wagonsomer. David was a very well known angler around the St Clair area and beyond. More important than being known as a great angler, David was a great guy. Always positive with a special outlook on life. Thanks to the generosity of sponsors and the anglers of the St Clair Open over $500 was raised for the Wagnosomer memorial. If you would like to donate to the Wagensomer Memorial the information is below.
Memorial Fund Information:
Wagensomer Family Memorial Fund
Christian Financial Credit Union
19770 Harper Ave
Harper Woods, MI 48225