Pros Picking Apart Table Rock Lake for Second PAA Tournament Series Event
By editor on Jun 22, 2011 | In Bass Tournaments, PAA

PAA News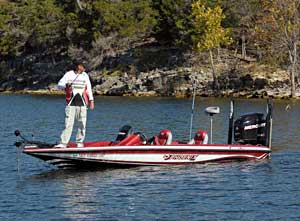 Phoenix Boats founder Gary Clouse is checking deep and shallow water this week on Table Rock Lake to see what he can find. Photo Credit: Chris Dutton
BRANSON, Mo. (June 20, 2010) - Gary Clouse fished on Table Rock Lake for years, plying its deep waters for bass amid the scenery of the surrounding Ozark Mountains.
Then he moved to Nashville and became immersed in the boating industry as a designer for some of the most popular brands on the market. His fishing time on Table Rock became limited due to other demands, but the famed lake has always remained special to him.
"I grew up fishing there and fished it a lot before I moved," said the founder of Phoenix Boats. "But that's been about 25 years and it's changed a lot since then. I still like going there, though. It's a really good lake and is fun to fish on."
Clouse will get a shot at Table Rock's rough 'n tumble spotted bass and largemouth this week during the during the second stop of the Bass Pro Shops PAA Tournament Series presented by Carrot Stix. Official practice began Monday, with the tournament set Thursday through Saturday going out of Chateau on the Lake marina.
Daily launches and free 3 p.m. weigh-ins the first two days will take place at Chateau on the Lake. The final day weigh-in will begin at 4:30 p.m. at the Bass Pro Shops fountains at Branson Landing in Branson. At stake for the winner is cash and a new Nitro Z-8 with a Mercury 225 Optimax and T-H Marine Atlas jackplate, with a Humminbird 898c Si Combo to the Humminbird Big Bass of the Tournament winner.
Heavy rainfall this spring put Table Rock at record levels, giving anglers a chance to fish shoreline cover that had never seen more than raindrops. Offshore cover and structure typically accessible with crankbaits – a longtime Ozarks favorite for anglers – had twice as much water overhead than normal for late spring and early summer.
The U.S. Corps of Engineers has worked feverishly to get the water moved along the White River chain as much as the downriver lakes could hold. Table Rock's level currently is a smidge above 925 feet and has stayed at that mark for a while, with incremental releases.
"I've heard they're going to hold it at about 925," Clouse said. "I'd love to be able to get out on some of the deeper stuff but I don't know if we'll be able to do that as well. It's going to be interesting to see what we can find.
"I'm sure some guys will go shallow and probably will find some fish up shallow. The water's been high enough for a while to do that. I'll probably check that, too, like everyone else. But I'm going to be looking for some deeper stuff, too."
The tournament is the second of three in the PAA Tournament Series, with anglers vying for valuable points to qualify for the Toyota Texas Bass Classic in October on Lake Conroe. The top 15 in the final point standings from the Tournament Series, Bassmaster Elite Series and FLW Tour will earn invitations to the TTBC, the only world championship that unifies all three leagues.
Among pros competing this week are Ranger pro Paul Marks of Georgia, winner of the opening Tournament Series event and current points leader; American National pro Shane Long of Missouri, who won the Tournament Series season-finale last October on Table Rock; defending PAA Angler of the Year and Gene Larew pro Tommy Biffle of Oklahoma, 2010 Central Pro-Am Association points champion and Nitro pro Larry Seger of Missouri, and 19 of the top 25 anglers in the current PAA Tournament Series points standings.
Observer opportunities
Current PAA members can ride with the pros up to two days during the Table Rock tournament for just $50. Thursday and Friday positions still are available for those interested. Observers do not fish during the tournament but will have a front-row seat to all the action each day from takeoff to weigh-in.
If you're not already a PAA member, the Observer fee and $50 annual General Membership fee are required. Membership includes a membership card, PAA cap, decals, the PAA PayDay tournament cash bonus program of more than 75 tournament trails and access to the PAA Affinity Program that offers discounted tackle, boating and vehicle accessories and hotel rates from more than 50 partners.
Anyone interested in being a PAA Member Observer must be at least 16 years old and a PAA member. To register, visit the PAA registration area at Bass Pro Shops in Springfield this Wednesday from 3:30-5:30 p.m. or contact the PAA headquarters at (270) 527-2030 no later than Wednesday at 12 p.m. CT.
Are you a PAA member?
PAA members have great benefits including access to the PAA Affinity Program, with a growing list of more than 50 companies offering members-only discounts on fishing tackle, boating and vehicle accessories, hotel stays and more. Members also receive a membership card, decals, PAA cap and may fulfill eligibility requirements to participate in the PAA PayDay Program that pays cash bonuses for winning in more than 75 bass tournaments including a dozen with co-angler opportunities.
Four membership levels are available. From June 21-28, anyone who joins the PAA at any level or renews a membership will be eligible to win three new OPTIMA Blue Top Group 27 batteries worth $600. For more information visit www.fishpaa.com/membership
About the PAA
The Professional Anglers Association is a non-profit organization that gives professional anglers a unified voice in order to aid in the growth of the sport of professional bass fishing. The PAA also aims to administer educational programs to the average angler, to increase enjoyment of the sport, and to embrace sound conservation practices to further the future of the sport. Web: www.FishPAA.com
2011 PAA Tournament Series
What: 2011 Bass Pro Shops Tournament Series presented by Carrot Stix
Where: Table Rock Lake, at Chateau on the Lake and Table Rock State Park
When: June 23-25
Launch/weigh-in: First two days, launch at 6:15 a.m. and weigh-in at 3 p.m. at Chateau on the Lake marina, 415 North State Highway 265, Branson
Final day launch/weigh-in: Launch at 6:15 a.m. at Chateau on the Lake marina; weigh-in at 4:30 p.m. at Bass Pro Shops at Branson Landing, 1 Bass Pro Drive, Branson
At stake: Cash and a 2011 Nitro Z8 with Mercury 225 and T-H Marine Atlas Jackplate, along with points toward PAA Angler of the Year title and qualification for the 2011 Toyota Texas Bass Classic
Online: www.FishPAA.com
2011 PAA Tournament Series Premier Sponsors: Bass Pro Shops, E21 Carrot Stix, Optima Batteries, Nitro Performance Bass Boats
2011 PAA Tournament Series Associate Sponsors: Lazer TroKar, Jasper Engines & Transmissions, Mercury Marine, Boat U.S. Foundation, Fishouflage, U.S. Reel, Sign Designs, Toyota Texas Bass Classic