Tennessee's Ott DeFoe wins Bassmaster Rookie of the Year award
By editor on Jun 21, 2011 | In Bass Tournaments, BASS Elites, BASS, Pro Anglers

B.A.S.S. News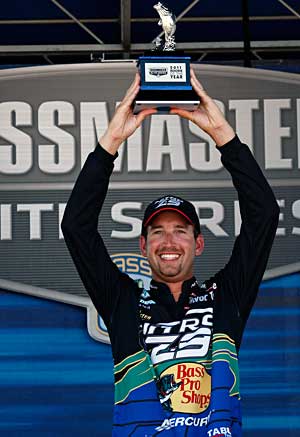 Ott Defoe takes the 2011 Bassmaster Rookie of the Year title. Photo Credit: B.A.S.S./Gary Tramontina
DECATUR, Ala. — It was no surprise on Sunday when 25-year-old Ott DeFoe of Knoxville, Tenn., was declared the 2011 Bassmaster Rookie of the Year.
Anyone who had even casually tracked DeFoe's first year in the Bassmaster Elite Series knew that he wasn't a typical rookie. His strong performances all year pointed to the fact that he'd pick up the top-rookie trophy at season's end.
"To come into this and win Rookie of the Year means a lot to me," he said. "The winner can always say he was the best in his freshman class of anglers entering the Elite Series. It gives you a lot of credibility."
DeFoe set himself apart early. After the second Elite tournament, he led all other rookies in the points tally (the same points system used to score for the Toyota Tundra Bassmaster Angler of the Year award).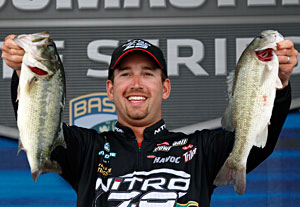 Ott Defoe was a standout on the Elite Series with bass like these two on the way to his 2011 Bassmaster Rookie of the Year title. Photo Credit: B.A.S.S./Gary Tramontina
The best rookie of 2011 was also a season standout among all Elite pros, rookie or veteran. Sunday he ended in the top eight in overall points, nailing one of eight berths awarded Sunday for Toyota Trucks All-Star Week and a 2012 Bassmaster Classic qualification.
All-Star Week is the Elite Series' new postseason event slated for July 23-31. It will be played on Lake Jordan out of Wetumpka, Ala., and on the Alabama River out of Montgomery, Ala. Only 12 anglers will compete. Eight come from the top of the Elite points standings. The other four will be selected through online voting by fans beginning June 21 at Bassmaster.com. The prize in the winner-take-all event is $100,000.
"I am extremely proud to qualify for the postseason and the Classic in my rookie year," DeFoe said.
The 2012 Classic will be his first — as a competitor. With his father and brother, he attended every Classic from the age of 11 until he was about 19.
His Elite season accomplishments include seven of eight Top 50 cuts of the 2011 season (he missed out only in the Arkansas River event). Two top-12 cuts are on his record, too. The first was at Georgia's West Point Lake in May, the second at Alabama's Wheeler Lake for the June 19 season finale.
He said he began the year with a full list of goals: making a Top 12, winning Rookie of the Year, qualifying for the Classic, getting into the postseason, and winning an Elite tournament.
"Winning is the only one of my goals I didn't make this season," he said. "But I think winning in your rookie year is asking quite a bit."
DeFoe, who competed in his first tournament when he was 9 years old, qualified for the Elite Series through the 2010 Bass Pro Shops Bassmaster Southern Open circuit. Before that, starting at age 16, he competed on the FLW circuit, logging 95 events from 2002 to 2010. His FLW record included 17 top 10 finishes and four championship qualifications.
But he wanted to move up into the Bassmaster Elite circuit. He spent just one season in the Opens earning his Elite qualification. Electing to continue with Southern Opens in 2011, he scored third place in Open points.
DeFoe delivered a stellar 2011 season at a time when his personal life was delivering too. The parents of a 4-year-old girl, he and his wife became parents of twins just three days before he had to travel to Arkansas for the June 9-12 Elite event. Because he drove straight to Alabama for the Dixie Duel, he had not seen his family for weeks. His wife, daughter, twins, and other family members drove to Decatur to be with him as he accepted the Rookie of the Year trophy — icing on the cake to his Father's Day.
For more information about the Bassmaster Elite Series Dixie Duel, and for final Bassmaster Rookie of the Year points standings, go to www.bassmaster.com.
2011 Bassmaster Elite Series Official Sponsors: Toyota, Bass Pro Shops, Berkley, Evan Williams Bourbon, Humminbird, Mercury, Minn Kota, Skeeter Boats, Triton Boats, Yamaha
2011 Bassmaster Elite Series Supporting Sponsors: Lowrance, Luck "E" Strike, Nitro Boats, Power-Pole, Ramada
About B.A.S.S.
For more than 40 years, B.A.S.S. has served as the authority on bass fishing. The organization advances the sport through advocacy, outreach and an expansive tournament structure while connecting directly with the passionate community of bass anglers through its Bassmaster media vehicles.
The Bassmaster brand and its multimedia platforms are guided by a mission to serve all fishing fans. Through its industry-leading publications — Bassmaster Magazine and B.A.S.S. Times — comprehensive website Bassmaster.com, ESPN2 and Outdoor Channel television programming, Bassmaster provides rich, leading-edge content true to the lifestyle.
The Bassmaster Tournament Trail includes the Bassmaster Elite Series, Bass Pro Shops Bassmaster Open Series, B.A.S.S. Federation Nation events presented by Yamaha and Skeeter Boats and the ultimate celebration of competitive fishing, the Bassmaster Classic.
B.A.S.S. offers an array of services to its more than 500,000 members and remains focused on issues related to conservation and water access. The organization is headquartered in Celebration, Fla.