Tennessee's David Walker gets his wish
By editor on Jun 21, 2011 | In Bass Tournaments, BASS Elites, BASS

B.A.S.S. News
A Classic berth and a tour-level win, the Bassmaster Elite Series title on Alabama's Wheeler Lake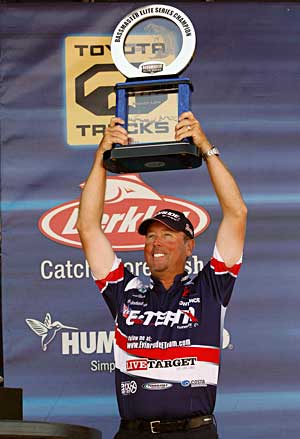 Bass pro David Walkers wins his first major tournament at the Wheeler Lake Pride of Georgia Bassmaster Elite Series event. Photo Credit: B.A.S.S./Gary Tramontina
DECATUR, Ala. — Most David Walker fans automatically assume he's won a major tournament in his career, and now they are correct.
Amassing a Wheeler Lake catch of 63 pounds, 10 ounces the Sevierville, Tenn., pro took possession Sunday of the Bassmaster Elite Series Dixie Duel trophy, his first win in a premier circuit.
"I've fished a lot of them, and I hadn't won one," said Walker, 46, an experienced pro who made a name for himself on the FLW circuit before joining the Elite Series for the 2011 season. "I always felt like I was good enough to do it, and I feel like I've paid my dues. And why not a win?
"That was my slogan for the whole week: 'Why not me?' And here I am, talking about a win — I might be a little rusty on that topic," he quipped.
Walker won $100,000 and a 2012 Bassmaster Classic berth, his primary goal in becoming an Elite pro. Because he also earned enough Toyota Tundra Bassmaster of the Year points for a ticket to the 2012 world championship, Walker reached his goal of returning to the Classic not once, but twice in one season.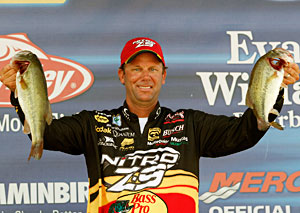 Kevin VanDam took 2nd place at the Wheeler Lake Pride of Georgia Bassmaster Elite Series event. Photo Credit: B.A.S.S./Gary Tramontina
Kevin VanDam came within 1 pound, 13 ounces, of a 2011 regular-season Elite win. Sunday was the day after he closed on his fourth consecutive Toyota Tundra Bassmaster Angler of the Year award, which he's won seven times in his career.
Day Three leader Bradley Roy of Lancaster, Ky., had 60-6 over four days to end in third place, shy of his last-hour bid to win and gain a Classic berth. Fourth was Ish Monroe of Hughson, Calif., with 58-15, more than good enough to punch his ticket to the Classic.
Rounding out the Top 5 was Ott DeFoe of Knoxville, Tenn., with 58-9. DeFoe's strong finish to the season was the guarantee that he got into the postseason as well as the 2012 Classic. Fourth in overall points, DeFoe also won the 2011 Bassmaster Rookie of the Year award.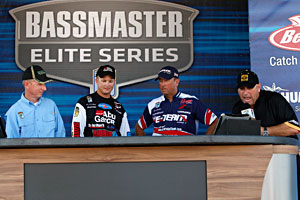 Bradley Roy and David Walker share the Bassmaster Wheeler Lake stage with tournament director Trip Weldon and emcee Dave Mercer. Photo Credit: B.A.S.S./Gary Tramontina
Walker stayed on or near the top of the Dixie Duel's leaderboard over all four days. He started in second place with an impressive haul of 18 pounds and 2 ounces. He took over on Day Two with 35-3, but slid back to the runner-up spot before taking the title Sunday.
The winner caught most of his weight on a ledge pattern in two spots. He rotated casts with an 11-inch plum-colored worm, a Lake Fork chrome spoon and deep-diving crankbaits in two different shad patterns.
"Those were my main, key weapons," he said, not specifying brands.
"With the crankbait, I made a long throw, and once I felt the crankbait hit the bottom, I felt the fish get it. And once the first fish got it, it was every cast — hit bottom, a fish would get it, hit bottom, a fish would get it."
Saturday's brisk wind dictated that he stick with a spoon Saturday, but the wind direction changed enough Sunday so he could work with other lures.
"The casts I needed to make were directly downwind so I could throw even farther and feel (the bait working) even more," he said. "The difficult thing was holding (the boat) in position."
VanDam's Dixie Duel total was 61-13.
"I just didn't get the quality bites today," he said. "I caught a ton of fish today, I fished everything I wanted to, but it was all I could manage. I fished clean this week. I didn't lose, I got beat."
As the Angler of the Year, VanDam was first into the Toyota Trucks All-Star Week postseason. As the 2011 Bassmaster Classic champ, he already had his 2012 Classic berth secured.
The day's largest bass was Greg Hackney's 4-8, but it didn't beat Keith Poche's 6-6 of Day Three. Poche collected the Berkley Big Bass of the Tournament bonus of $500.
Next up for the Bassmaster Elite Series is the postseason, the July 23-31 Toyota Trucks All-Star Week in Alabama. Twelve anglers — four of them selected by fan voting at Bassmaster.com beginning Tuesday — will compete on Lake Jordan and the Alabama River. One lucky voter will end up with a Triton/Mercury bass boat rig.
For more information about the Bassmaster Elite Series Dixie Duel, go to www.bassmaster.com.
Final day, Angler of the Year and Rookie of the Year standings available on the B.A.S.S. Forum.
2011 Bassmaster Elite Series Official Sponsors: Toyota, Bass Pro Shops, Berkley, Evan Williams Bourbon, Humminbird, Mercury, Minn Kota, Skeeter Boats, Triton Boats, Yamaha
2011 Bassmaster Elite Series Supporting Sponsors: Lowrance, Luck "E" Strike, Nitro Boats, Power-Pole, Ramada
Pages: 1· 2