Young Kentuckian Bradley Roy milks sweet spot into lead at the Bassmaster Elite event on Wheeler Lake
By editor on Jun 21, 2011 | In Bass Tournaments, BASS Elites, BASS, KVD

B.A.S.S. News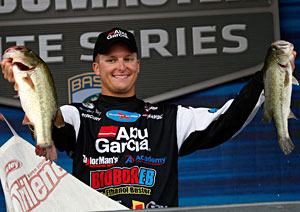 Bradley Roy leads the Bassmaster Elite Series on Wheeler Lake with 50-5 after day 3. Photo Credit: B.A.S.S./Gary Tramontina
DECATUR, Ala. — Bradley Roy of Lancaster, Ky., injected new life into his sagging season Saturday at the Bassmaster Elite Series season finale by bringing in 17 pounds, 10 ounces, and jumping four places into the lead with 50-5 over three days.
Roy's big charge this week on Alabama's Wheeler Lake started with a quiet 13th place on the first day. He made more noise on the second day by hitting fifth place. Saturday, Roy got everyone's attention by whisking the lead from David Walker of Sevierville, Tenn., who fell to second place with 48-10, but still just 1 pound, 11 ounces behind Roy.
"I feel like I've turned a bad season into a good one in one day. I'm determined, I need to win this," said the 20-year-old Roy, the pro who made a quick name for himself in 2009 as the youngest pro to ever qualify for the Elite Series. He was just 18 at the time. He went on to become the 2010 Bassmaster Rookie of the Year.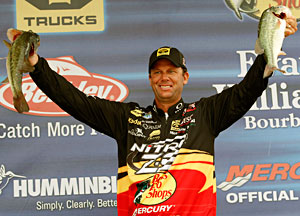 Kevin VanDam holds down 3rd place at the Bassmaster Elite Series on Wheeler Lake after day 3 having already secured the Toyota Tundra Angler of the Year title. Photo Credit: B.A.S.S./Gary Tramontina
In third after three days with 47-2 was Kevin VanDam, newly crowned 2011 Toyota Tundra Bassmaster Angler of the Year. With the same weight as VanDam, but given fourth place after a tie-breaker was applied was Day One leader Ott DeFoe of Knoxville, Tenn. Fifth was Greg Hackney of Gonzales, La., with 46-10.
The day's biggest bag of 20-14 propelled Ish Monroe from 34th into sixth at 45 pounds, 1 ounce. Monroe is intent on a big finish at the Wheeler event to earn enough points to qualify for the 2012 Classic.
The Classic is Roy's goal, too. Roy had slumped into 83rd place in the 2011 season standings. His only hope to qualify for the 2012 Bassmaster Classic was to win an event, and he made his move this week.
Roy said he's been working the same ledge of Wheeler Lake all three days of the Dixie Duel to climb the leaderboard each day. He's actually been sharing water all that time with Monroe, but didn't realize it until Saturday when they both turned up there at the same time.
"I think we've been showing up at different times, so I thought I had it to myself. But there's been plenty of fish there for us both," Roy said.
If Roy wins Sunday, it would mean a $100,000 payday and an instant qualification for the 2012 Bassmaster Classic.
"I've been having a 'sophomore slump' year. The only way to get into the Classic is the hard way, and that's winning one of these things. That's all that's on my mind, to have a shot to win it tomorrow, get those key bites and get them in the boat," Roy said.
Roy and Monroe agreed that the spot held enough fish to carry them both through the final day of competition.
"There's tons of fish there," Monroe added.
Monroe said he arrived at the spot Saturday, saw Roy there, and they worked out a share plan. Monroe began to fish, and caught a 5-pounder on his first cast.
"At one point, I guarantee, I made 10 casts and got 10 bites," said Monroe. "Then he was catching them every cast, and I'm not, but I'm catching bigger ones."
After boating the fish he needed, Monroe said he cut his lure from his line, tossed it to Roy, and left Roy to it.
"I knew he was in the Top 10 with an opportunity to win and hadn't made the Classic," Monroe said. "I felt sure now that I would have enough points for a Classic berth, so I said, 'Dude, it's all yours,' and I left."
Roy said he did catch one bass on the lure Monroe gave to him, a slightly different color than what he'd been using.
Both Roy and Monroe came in early to save some fish for Sunday and for fish care issues.
VanDam, the Angler of the Year trophy safely tucked under his arm, turned his attention to taking the Dixie Duel trophy. He's 3 pounds, 3 ounces from the leader.
"It's the final day, so there's no reason to save back fish," he said, adding that he has a few areas he's held in reserve. "I know I'm going to have to catch a big stringer to win."
Afternoon wind killed his bite, he said. A thunderstorm with high winds kicked up midafternoon and put a chop on Wheeler that also hurt Walker.
"The wind literally blew me off the fishing," Walker said. "The last part of the day was a wash, you could only hope to get a bite on my spot. I'll go back there tomorrow, but I know good and well not to sit around there and die on it."
The big bass of the day, a 6-6, was brought in by Keith Poche of Troy, Ala. He said he caught it on a 5-inch NetBait Salt Lick in green pumpkin. That bass helped Poche into the Top 12 at No. 9 for Sunday's competition. Poche's bass now stands as the frontrunner for the Berkley Big Bass of the Tournament award, which carries a $500 bonus.
The field was cut to 12 for Sunday's finale. On the line are the event's $100,000 prize, eight qualifications for the Toyota Trucks All-Star Week in July, and entries into the Bassmaster Classic of February 2012.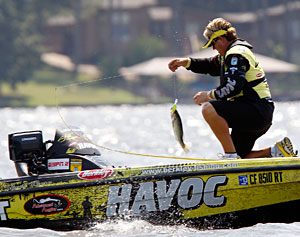 Skeet Reese lost his day three catch at the Bassmaster Elite Series on Wheeler Lake due to a sixth bass in his livewell. Photo Credit: B.A.S.S./Gary Tramontina
Skeet Reese of Auburn, Calif., at first secured a Top 12 spot, but lost it. He weighed his day's catch and returned to his boat and discovered a sixth bass still in his livewell. Tournament officials said Reese reported the fish.
The sixth fish in a post-weigh-in situation costs the angler all credit for his day's catch. Reese ended in 33rd place, out of the cut and out of a chance to gain a Bassmaster Classic berth by winning the event. Takahiro Omori of Emory, Texas, who had been first out of the cut, was awarded the 12-place spot.
Pages: 1· 2