29 new Bassmaster Classic qualifiers determined Sunday
By editor on Jun 21, 2011 | In Bass Tournaments, BASS Elites, BASS, Bassmaster Classic, Pro Anglers, KVD

B.A.S.S. News
A week of crunching numbers and Hail Mary casting comes to a close.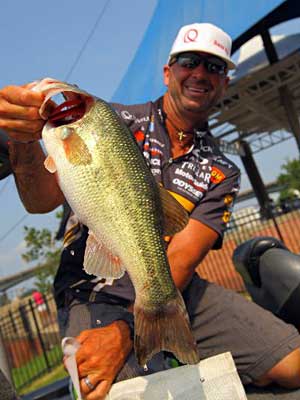 Gerald Swindle secured his 2012 Bassmaster Classic berth with a B.A.S.S. Southern Open win earlier this year. Photo Credit: B.A.S.S. / Seigo Saito
DECATUR, Ala. — Twenty-nine Bassmaster Elite Series pros nailed down qualifications on Sunday for the Feb. 24-26 Bassmaster Classic. With the nine Elite anglers who qualified earlier in the season, there are 38 who can get ready for the Red River world championship out of Shreveport-Bossier City, La.
Some of the pros had known they'd have enough points to get into the 2012 Classic field. But those riding the bubble had to sweat it out over the past week at the season closer on Wheeler Lake, constantly refiguring math on the points and doing a lot of Hail Mary casting.
This year, the top 28 Elite pros in the Toyota Tundra Bassmaster Angler of the Year points standings were awarded a Classic berth. If an angler in that top 28 qualified for the Classic through another route, B.A.S.S. worked down the Elite points list to award the berth to the next in line.
By the close of the regular season on June 19, there were nine duplicate qualifications, pushing the cutline to include 37th place.
Before the Wheeler tournament began, nine Elite anglers had no Classic worries. One was Kevin VanDam, who as 2011 Classic winner got an automatic in for the next time. Even before VanDam had his, Gerald Swindle won a seat for 2012 by winning the Bass Pro Shops Bassmaster Southern Open season opener in January, thanks to the new win-you're-in rule of all Bassmaster Opens.
The same rule applied to Elite champs. That's how Classic seats were secured by Shaw Grigsby, Edwin Evers, Davy Hite, Dean Rojas, Steve Kennedy, Casey Ashley and Denny Brauer.
On Sunday afternoon, Dixie Duel champ David Walker had one of those win-you're-in Classic qualifications in hand as well as a qualification through the Angler of the Year points system.
Those without instant-ins or with shaky points standings were the Elite pros who, figuratively speaking, had calculators strapped to their boat's dashboards all week. That group included Ish Monroe teetering at 35th in points going into the Wheeler tournament.
His catches on Day One and Day Two were both in the 12-pound class. Then he hauled in a huge sack of bass Saturday. As he waited at the tanks for his turn at the scales, Monroe happily confirmed the obvious: "This is the bag that seals the Classic, oh yes it is."
Monroe locked in at 20th place.
Marty Robinson has a similar, if not 20-pound story. Robinson was 33rd at the beginning of the week. He had three solid days. But he had to wait until Sunday to find out he had hung on at 35th. It will be his first Classic appearance, the accomplishment of his long-held goal.
Other first-time qualifiers for the Classic were Walker, Ott DeFoe and Keith Combs.
First out at 38th place was Kelly Jordon of Palestine, Texas.
He and a few of the others near the cutline can keep their Classic hopes alive for a while because of possible duplications stemming from winners of the season's remaining five Bass Pro Shops Bassmaster Open tournaments.
It's also possible that an Elite angler will get in on his own by winning an Open. That could happen in the two remaining Central Opens (if the pro fished the first Central), or in the Northern Open circuit that begins in July. Any Northern winner also must fish all three Northern events to collect a Classic entry.
Bassmaster Elite Series anglers who have qualified for 2012 Bassmaster Classic (as of June 19)
These Elite anglers qualified by winning events:
1. Kevin VanDam Kalamazoo, Mich. (2011 Classic winner)
2. Gerald Swindle Warrior, Ala. (Open event winner)
3. Shaw Grigsby Gainesville, Fla. (Elite event winner)
4. Edwin Evers Talala, Okla. (Elite event winner)
5. Davy Hite Ninety Six, S.C. (Elite event winner)
6. Dean Rojas Lake Havasu City, Ariz. (Elite event winner)
7. Stephen Kennedy Auburn, Ala. (Elite event winner)
8. Casey Ashley Donalds, S.C. (Elite event winner)
9. Dennis Brauer Camdenton, Mo. (Elite event winner)
10. David Walker Sevierville, Tenn. (Elite event winner)
These Elite anglers qualified through the points system:
1. Ott DeFoe Knoxville, Tenn.
2. Terry Scroggins San Mateo, Fla.
3. Alton Jones Waco, Texas
4. Keith Poche Troy, Ala.
5. Greg Vinson Wetumpka, Ala.
6. Chris Lane Guntersville, Ala.
7. Randy Howell Springville, Ala.
8. Keith Combs Huntington, Texas
9. Aaron Martens Leeds, Ala.
10. Michael Iaconelli Pitts Grove, N.J.
11. Dustin Wilks Rocky Mount, N.C.
12. Ish Monroe Hughson, Calif.
13. Todd Faircloth Jasper, Texas
14. Jared Lintner Arroyo Grande, Calif.
15. Bobby Lane Lakeland, Fla.
16. Jeff Kriet Ardmore, Okla.
17. Greg Hackney Gonzales, La.
18. Kevin Wirth Crestwood, Ky.
19. Fred Roumbanis Bixby, Okla.
20. Timmy Horton Muscle Shoals, Ala.
21. John Crews Salem, Va.
22. Stephen Browning Hot Springs, Ark.
23. Takahiro Omori Emory, Texas
24. Matt Reed Madisonville, Texas
25. Bill Lowen Brookville, Ind.
26. Marty Robinson Lyman, S.C.
27. Brent Chapman Lake Quivira, Kan.
28. Brandon Palaniuk Rathdrum, Idaho
Pages: 1· 2