Denny Brauer's Arkansas River school still in session on the third day of the Diamond Drive
By editor on Jun 15, 2011 | In Bass Tournaments, BASS Elites, BASS, JVD, KVD

B.A.S.S. News
Jonathon VanDam makes a charge with big bass of tournament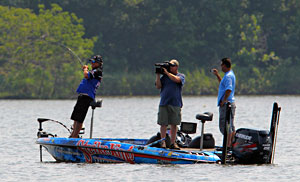 Legendary bass pro Denny Brauer maintains a strong lead on day three of the 2011 Elite Series Diamond Drive on the Arkansas River hooking a bass in front of Mark Zona and cameraman James Massey. Photo Credit: B.A.S.S. / Seigo Saito
LITTLE ROCK, Ark. — If they're honest about it, most bass pros would have to admit they've learned from Denny Brauer. Saturday, the famed pro from Camdenton, Mo., schooled some of the best in the business by keeping his lead for the third day in the Bassmaster Elite Series Diamond Drive.
Brauer's catch of 10 pounds, 12 ounces, fended off the changing lineup of fellow Elite pros who have been doing their best all week to wreck Brauer's chance at a 17th Bassmaster victory. But with 44-13 over three days, Brauer stayed 10-2 ahead of Saturday's frontline challenger, John Murray of Phoenix, Ariz., who ended his day in second place with 34-11.
Only the best 12 anglers after three days made it to Sunday's final round. They will compete for $100,000, a 2012 Bassmaster Classic berth, and points in the Toyota Tundra Bassmaster Angler of the Year race.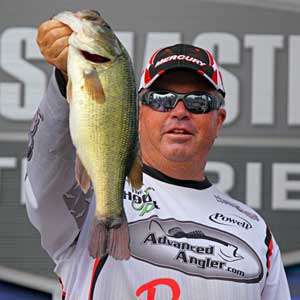 Phoenix Arizona pro John Murray sits in second place 10 pounds behind leader Denny Brauer on day three of the 2011 Elite Series Diamond Drive on the Arkansas River. Photo Credit: B.A.S.S. / Seigo Saito
Murray, among others in the Top 12, said he was resigned to fishing for second place on Sunday. But Brauer, a pro who has captured the sport's most coveted titles — Bassmaster Classic champ and Toyota Tundra Bassmaster Angler of the Year — still was not convinced that a 10-pound lead was enough to win no matter what Day Four brought.
"If I can catch a limit, that would make it tougher for somebody else," he said. "Somebody could bust a big bag, and if you stub your toe, you're going to end up regretting it. You have to catch them all four days."
Brauer had hoped his spot in Pool 4 would have produced better than 10-12 for him Saturday, but shared water, a narrow window of fishing time and short fish cut into his expectations.
"I had not caught a short fish (largemouth less than 15 inches) the first two days. Today, I got as many bites as the first two days, but they were smaller fish," he said.
His final two keepers, one a 2 1/2-pounder, salvaged his day, he said. "It was a frustrating day, but neat to get a limit before I left my area." He said he has caught the majority of this week's fish on a Strike King Pro Tour football jig.
Brauer was among those who elected to lock downriver twice. He and others got stuck waiting Saturday morning for about an hour for barge traffic to clear — one of the challenges the river has thrown at the pros this week.
"The good thing was, they had the second lock open and ready to go when we got there, and they got us down fairly quickly. We lost a little time, but they did as good a job as they could for us," Brauer said, calculating that he lost only about 10 minutes of active fishing time overall.
Murray said he caught his first fish on a crankbait near the takeoff ramp before he headed to the lock and was stuck waiting with Brauer and other Elite pros.
Finally down in the far pool, he quickly boated two more keepers, then his largest of the day, a 4-12. "And that was the last keeper I caught," he said.
Murray brought in only four fish Saturday. He said his tactical decision was between spending precious time working the bank for keepers to get a limit, or to back out into deeper water, where the larger bass were hanging, but were harder to hook.
"It's a hard decision," Murray said. "You only have 2 1/2 hours to fish. It's not like you can get a limit and then go out to upgrade. Tomorrow I'm going to have to weigh the factors to see what's best. It's such a craps shoot, to stay or to go."
Within 5 ounces of Murray was Alabama's Aaron Martens with 34-6; his third place was a three-spot improvement over his Friday finish. Martens is staying in Pool 6, opting out of the lock-through time-eater.
An angler who enjoys power fishing, Martens forced himself to slow down. The discipline helped him to 13-0 for the day.
"I fished like a snail. I hate it," he said.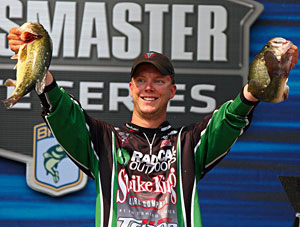 Kalamazoo Michigan Elite rookie Jonathon VanDam makes a big charge day three into 4th place after zeroing on day one with the big bass of the event at 5 pounds. Photo Credit: B.A.S.S. / James Overstreet
Fourth place was covered by Jonathon VanDam, the rookie from Kalamazoo, Mich., who zeroed on Day One and staged a comeback with 15-10 Friday supplemented by 18-5 on Saturday, the heaviest bag of the day.
Fifth place was taken by Gerald Swindle of Warrior, Ala. Swindle started slow at 33rd the first day, moved to 10th the second day before claiming fifth with 32-12. Billy McCaghren, local favorite from Mayflower, Ark., fell from third to sixth place with 30-7.
The pro who ran straight at Brauer on Friday, Kevin VanDam, ended Saturday in seventh after he stumbled Saturday, exactly as he had predicted was possible on the ever-changing Arkansas River. VanDam is looking for his 21st Bassmaster win and enough points to take over the lead in the Toyota Tundra Bassmaster Angler of the Year race. A 2011 AOY crown would be his seventh and fourth consecutive title.
Four anglers were penalized for checking in late. Like six other anglers on Friday, the four incurred pound-a-minute late charges Saturday because they got stuck waiting for commercial barge traffic to clear the lock. Commercial traffic has priority locking time.
The biggest bass brought to the scales Saturday was a 5-0 caught by Jonathon VanDam. The fish bested Zell Rowland's 4-14 on Friday, and became the frontrunner for the Diamond Drive's Berkley Big Bass of the Tournament bonus of $500.
Pages: 1· 2