Missouri's Denny Brauer closes on 17th Bassmaster win
By editor on Jun 15, 2011 | In Bass Tournaments, BASS Elites, BASS, JVD

B.A.S.S. News
Jonathon VanDam wins Berkley Big Bass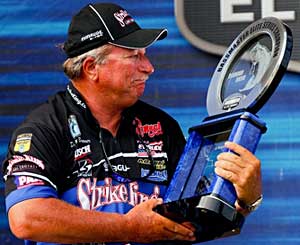 Missouri Elite angler Denny Brauer wins his 17th Bassmaster at the 2011 Diamond Drive on the Arkansas River. Photo Credit: B.A.S.S./James Overstreet
LITTLE ROCK, Ark. — Leading for three days, Denny Brauer of Camdenton, Mo., closed on the Bassmaster Elite Series Diamond Drive on Sunday with 52 pounds, 2 ounces, posting a winning margin of more than 7 pounds.
Brauer had a 10-plus-pound lead going into the final round, an insurance policy he didn't need. Adding 7-5 on the fourth and final day, the legend of the sport clinched a wire-to-wire victory.
His prize was $100,000 and a berth in the 2012 Bassmaster Classic.
Aaron Martens of Leeds, Ala., was the pro who went after Brauer hardest in the final hours of the Diamond Drive. But Martens, third after Saturday's competition, weighed 10-11 Sunday for 45-1 overall and second place.
Finishing third was Gerald Swindle of Warrior, Ala., with 40-8. Fourth was Ish Monroe of Hughson, Calif., with 36-9, and fifth was Brauer's hardest charger on Saturday, John Murray of Phoenix, Ariz., who ended in fifth place with 35-9.
Brauer's victory was the 17th of his long Bassmaster career and the first since 2006. His many career accomplishments include the most prestigious two titles of the sport, Toyota Tundra Bassmaster Angler of the Year (1997) and the Bassmaster Classic (1998). But Saturday's victory was special for Brauer for two reasons.
"It's a relief to get into the Classic," said Brauer, 62. It will be his 21st Classic appearance; he had missed Classic 2011.
The other reason, said Brauer, is breaking the five-year dry spell without a win.
"I think this has been the longest stretch in my career that I haven't won," he said. "That makes it extra-special right there. Every tournament you win, you wonder if maybe that was your last one. This is huge for me."
Brauer said most of his fish came from the back of the Pine Bluff Harbor in one spot about the size of two football fields. He described it as a "washout hole."
"A lot of the fish, as they were done spawning, related to the edges of the washout," he said. "And to a bar in there, too. I'd drag a jig, and find a little 'rough' area, and that's when I'd get bit. I don't know if the rough spots were gravel or shale or what, but the fish related to those even more than to the brushpiles there."
His main bait was a 3/4-ounce Strike King football jig in green-pumpkin craw color with a green pumpkin Rage chunk. One big fish he caught came on a Strike King crankbait in sexy blueback herring color.
His fishing time, as for many in the field who elected to fish Pine Bluff Harbor, was mere hours because of the long run from the Little Rock pool, a trip that included locking through twice. On the final day, 10 of the 12 anglers competing, including Brauer, incurred late penalties because they had to wait at a lock for a commercial barge to come through. Most of the anglers who checked in late were 6 or 7 minutes behind the official time. At a pound a minute penalty, several anglers lost credit for their entire day's catch.
Jonathon VanDam's big bass, a 5-0, was enough for him to win the Diamond Drive's Berkley Big Bass of the Tournament bonus of $500.
Next up for the Elite Series is the season finale, June 16-19 on Wheeler Lake out of Decatur, Ala. There, the Toyota Tundra Bassmaster Angler of the Year will be crowned, qualifications determined for the 2011 Toyota Trucks All-Star Week in July, and at least 28 berths for the 2012 Classic.
For more information about the Bassmaster Elite Series, go to www.bassmaster.com.
Final 2011 Diamond Drive Arkansas River Standings on the B.A.S.S. Forum.
2011 Bassmaster Elite Series Official Sponsors: Toyota, Bass Pro Shops, Berkley, Evan Williams Bourbon, Humminbird, Mercury, Minn Kota, Skeeter Boats, Triton Boats, Yamaha
2011 Bassmaster Elite Series Supporting Sponsors: Lowrance, Luck "E" Strike, Nitro Boats, Power-Pole, Ramada
About B.A.S.S.
For more than 40 years, B.A.S.S. has served as the authority on bass fishing. The organization advances the sport through advocacy, outreach and an expansive tournament structure while connecting directly with the passionate community of bass anglers through its Bassmaster media vehicles.
The Bassmaster brand and its multimedia platforms are guided by a mission to serve all fishing fans. Through its industry-leading publications — Bassmaster Magazine and B.A.S.S. Times — comprehensive website Bassmaster.com, ESPN2 and Outdoor Channel television programming, Bassmaster provides rich, leading-edge content true to the lifestyle.
The Bassmaster Tournament Trail includes the Bassmaster Elite Series, Bass Pro Shops Bassmaster Open Series, B.A.S.S. Federation Nation events presented by Yamaha and Skeeter Boats and the ultimate celebration of competitive fishing, the Bassmaster Classic.
B.A.S.S. offers an array of services to its more than 500,000 members and remains focused on issues related to conservation and water access. The organization is headquartered in Celebration, Fla.