McKinnis and Clough to continue B.A.S.S. work on influential council
By editor on May 28, 2011 | In Bass Tournaments, BASS Elites, BASS, Pro Anglers
To finance the venture, he worked up to 60 hours a week in his Knoxville, Tenn., landscape business, a partnership with his father. He said he put back enough money to use toward the Opens as well as for a second goal: to live on Lake Guntersville. Since March 1, he has been splitting his time between Caryville, Tenn., and Guntersville, Ala., so he can learn from the big Tennessee River impoundment.
Grass is the attraction to Guntersville, he said.
"My biggest weakness as an angler is lack of experience fishing grass," he said. "That's one thing I can teach myself on Guntersville."
While he recognizes his weaknesses, he knows what he's got working for him. But more important than his fishing skills is his brother, he said. Both he and Jordan, fishing partners since they were tots, joined the 2011 Southern Open circuit together. They support each other and share information.
"I can trust my brother a lot more than anybody else. I know we're going to be 100 percent honest with each other. It's a team effort for us," he said.
Brandon has found more success in his first Open season than has his brother, but he expects Jordan to catch up soon.
"He's married, living in North Carolina and doesn't fish as much as I do now, so it's harder for him," Brandon said. "But we share the same dream of working our way up to qualify for the Elite Series."
Elite pros mop up in Toyota Bonus Bucks: Ten Bassmaster Elite Series pros so far this season have picked up 14 bonus checks totaling $40,000 through the Toyota Trucks Bonus Bucks program.
The pros were the first- and second-highest finishers of Elite events who were registered Bonus Bucks participants. They own a qualifying Toyota Truck and simply signed up for the program, an online registration process that takes minutes and is free.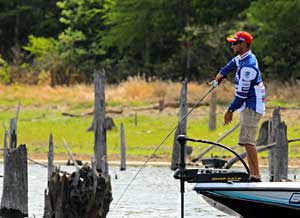 Elite angler Brandon Palaniuk has cashed in on the Toyota Bonus Bucks program the past couple seasons. Photo Credit: B.A.S.S. / Seigo Saito
Elite rookie Brandon Palaniuk has cashed the biggest check of the season: $7,500 for a better finish (fourth place) in the 2011 Bassmaster Classic than any other Classic competitor eligible for the Bonus Bucks deal. Although it was his first Classic and he had not yet begun the Elite season, Palaniuk was an old hand at Bonus Bucks from his days in B.A.S.S. Federation Nation competitions.
"I bought my Toyota last May, registered for Bonus Bucks, and through the Federation last year, including the Nationals, which got me to the Classic and Elite Series, I won a total of $6,250 in Bonus Bucks in 2010," Palaniuk said.
The $7,500 Classic bonus changed how he approached his rookie year as an Elite angler.
"It helped me concentrate on fishing and not stress out about finances," he said. "That was $7,500 I hadn't planned on, and at the time I was barely scraping by. It was a huge deal to me."
Double-dipping is perfectly OK in the program, as Edwin Evers and Davy Hite know. Evers collected $3,000 when he won the Power-Pole Citrus Slam, and another $3,000 when he was the runner-up in the Pride of Georgia. Likewise, Hite received $3,000 in Bonus Bucks when he won the Alabama Charge, and $2,500 as the result of his runner-up finish in the Evan Williams Bourbon Carolina Clash.
Alton Jones is displaying a knack for winning Toyota bonuses. He has earned three Bonus Bucks awards that totaled $6,000. That's on top of the $1,000 bonuses he won for each of the four times he led the 2011 Toyota Tundra Bassmaster Angler of the Year points race. So far, that's a total to Jones in Toyota bonuses of $10,000, with more than half of it from Bonus Bucks.
Other Elite winners so far in 2011: Brent Chapman, $2,500 through the Classic; Stephen Browning, $3,000 in the Elite season opener, the Sunshine Showdown; Bobby Lane, $2,000 after the Alabama Charge; Andy Montgomery, $3,000 from the TroKar Battle on the Bayou; Randy Howell, $2,000 at the Pride of Georgia; and Casey Ashley, $3,000 when he won the most recent Elite event, the Evan Williams Bourbon Carolina Clash.
Toyota Trucks offers the Bonus Bucks program to other anglers in other tournament circuits, including the B.A.S.S. Federation Nation events presented by Yamaha and Skeeter Boats, and Bass Pro Shops Bassmaster Opens. A full list is online at www.toyotatrucksbonusbucks.com/events.
Clash Quotes: Heard from the stage at the May 15 finale of the Evan Williams Bourbon Carolina Clash:
"This would mean as much to me as winning another Bassmaster Classic." — Davy Hite on the hot seat in front of a hometown crowd. He didn't win, but came in second.
"One of these days, I'll be a bride again, I swear." — Michael Iaconelli as he realized he did not win.
"It was just one of those days when I didn't execute too well." — Fred Roumbanis after a tough final day.
About B.A.S.S.
For more than 40 years, B.A.S.S. has served as the authority on bass fishing. The organization advances the sport through advocacy, outreach and an expansive tournament structure while connecting directly with the passionate community of bass anglers through its Bassmaster media vehicles.
The Bassmaster brand and its multimedia platforms are guided by a mission to serve all fishing fans. Through its industry-leading publications — Bassmaster Magazine and B.A.S.S. Times — comprehensive website Bassmaster.com, ESPN2 and Outdoor Channel television programming, Bassmaster provides rich, leading-edge content true to the lifestyle.
The Bassmaster Tournament Trail includes the Bassmaster Elite Series, Bass Pro Shops Bassmaster Open Series, B.A.S.S. Federation Nation events presented by Yamaha and Skeeter Boats and the ultimate celebration of competitive fishing, the Bassmaster Classic.
B.A.S.S. offers an array of services to its more than 500,000 members and remains focused on issues related to conservation and water access. The organization is headquartered in Celebration, Fla.
Pages: 1· 2