Dave Mansue of Texas Elected as PAA President
By editor on May 28, 2011 | In Pro Anglers, PAA

PAA News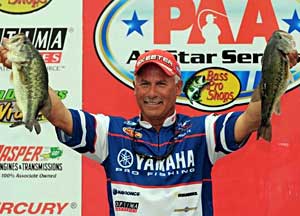 Yamaha pro Dave Mansue of Texas has been elected PAA president by the board of directors. Photo Credit: Chris Dutton
BENTON, Ky. (May 24, 2011) – Dave Mansue of Texas has been elected President of the Professional Anglers Association by the PAA Board of Directors.
Mansue, 58, lives on Toledo Bend Reservoir and competes on the PAA Tournament Series and Bassmaster Open circuit. He moved there in 2009 with his wife, Andrea, upon his retirement as a lieutenant after a 30-year career with the West Windsor (N.J.) Police Department.
Other officers elected for the 2011-12 term are Vice-President Kurt Dove of Texas, Treasurer Matt Reed of Texas and Secretary Brian Snowden of Missouri. Mansue, Reed and Snowden joined the PAA in March 2005 and Dove joined in December 2006.
"I would like to offer my heartfelt gratitude to my fellow members of the Board of Directors for having the faith in me to lead the Professional Anglers Association," Mansue said. "From my humble beginnings as a kid learning to fish on Grover's Mill Pond in New Jersey to the leader of the greatest bass anglers in the world is not only an honor but one of the greatest moments of my career."
Mansue stays busy with some guiding on Toledo Bend "and a lot of home improvements," as well as work related to the PAA. His hobbies include travel, hunting, fishing and cooking. He welcomed industry veteran and TV show host Charlie Ingram to the PAA Board of Directors and congratulated Dove, Reed and Snowden on being elected to their officer positions.
Nominees from the membership are accepted each year for PAA Board of Directors positions and then voted on by PAA Tour members. Board members then nominate and vote on candidates for officers. Dove, Reed and Snowden have served on the board for the last two years.
"Charlie is a true ally to the PAA and his experience will prove invaluable to achieving our mission," Mansue said. "I am honored to serve with these men. I know that together, we will make a strong foundation of leadership for the PAA."
Mansue noted the PAA's successes in the last year including growth of membership and sponsors, the success of the PAA Tournament Series and inaugural no-entry PAA All Star Series tournament held in April, and the continued association with the no-entry Toyota Texas Bass Classic held in October.
"I have been a member of the PAA from the inception," Mansue said. "I have always believed that to truly and significantly improve the lives of all our anglers and their families we must develop a system of tournaments in which we are no longer competing for our own entry fees. As a non-profit organization the PAA is in the best position to provide that opportunity. The PAA, despite our youthful status as an organization in this industry, has successfully provided such opportunities to our members with PAA All Star Series and TTBC events.
"I can assure you that I, along with the entire Board of Directors, will work tirelessly to continue these opportunities and to reach the goals of our organization's mission statement. The coming year will bring great challenges not only to me but the Board of Directors and the organization. With membership support, together, we have the opportunity to make this organization stronger and more influential than ever before."
About the PAA
The Professional Anglers Association is a non-profit organization that gives professional anglers a unified voice in order to aid in the growth of the sport of professional bass fishing. The PAA also aims to administer educational programs to the average angler, to increase enjoyment of the sport, and to embrace sound conservation practices to further the future of the sport. Web: www.FishPAA.com
2011 PAA Tournament Series
What: 2011 Bass Pro Shops Tournament Series presented by Carrot Stix
Where: Table Rock Lake, at Chateau on the Lake and Table Rock State Park
When: June 23-25
Launch/weigh-in: First two days, launch at 6 a.m. and weigh-in at 3 p.m. at Chateau on the Lake, 415 North State Highway265 Branson, Mo. 65616
Final day launch/weigh-in: Launch at 6 a.m. at Chateau on the Lake and weigh-in at 4:30 p.m. at Bass Pro Shops at Branson Landing, 1 Bass Pro Drive, Branson, Mo. 65616
At stake: Cash and a 2011 Nitro Z8 with Mercury 225 and T-H Marine Atlas Jackplate, along with points toward PAA Angler of the Year title and qualification for the 2011 Toyota Texas Bass Classic
Online: www.FishPAA.com
2011 PAA Tournament Series Premier Sponsors: Bass Pro Shops, E21 Carrot Stix, Optima Batteries, Nitro Performance Bass Boats
2011 PAA Tournament Series Associate Sponsors: Lazer TroKar, Jasper Engines & Transmissions, Mercury Marine, Boat U.S. Foundation, Fishouflage, U.S. Reel, Sign Designs, Toyota Texas Bass Classic