Casey Ashley triumphs at home in South Carolina
By editor on May 20, 2011 | In Bass Tournaments, BASS Elites, BASS

B.A.S.S. News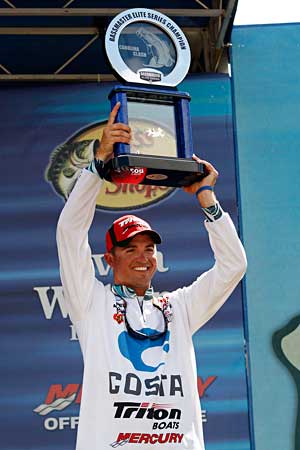 South Carolina Elite angler Casey Ashley triumphs on Lake Murray by more than a three pound margin over Davy Hite and Michael Iaconelli. Photo Credit: B.A.S.S./Gary Tramontina
COLUMBIA, S.C. — Casey Ashley of Donalds, S.C., won the Bassmaster Elite Series Evan Williams Bourbon Carolina Clash on Sunday with a total weight of 61 pounds, 3 ounces.
The leader on Day Three, Ashley closed the deal with a fourth-day catch of 15-5. He won with a 3-pound, 2-ounce margin over fellow South Carolinian Davy Hite and New Jersey's Michael Iaconelli, who tied for second place at 58-1.
Ashley's prize was $100,000 and an instant entry into the 2012 Bassmaster Classic.
It was Ashley's second Bassmaster Elite Series win. His first was in 2007, his rookie year. The two wins feel very different, he said.
"The win at Smith Mountain Lake was special because it was my first, and in my first year on tour. I really didn't know then what it meant to win," he said.
"Now I know they're hard to come by. I'm glad I won, but I'm real glad I won in South Carolina with all my family and friends."
Two 3-pounders in the last 45 minutes of fishing put Ashley over the top. He took both on a shaky head rig after deciding that finesse techniques was what he had to do to correct a day that began slow and shut down quickly.
He had started fishing Sunday in what he said turned out to be the wrong choice of spots.
"The fish were there, but they just wouldn't bite," he said.
About two hours into his day, he made an adjustment by going to a new spot that got him going with a 3-pounder. He left it, came back, then lost a big one, and came back to catch another fish.
"And then it was over," he said. "I had to go totally to finesse fishing after that."
Sunday's biggest bass, a 4-8, was brought in by Brian Snowden. But the 6-9 weighed by Day One leader Jami Fralick won the Berkley Big Bass of the Tournament competition for a $500 bonus.
Complete final results are available on the B.A.S.S. Forum.
2011 Bassmaster Elite Series Official Sponsors: Toyota, Bass Pro Shops, Berkley, Evan Williams Bourbon, Humminbird, Mercury, Minn Kota, Skeeter Boats, Triton Boats, Yamaha
2011 Bassmaster Elite Series Supporting Sponsors: Lowrance, Luck "E" Strike, Nitro Boats, Power-Pole, Ramada
About B.A.S.S.
For more than 40 years, B.A.S.S. has served as the authority on bass fishing. The organization advances the sport through advocacy, outreach and an expansive tournament structure while connecting directly with the passionate community of bass anglers through its Bassmaster media vehicles.
The Bassmaster brand and its multimedia platforms are guided by a mission to serve all fishing fans. Through its industry-leading publications — Bassmaster Magazine and B.A.S.S. Times — comprehensive website Bassmaster.com, ESPN2 and Outdoor Channel television programming, Bassmaster provides rich, leading-edge content true to the lifestyle.
The Bassmaster Tournament Trail includes the Bassmaster Elite Series, Bass Pro Shops Bassmaster Open Series, B.A.S.S. Federation Nation events presented by Yamaha and Skeeter Boats and the ultimate celebration of competitive fishing, the Bassmaster Classic.
B.A.S.S. offers an array of services to its more than 500,000 members and remains focused on issues related to conservation and water access. The organization is headquartered in Celebration, Fla.