Alabama's Steve Kennedy and Oklahoma's Fred Roumbanis on bluebacks
By editor on May 13, 2011 | In BASS Elites, BASS

B.A.S.S. News
Alabama's Steve Kennedy and Oklahoma's Fred Roumbanis on bluebacks, 'tennis shoe' baits and the disappearance of the green stuff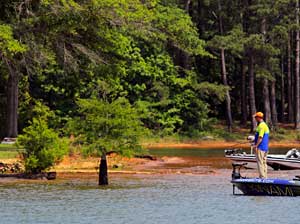 Steve Kennedy could win back-to-back Elite Series events with a win at South Carolina's Lake Murray Carolina Clash. Photo Credit: B.A.S.S. / Seigo Saito
COLUMBIA, S.C. — Only two anglers have a chance this week for back-to-back Bassmaster Elite Series wins, albeit wins of a different color.
Steve Kennedy, just off his May 8 victory at West Point Lake, could claim back-to-back Elite wins by taking the title in the May 12-15 Evan Williams Bourbon Carolina Clash on Lake Murray.
Fred Roumbanis of Bixby, Okla., victor in 2008 when the Elite Series last competed on Murray, is the only pro who could claim consecutive Carolina Clash titles.
Just to make things interesting: Kennedy was runner-up to Roumbanis in that May 2008 tournament. If they do well again on Lake Murray, it won't be because they were able to repeat how they attacked it in 2008, Roumbanis and Kennedy said.
"The fish don't seem to be in the same patterns," said Kennedy, who traveled home to Auburn, Ala., between tournaments so got in just one day of practice. "To me, they're sitting deeper. They're not where I expected them to be."
He said the blueback herring, a favorite bass forage on Murray, are spawning on points in the very early mornings.
"Where the bluebacks go, the bass go in this lake," said Kennedy.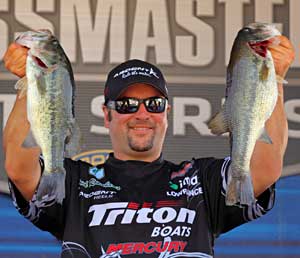 Fred Roumbanis won the last Carolina Clash on Lake Murray in 2008. Photo Credit: B.A.S.S. / Seigo Saito
Roumbanis said Murray contains "a ton more blueback herring than I've ever seen."
Roumbanis speculated that the big herring size of 4 to 5 inches, plus the sheer numbers of the baitfish, might mean that Lake Murray's bass are gorging at dawn and less inclined to take artificials.
"You have to get on an area where they're busting them hysterically," he said. "My goal is to get five fish, then I'm going to start picking up the big rod and throw what we call the 'tennis shoe' — the big swimbaits."
He said he will cover water with a swimbait. When he sees some interest, he'll fire another bait to take the bass, but that often happens only after he allows the bass to "rest."
Roumbanis won in 2008 on a frog pattern upriver where vegetation that grows from the shoreline provided cover. That vegetation died off, likely when the water level was low for a sustained period of time. But, Roumbanis pointed out, the fish did not go away.
Roumbanis said he found "quality fish" upriver in the same area over the past few days during practice, and the vegetation isn't critical to catching them, the bluegill spawn is.
"And there's a similar bluegill spawn that's going on right now," he said. "I've always done well on the bluegill spawn."
Other interesting Kennedy-Roumbanis facts play into the Lake Murray scenario: In the all-important Toyota Tundra Bassmaster Angler of the Year race, Kennedy sits in fourth place, and Roumbanis is in ninth.
Roumbanis' primary goal now is a 2012 Classic qualification; Kennedy already has one in the bag, thanks to the instant entry that came with his victory at West Point Lake.
Roumbanis said he'll do all he can to ensure he stays near the top of the points list, but he feels he has a newfound freedom to take a few chances.
"It's not like I feel the Classic is secure," said Roumbanis, who qualified for the 2008 and 2009 Classics, but not in 2010 or 2011. "But I'm further ahead in points than I've been in the past."
2011 Bassmaster Elite Series Official Sponsors: Toyota, Bass Pro Shops, Berkley, Evan Williams Bourbon, Humminbird, Mercury, Minn Kota, Skeeter Boats, Triton Boats, Yamaha
2011 Bassmaster Elite Series Supporting Sponsors: Lowrance, Luck "E" Strike, Nitro Boats, Power-Pole, Ramada
About B.A.S.S.
For more than 40 years, B.A.S.S. has served as the authority on bass fishing. The organization advances the sport through advocacy, outreach and an expansive tournament structure while connecting directly with the passionate community of bass anglers through its Bassmaster media vehicles.
The Bassmaster brand and its multimedia platforms are guided by a mission to serve all fishing fans. Through its industry-leading publications — Bassmaster Magazine and B.A.S.S. Times — comprehensive website Bassmaster.com, ESPN2 and Outdoor Channel television programming, Bassmaster provides rich, leading-edge content true to the lifestyle.
The Bassmaster Tournament Trail includes the Bassmaster Elite Series, Bass Pro Shops Bassmaster Open Series, B.A.S.S. Federation Nation events presented by Yamaha and Skeeter Boats and the ultimate celebration of competitive fishing, the Bassmaster Classic.
B.A.S.S. offers an array of services to its more than 500,000 members and remains focused on issues related to conservation and water access. The organization is headquartered in Celebration, Fla.