South Dakota's Jami Fralick leads Elite event on South Carolina's Lake Murray
By editor on May 13, 2011 | In Bass Tournaments, BASS Elites, BASS

B.A.S.S. News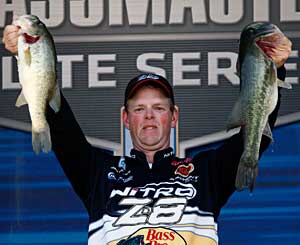 South Dakota's Jami Fralick leads the Carolina Clash Elite Series event on Lake Murray at the end of day one. Photo Credit: B.A.S.S./Gary Tramontina
COLUMBIA, S.C. — Jami Fralick was struggling on Lake Murray until he landed a 6-pound, 9-ounce largemouth, the anchor to his 17-9 bag and the key to the first-day lead in the Evan Williams Bourbon Carolina Clash.
"It was tough out there. I didn't get the number of bites I thought I was going to get. I was fortunate to catch that 6-9 — that turns around a tough day pretty fast," said the pro from Martin, S.D.
Fralick edged ahead of Davy Hite of Ninety Six, S.C., who considers Lake Murray home water. The winner of the season's third event, Hite had 16-7 to show for his day.
Bass fishing legend Rick Clunn was third with 15-12, and John Crews ended the day in fourth place just 1 ounce behind Clunn. Rounding out the top five with 15-8 was Steve Kennedy, who on May 8 won the Elite event on West Point Lake in his native Georgia.
The day started with fishing-favorable overcast skies, but ripened to hot sun over slick water, factors that made the postspawn bite on Murray a challenge for most of the Bassmaster Elite Series field. Only 78 of the 99 anglers were able to bring in limits.
Fralick was still after his limit when he landed his 6-9 at about 11 a.m. He followed up with an afternoon of junk fishing.
Unlike many in the field, who pulled up in a spot only to see another boat and then move on, Fralick said that after he landed his big bass, he moved to an area he had mostly to himself, an area that was new water for him. It was his remedy for the slow afternoon he had learned to expect over three days of practice. His decision helped him to 10 keeper-size bass Thursday.
"I caught one here, one there, doing a lot of different things, just fishing. If I saw a flat that looked good, I'd go fish it," he said.
Contrary to his practice experience, Fralick was stumped by the early morning blueback herring-spawn bite.
"I had five bites in the first hour and a half. I never landed them, they came off. But that's the key here. Tomorrow I'm going to have to catch them first thing in the morning," said Fralick. He expressed surprise that he could take the lead of the Clash without the early bite that many in the field had declared was critical.
Hite said he caught fish in many areas and throughout the day.
"Early morning's better, I think for everybody a little bit. But it's key to catch fish throughout the day," he said.
He declined to comment on the role an early blueback herring bite played or did not play in his day, and emphasized that the tournament was just beginning.
"I like to call this (Thursday) the first quarter — we have four days to fish," he said.
Clunn said his day began — and almost ended — with the textbook Lake Murray early morning herring bite that lasted two to three hours for him.
"You've got to get your good fish then," he said. "After that, you might as well go have coffee and biscuits."
Fralick's 6-9 set the pace for the event's Berkley Big Bass of Tournament bonus of $500.
Complete day one weight results on the B.A.S.S. Forum.
The Bassmaster Elite Series field of 99 anglers will compete for $100,000 and an instant entry into the 2012 Bassmaster Classic. The field will cut to the top 50 for Saturday's competition, and to 12 for Sunday's finale.
2011 Bassmaster Elite Series Official Sponsors: Toyota, Bass Pro Shops, Berkley, Evan Williams Bourbon, Humminbird, Mercury, Minn Kota, Skeeter Boats, Triton Boats, Yamaha
2011 Bassmaster Elite Series Supporting Sponsors: Lowrance, Luck "E" Strike, Nitro Boats, Power-Pole, Ramada
About B.A.S.S.
For more than 40 years, B.A.S.S. has served as the authority on bass fishing. The organization advances the sport through advocacy, outreach and an expansive tournament structure while connecting directly with the passionate community of bass anglers through its Bassmaster media vehicles.
The Bassmaster brand and its multimedia platforms are guided by a mission to serve all fishing fans. Through its industry-leading publications — Bassmaster Magazine and B.A.S.S. Times — comprehensive website Bassmaster.com, ESPN2 and Outdoor Channel television programming, Bassmaster provides rich, leading-edge content true to the lifestyle.
The Bassmaster Tournament Trail includes the Bassmaster Elite Series, Bass Pro Shops Bassmaster Open Series, B.A.S.S. Federation Nation events presented by Yamaha and Skeeter Boats and the ultimate celebration of competitive fishing, the Bassmaster Classic.
B.A.S.S. offers an array of services to its more than 500,000 members and remains focused on issues related to conservation and water access. The organization is headquartered in Celebration, Fla.