Ish Monroe jumps Evers and VanDam for Pride of Georgia lead
By editor on May 7, 2011 | In Bass Tournaments, BASS Elites, BASS

B.A.S.S. News
VanDam maintains 2nd place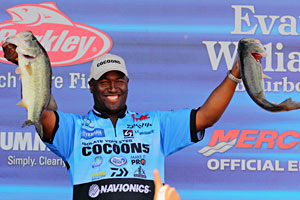 Ish Monroe jumps over Edwin Evers and Kevin VanDam to take the lead after day three of the 2011 Pride of Georgia Elite Series event. Photo Credit: B.A.S.S. / Seigo Saito
LAGRANGE, Ga. — Securing his second Bassmaster Elite Series top-12 cut in a row, and this time with the lead, Ish Monroe was a happy man Saturday. He has, in fact, been feeling great about his fishing in general.
"I'm going out there, fishing, and having fun, there's nothing special about what I'm doing," Monroe said. "I don't get mad, I don't get frustrated, I'm chattin' it up with the crowd back there near me, and enjoying the day. That's what it's all about."
The Hughson, Calif., pro said his buoyant mood was a case of success breeds success: A great second day — a single sack of 21 pounds — acted as a confidence boost, in turn a springboard to a Day Three catch of 14-0.
Not a 21-pound bag, but still better than almost all other anglers could show after a slow day, and enough to push Monroe up and over Edwin Evers and Kevin VanDam in the Pride of Georgia.
Monroe's three-day total was 47 pounds, 11 ounces, besting VanDam by 1 pound, 3 ounces. VanDam managed just 9-5 on Saturday to hold at second place. It's his launching pad for a run at his 21st Bassmaster tournament title, not to mention more points toward a fifth Toyota Tundra Bassmaster Angler of the Year title.
Evers, the leader the first two days, had a rough day and took a back seat to both Monroe and VanDam with a three-day total of 46-7. In fourth place was Steve Kennedy with 46-3. In fifth was rookie Nate Wellman, who had 45-8.
The field was cut to 12 for Sunday's competition, when the winner will claim $100,000 and an instant entry into the 2012 Bassmaster Classic.
Monroe said that where he's catching his fish is probably shallower and contains "different" water than what other anglers are working.
"I've been catching fish on 'nothing' banks," he said. He's also on the lookout for bedding bass, rare in this tournament, but perhaps, Monroe speculated, a new wave will appear Sunday, the tournament's final day.
The water level is rising, a fact that is changing the direction of his fish, he said. "I'd rather they pulled water, because it will suck all the fish into right where I know how to catch them."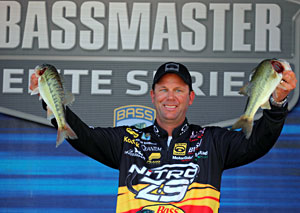 Kevin VanDam maintins second place after day three of the 2011 Pride of Georgia Elite Series event. Photo Credit: B.A.S.S. / Seigo Saito
VanDam said Saturday, like Friday, was "just a grind" for him. He brought 9-5 to the scales.
"I never got any big bites, not where they'd eat it," he said. "I had two or three come up and nip the bait."
No water movement, rising water levels, and slick and sunny conditions hurt him, he said. "I couldn't get the fish to react, to eat anything. I caught a small limit, but not what you want. I got on the wrong rhythm in the morning and never got a good bite."
He said he got caught in the situation of running the same water as other pros, and that the spectator boats — about 30 of them at one time — churned the water.
"With Mother's Day tomorrow, I think a lot of people will stay home and we'll get a chance to really show off on this lake. I know some areas where there are some big ones swimming."
Like VanDam, Evers could not break 10 pounds Saturday although he both broke a sweat trying. Evers and VanDam are only 1 ounce apart on the leaderboard.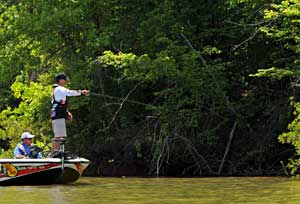 After leading the first two days at West Point Lake, Oklahoma pro Edwin Evers has slipped into third one ounce behind Kevin VanDam. Photo Credit: B.A.S.S. / Seigo Saito
"It will make it interesting for TV tomorrow," Evers said.
He said he's focusing on points with trees on them.
"I'm trying to hit as many as I can throughout the day," he said.
Other than that, it's "junk fishing 101," the Oklahoma pro said. "I've caught some cranking, some topwater, a bunch of different ways. Tomorrow I need five big bites — I'd like to win this thing."
Monroe plans to give him a run for the money.
"I've got a spot that's got a shad spawn going on first thing in the morning," Monroe said. "There are shad everywhere, and I know there's got to be more big fish in there, so I'll start tomorrow back there again and work the shad spawn."
The day's largest bass brought to the scales was a 6-8 by Keith Combs, matching the Day Two big bass by Scott Rook. Neither challenges the largest yet, a 7-8 produced by Dustin Wilks on the first day, still leading the competition for the Berkley Big Bass of the Tournament.
Day three standings are listed on the B.A.S.S. Forum.
2011 Bassmaster Elite Series Official Sponsors: Toyota, Bass Pro Shops, Berkley, Evan Williams Bourbon, Humminbird, Mercury, Minn Kota, Skeeter Boats, Triton Boats, Yamaha
2011 Bassmaster Elite Series Supporting Sponsors: Lowrance, Luck "E" Strike, Nitro Boats, Power-Pole, Ramada