Edwin Evers hangs on
By editor on May 7, 2011 | In Bass Tournaments, BASS Elites, BASS, KVD
B.A.S.S. News
But Kevin VanDam becomes his biggest threat in the Pride of Georgia
Wellman in 7th making top 50 cut for day three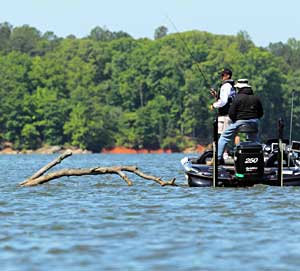 Edwin Evers maintains his lead day two by 4 ounces on West Point Lake in the Bassmaster Elite Series event. Photo Credit: B.A.S.S. / Seigo Saito
LAGRANGE, Ga. — Fishing on West Point Lake turned tougher for many of the Bassmaster Elite Series pros, even some of those who claimed top leaderboard spots in the Pride of Georgia.
That included first-day leader Edwin Evers of Talala, Okla., who stayed in the top spot with 37 pounds, 7 ounces, over two days despite a so-so second-day bag of 15-3.
Evers, who led local favorite Steve Kennedy by 1 ounce on Thursday, found himself Friday with a 4-ounce lead on yet another formidable challenger, Kevin VanDam. The four-time Bassmaster Classic champ and six-time Toyota Tundra Bassmaster Angler of the Year smashed 23-10 Friday to jump from 26th place into second.
Friday saw other wild shifts in the leaderboard. Ish Monroe made a leap Friday, from 33rd to third, after slapping 21 pounds on the scales. That gave him 33-11 over two days.
Andy Montgomery ended the day in fourth place, up from 11th, with 33-6. Kennedy slipped to fifth after a 10-14 day. Other big movers included Gerald Swindle, up from 67th into 19th place, and Alton Jones, from 24th to hold down eighth place.
Evers said he culled his smallest fish, a spotted bass, only an hour before he had to call it a day and run to the check-in point. Those few extra ounces kept him in front, and Evers was ecstatic about that.
"I feel great, I'm still in the lead so I can't complain," Evers said. "I had six keeper bites and I was fortunate to get them all in the boat."
He said the bass seemed even more finicky and unpredictable than on the first day, when he bagged 22-4.
"It was a lot harder to get bites today, and there were a lot more boats running the same kind of stuff I was running," he added. "I didn't catch a bass in the same spot two days in a row. Tomorrow I'll just keep plugging away, find five good bites, not get in too big a hurry, and I hope I can stay up there."
Evers won the Elite season's second tournament by flying under the radar, then popping up the final day. This tournament, he's in the catbird seat, a position he said he loves, because, win or lose this one, he still will garner extra TTBAOY points awarded to a daily leader. His goal is to be in contention for the TTBAOY award.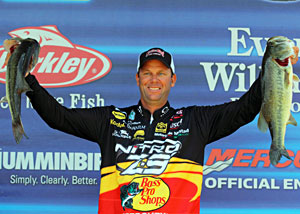 Reigning Bassmaster angler of the year Kevin VanDam smashed a huge limit to vault into 2nd place 4 ounces behind the leader Evers in the West Point Lake Elite Series event. Photo Credit: B.A.S.S. / Seigo Saito
And that's what VanDam, reigning TTBAOY, is aiming for too. But first things first, and that's the West Point Lake competition. He said he made a few key adjustments Friday, and that made all the difference.
"I was able to get some of those better bites," he said. "You have these windows, times when you see you can capitalize on a pattern, and that's what happened today for me. I saw a pattern developing, and the wind and clouds came in to help me. But earlier I needed the sun, and that's what we had the first half of the day. I caught a good limit doing that, but when conditions changed, I adjusted — same pattern, but blind fishing."
VanDam declined to describe in detail the adjustments he made.
"I'm looking for certain things out there, certain objects, covering a lot of water," he said.
Monroe said he tried to force a pattern Thursday, but took a step back, relaxed, and "just went fishing" Friday.
"But it's not about patterning them," he said. "Today I threw everything in the box."
He started the day by losing a fish on a frog, but then rallied. A big contributor to his sack was a 6-pound bed fish that he caught on the first flip.
"That's how things started to roll, when you just go out and go fishing like I did today. I'm just going to go out and have fun with it. I think that's what I've been missing in my fishing."
The day's biggest bass was brought in by Scott Rook, a 6-8. It didn't beat the 7-8 from Day One caught by Dustin Wilks and still the front runner for the Pride of Georgia's competition for Berkley Big Bass of the Tournament honors, worth a $500 bonus.
The Elite field was cut to the top 50 for Saturday's round. Sunday, only the top 12 will compete for a first-place prize that includes $100,000 and an instant entry in the 2012 Bassmaster Classic. Anglers are also trying to earn points that count toward three coveted prizes: the 2011 Toyota Tundra Bassmaster Angler of the Year crown, 2011 postseason berths, and 2012 Classic qualifications.
Day two standings on the B.A.S.S. Forum.
2011 Bassmaster Elite Series Official Sponsors: Toyota, Bass Pro Shops, Berkley, Evan Williams Bourbon, Humminbird, Mercury, Minn Kota, Skeeter Boats, Triton Boats, Yamaha
2011 Bassmaster Elite Series Supporting Sponsors: Lowrance, Luck "E" Strike, Nitro Boats, Power-Pole, Ramada
About B.A.S.S.
For more than 40 years, B.A.S.S. has served as the authority on bass fishing. The organization advances the sport through advocacy, outreach and an expansive tournament structure while connecting directly with the passionate community of bass anglers through its Bassmaster media vehicles.
The Bassmaster brand and its multimedia platforms are guided by a mission to serve all fishing fans. Through its industry-leading publications — Bassmaster Magazine and B.A.S.S. Times — comprehensive website Bassmaster.com, ESPN2 and Outdoor Channel television programming, Bassmaster provides rich, leading-edge content true to the lifestyle.
The Bassmaster Tournament Trail includes the Bassmaster Elite Series, Bass Pro Shops Bassmaster Open Series, B.A.S.S. Federation Nation events presented by Yamaha and Skeeter Boats and the ultimate celebration of competitive fishing, the Bassmaster Classic.
B.A.S.S. offers an array of services to its more than 500,000 members and remains focused on issues related to conservation and water access. The organization is headquartered in Celebration, Fla.