West Point's home-state fave
By editor on May 5, 2011 | In Bass Tournaments, BASS Elites, BASS

B.A.S.S. News
B.A.S.S. Reporter's Notebook: Skeeter and Yamaha are new title sponsors; West Point's home-state fave; Meet the new Bassmaster.com; Fast facts about West Point Lake
Skeeter and Yamaha are new title sponsors: In the Bassmaster Elite Series, the final two events of the regular season have new names: the Skeeter Boats Diamond Drive and Yamaha Dixie Duel.
The Skeeter Boats Diamond Drive is set for the Arkansas River out of Little Rock, Ark., June 9-12. As the seventh of eight tournaments that award points to Elite Series pros, the tournament will be pivotal. Points count toward the Toyota Tundra Bassmaster Angler of the Year crown, coveted postseason entries and berths in the 2012 Bassmaster Classic.
Yamaha gained title sponsorship to the 2011 season finale. The Yamaha Dixie Duel, hosted by Decatur, Ala., will be played on Wheeler Lake for four days beginning June 16. At tournament's end on June 19, the 2011 Toyota Tundra Bassmaster Angler of the Year will be crowned, and postseason and Classic berths will be announced.
Skeeter Boats and Yamaha also are official Premier sponsors of the Bassmaster Classic, the Bassmaster Elite Series, the Bass Pro Shops Bassmaster Opens and Federation Nation events presented by Yamaha and Skeeter Boats.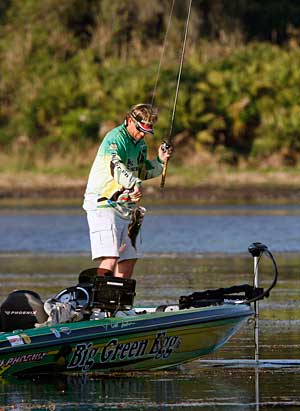 Elite angler J. Todd Tucker is the only Georgia resident competing in the West Point Lake event. Photo Credit: B.A.S.S./Gary Tramontina
West Point's home-state fave: It's common knowledge that J. Todd Tucker is the only pro from Georgia in this week's Bassmaster Elite Series tournament on West Point Lake. But most people would assume that his Moultrie, Ga., address — about two hours away — means he doesn't have significant experience on the Georgia-Alabama border lake.
Not true. He owns more West Point history than many in the Elite Series field. Some had never even seen the fishery before they arrived Monday for three days of practice.
"It's not my home stomping ground or anything, but I've fished this lake a lot over the years," he said from his boat deck Monday morning. "Still, I don't have that deep a history on this lake, but I have places to go to."
Those places weren't looking productive during his first hours of practice. He was on his trolling motor, searching, trying to put something together.
While he looked, he offered a general overview: Spotted bass aren't hard to come by, and almost everyone in the field should be able to limit. The trouble with a spotted-bass strategy is that the majority of the spots being caught now are on the small side.
"You can catch a limit of 12 to 13 pounds of spots, but the bigger spots are easier to catch in March," he pointed out. "Now, the spawn is about over. The fish are in a mood, a little stressed out and harder to catch."
Tucker's main mission Monday was to figure out how to get the largemouth to bite.
"You have to concentrate on trying to get one or two bites from largemouth a day to go along with your spotted bass," he said. "That's usually the case here: One or two big bites a day is what you need. A 3 1/2- to 4-pounder makes a lot of difference this time of year."
Tucker said he felt the key to doing well on West Point now is sticking to your plan, having confidence that a big largemouth or two can be caught.
The lake's ongoing shad spawn could play a big role in the tournament, he said, but keying in on spawning shad would require four straight mornings of "right place, right time."
"Whoever wins this thing, I feel like they're going to win it in the first hour of the day, every morning. You need to be looking for that shad spawn and the bigger fish that are on the shad," he explained. "When the largemouth move out and suspend, they get hard to find."
How Tucker and others fare in the May 5-8 tournament out of LaGrange, Ga., will be covered extensively online at Bassmaster.com.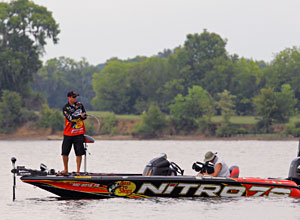 Complete tournament information about all your favorite pro bass anglers including reigning 2011 Bassmaster Classic champion Kevin VanDam on Bassmaster.com. Photo Credit: BASS Communicaitons / Seigo Saito
Meet the new Bassmaster.com: On Sunday, May 1, visitors to Bassmaster.com received a surprise: Their go-to fishing site had an all-new look.
Why the change? That is a question posed and answered at Bassmaster.com by Ken Duke, editor.
"Even though traffic on the site has seen double-digit growth each of the last several years, we recognized an opportunity to make Bassmaster.com even bigger, better and more helpful to B.A.S.S. members, fans, visitors, anglers, sponsors and advertisers," Duke wrote.
The migration from old to new was made overnight, but the work behind the scenes has been going on since three investors bought B.A.S.S. from ESPN in November 2010. The unveiling of the revamped website marks the break from ESPN.com.
The quick content changes instigated over the past few months are expected to continue or even to step up in pace. During tournaments, content will flip to new stories and photos multiple times in one day. Video and live blogging will pick up the pace. Meanwhile, fresh how-to content will be posted more frequently.
Pages: 1· 2