Tournament of ounces parade on West Point Lake
By editor on May 5, 2011 | In Bass Tournaments, BASS Elites, BASS

B.A.S.S. News
1 ounce ahead, Evers and Kennedy lead Bassmaster Elite Series field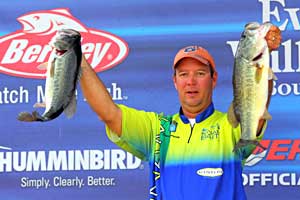 Alabama bass pro Steve Kennedy holds down 2nd place on his home lake West Point 1 ounce behind the leader Edwin Evers. Photo Credit: B.A.S.S. / Seigo Saito
LAGRANGE, Ga. — Steve Kennedy's deep and wide West Point Lake history stood him well Thursday, but Edwin Evers went 1 ounce better to take the lead on the first day of the Pride of Georgia.
Evers of Talala, Okla., weighed 22 pounds, 4 ounces to Kennedy's 22-3. They have more than a few ounces as a cushion against David Walker, in third with 21-3; Dustin Wilks in fourth with 20-3; and Bobby Lane with 18-4 claiming fifth place.
Ninety-nine Bassmaster Elite Series pros are competing on West Point Lake for a first-place prize that includes $100,000 and an instant entry in the 2012 Bassmaster Classic. Anglers are also trying to earn points that count toward three coveted prizes: the 2011 Toyota Tundra Bassmaster Angler of the Year crown, 2011 postseason berths, and 2012 Classic qualifications.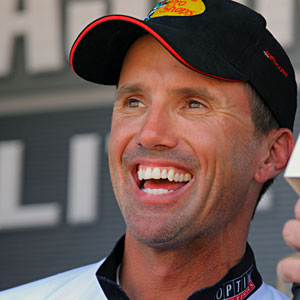 Edwin Evers leads the Pride of Georgia Elite series event on West Point Lake by 1 ounce. Photo Credit: B.A.S.S. / Seigo Saito
Evers already has a Classic berth in hand. He came from behind in March to win the season's second event, the Bassmaster Elite Series Power-Pole Citrus Slam on the St. Johns River.
Evers played it close to the vest Thursday, giving nothing away in hopes he can keep an advantage and score win No. 2 for the year.
"You have to keep it to yourself — these guys are too good," he said.
He did reveal that his day started so slowly, he scrapped his initial game plan and "went fishing."
"Man, that worked out really good," he said, adding that he was covering "a bunch of water," and burned 26 to 27 gallons of gas, jumping from spot to spot and blowing through his arsenal to try to isolate a bait, technique or a pattern that worked.
"I think I caught all five of my bass on five different baits," he said, his largest bass of the day going 5-15.
He said that contrary to what he expected, the early spawning-shad bite didn't happen for him.
Evers smashed the buzz from scouting reports and practice sessions that bag weights would be low in this tournament.
"I thought the fish were in this lake," he said.
Kennedy thought the same thing. A Georgia native, he and his father often traveled to West Point Lake for fishing trips. Now living in Auburn, Ala., Kennedy is even closer to the lake and has been a regular, if not frequent, visitor over the years.
That experience helped Kennedy Thursday as he fished through water others had hit before him. Like Evers, he worked a long string of stops, staying on the move. He said he aimed solely for the bigger largemouth bass, quick-firing casts at targets he said that perhaps only he was trying.
"Some were just little, bitty isolated pieces of wood," he said. "Some was rock, some was little points."
The strategy resulted in his boating only seven keepers all day, but it was enough — or, rather, just 1 ounce shy of enough.
Ending the day in third place, Walker credited a fast start and no-error day.
"Everywhere I went, worked; everything I tried, worked," he said. "You can catch them 2 foot to 20 foot. I came in 20 minutes early because what else was I going to do?"
He said he culled up frequently, building his bag of five largemouth.
The presence of shad is crucial, he said. "You have to see them on your locator, there has to be shad to make the area work."
Wilks claimed fourth place with the day's biggest catch, a 7-pound, 8-ounce largemouth that fell for an Assassinator buzzbait.
"That same exact fish bit in practice," he said, "and in the same spot. I had my hook protected (during practice) and I went back and got her."
The 7-8 sets the pace for the Pride of Georgia's competition for Berkley Big Bass of Tournament honors, worth a $500 bonus.
All 99 Elite anglers will compete Friday. After Friday's weigh-in, the field will cut to the top 50 for Saturday's competition. Only the top 12 will be in Sunday's finale.
Complete day 1 standings on the B.A.S.S. Forum.
2011 Bassmaster Elite Series Official Sponsors: Toyota, Bass Pro Shops, Berkley, Evan Williams Bourbon, Humminbird, Mercury, Minn Kota, Skeeter Boats, Triton Boats, Yamaha
2011 Bassmaster Elite Series Supporting Sponsors: Lowrance, Luck "E" Strike, Nitro Boats, Power-Pole, Ramada
About B.A.S.S.
For more than 40 years, B.A.S.S. has served as the authority on bass fishing. The organization advances the sport through advocacy, outreach and an expansive tournament structure while connecting directly with the passionate community of bass anglers through its Bassmaster media vehicles.
The Bassmaster brand and its multimedia platforms are guided by a mission to serve all fishing fans. Through its industry-leading publications — Bassmaster Magazine and B.A.S.S. Times — comprehensive website Bassmaster.com, ESPN2 and Outdoor Channel television programming, Bassmaster provides rich, leading-edge content true to the lifestyle.
The Bassmaster Tournament Trail includes the Bassmaster Elite Series, Bass Pro Shops Bassmaster Open Series, B.A.S.S. Federation Nation events presented by Yamaha and Skeeter Boats and the ultimate celebration of competitive fishing, the Bassmaster Classic.
B.A.S.S. offers an array of services to its more than 500,000 members and remains focused on issues related to conservation and water access. The organization is headquartered in Celebration, Fla.