Touched by tornadoes
By editor on May 5, 2011 | In BASS Elites, BASS, Pro Anglers

B.A.S.S. News
On the eve of the Pride of Georgia, Elite pros urge all anglers to give what they can to help tornado and storm victims in the South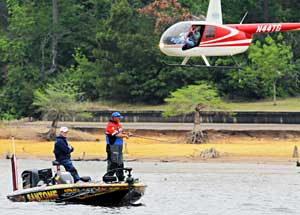 Alabama bass pro Matt Herren was shaken by the recent tornado devestation in his home state. Photo Credit: B.A.S.S. / Seigo Saito
LAGRANGE, Ga. — Matt Herren is a warhorse competitor, not easily rattled. But a week after the April 27 tornadoes that devastated his native Alabama, he was still shaken by the experience.
"You live in the South, you live with the threat of tornadoes, you hear the stories," said the Bassmaster Elite Series pro from Trussville, a few miles northeast of Birmingham. "But until you've lived through it yourself, you can't fathom what it's like. I didn't until I saw it."
In other northern Alabama towns, several members of his family and many of his friends sustained extensive damage to their homes. So did Kotaro Kiriyama in Moody, a small town close to Trussville. To the west on Lake Guntersville, Chris Lane watched a tornado rip up the city where he lives.
But the three Elite pros are among the lucky ones, and they are grateful to be alive.
In LaGrange for the May 5-8 Elite event on West Point Lake, Herren, Kiriyama and Lane told their stories so that fishing fans could better understand the plights of storm victims who have lost everything. And so that fans can help, the Georgia Three Rivers Chapter of the American Red Cross will be on site at the Bassmaster Elite Series Pride of Georgia event May 6-8 to collect cash donations (see below for details).
Herren was at home April 27, packing for the tournament. He happened to have the TV on when the first images of the Tuscaloosa, Ala., tornado were broadcast. He said he watched, incredulous, as the dirty blackness sucked its way through that western Alabama city and kept pushing eastward through areas where his friends and family members live.
"When I saw live footage of the storm going through Cullman, I tried to get (pro angler) Greg Pugh on the phone — where are you? are you OK? It was the same with Dalton Bobo in Northport, and all the anglers I know all across the state, and with all my friends and family."
Before he could reach anyone by phone, he saw on TV that the tornado was on track to hit Trussville. He and his wife took cover.
"For the first time in my adult life, I grabbed the mattress off the bed and we hunkered down under it. It was the most horrifying feeling in the world, and the loudest, the worst winds I've ever heard," he said.
Then all was quiet. Suddenly, rain hammered his house. He looked outside and was astounded by bright sunshine, torrential rain and trees bent down by hard winds, all at the same time.
"It was the wildest thing I've ever seen," he said.
Herren said damage to his property was limited to broken trees. The tornado had apparently lifted up and gone over his town before moving eastward to wreak havoc in others.
By day's end, he learned that his mother-in-law and his parents, in Alabama locales more than 40 miles apart, had been hit. Their homes were severely damaged, but they were not injured.
"We were blessed beyond belief," Herren said. "Anybody who can help the people who lost their homes, lost their loved ones in the storms, please do."
Kiriyama said that, oddly enough, the tornado he encountered came early and without warning on the morning of April 27 (most tornado touchdowns occurred that evening, and severe weather alerts had been issued by then). He was in his basement office making some calls to sponsors in his native Japan when he first heard rainfall. The storm became so loud, he called upstairs to his wife to take cover.
"Then it sounded like someone was throwing rocks at my house and windows. The house — it is made of brick — was shaking," he said.
After the noise stopped, he climbed the stairs and surveyed the damage: holes in the roof, windows broken, and a rain of debris, including a refrigerator (not his). For two days, trees across roads trapped him and his wife at his house. Later he learned that nearby, two people had been killed, and many homes had been leveled.
"It felt strange. It was bad, very bad," said Kiriyama, who was suffering from whiplash, the result of an auto accident the week previous. He said his car had been rear-ended by a texting driver. But a bit of luck: his bass boat was safe in the basement-level garage.
Chris Lane's three children and pregnant wife traveled with him to LaGrange because there's no power at his Guntersville, Ala., home and he doesn't expect the power to be restored soon.
All around Lake Guntersville, he said, is "some of the most tragic stuff I've ever seen."
"From the city of Guntersville, northward up the lake, there are sections with houses they can't even get to because there are so many trees down," he said. "They aren't letting anyone into the Guntersville State Park; I heard that so many of the park trees are gone."
Alabama wasn't the only state to suffer. Many parts of the South, including northern Georgia, were hit by tornadoes and severe weather. NOAA (the National Oceanic and Atmospheric Administration) estimates that between April 25 to April 28, 305 tornadoes touched down in the South.
The outbreak of tornadoes is not the only weather story in the news. Historic flooding is occurring along the Mississippi and Ohio River valleys, and the nation is holding its collective breath.
So is Mark Menendez. From the Ohio River city of Paducah, Ky., the Elite pro is closely watching the situation. He said his home is on a feeder creek about six miles from the main river, and water has covered one road leading to his house. The house is situated high enough on a hill that it isn't likely to be flooded, but other homeowners in the city aren't so lucky.
"There are people in low-lying areas who are losing their homes and all their possessions," he said.
Pages: 1· 2