Jone's West Point attack strategy
By editor on May 5, 2011 | In Bass Tournaments, BASS Elites, BASS, Pro Anglers

B.A.S.S. News
B.A.S.S. Reporter's Notebook: Jones' West Point attack strategy: Busman's holiday; Bonus awards; Ike's truth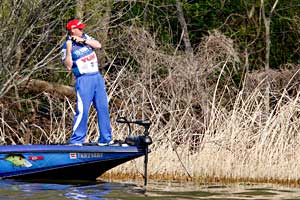 Alton Jones sets the hook during the 2011 Alabama Charge on Pickwick Lake. Photo Credit: B.A.S.S. / Gary Tramontina
Jones' West Point attack strategy: "Think": It was a famous IBM slogan. Alton Jones has added to that: "Think ahead."
After claiming the lead March 20 in the Toyota Tundra Bassmaster Angler of the Year race, Jones took a scouting trip. Not to the next-up Bassmaster Elite Series venue, or even to the next after that. He had thought ahead to the fifth event, the May 5-8 contest on West Point Lake.
"I'd never been there before," he said. "I really needed to familiarize myself with it. I thought it was extremely important for me to be putting everything I can into each event. I always put my whole effort in, but I don't always make scouting trips."
Scouting is a luxury for a Bassmaster Elite Series angler. Any such trip must be completed before the off-limits period kicks in, usually about one month before the event. Time and money are required, not to mention the logistics trick of getting to Lake E between events on Lake A and River B, with multiple other commitments thrown into the mix.
But West Point was looking like a wild card for Jones in his bid to be the 2011 Angler of the Year. He felt he had to go, not to learn how to compete on the Georgia-Alabama border lake, but to find out how he could best spend the three practice days preceding the tournament.
"How I'm going to attack the lake during practice, which rods are going to be out on my deck, what baits are going to be in my compartments — those are the types of things I figured out during scouting," said the Elite Series pro from Waco, Texas.
"Those three practice days are when I'll actually develop a pattern, select my baits, select my locations. Those decisions are what will determine how I do in the event," he said. "That's what made it critical for me to go and spend that time scouting."
He said he spent most of his scouting time riding. The water level was down about 3 feet — still winter pool — a condition that allowed Jones to see subtle contours and details of points that likely will be hidden under feet of water come tournament time.
"I hope they fill it to full pool so I can fish some of that," he said. "Then my scouting will be a really strong advantage."
Busman's holiday: Bassmaster Elite Series pro Steve Kennedy went fishing on his week off.
Give him credit: He left his bass rig at home. This was a family-and-friends saltwater trip to Florida, a world away from competitive bass fishing.
The Kennedys packed their RV, hitched their 25-foot Boston Whaler to it, and drove from their Auburn, Ala., home to Cape San Blas for a week of fun, sun and fishing on the Gulf of Mexico.
If they'd stayed at home, the Kennedys would have been less than an hour away from the next Bassmaster Elite Series competition, May 5-8 on West Point Lake out of LaGrange, Ga. But now they will have a drive of about five hours — swinging through Auburn, of course, to swap boats.
Bonus awards: Three bonus checks earned at the April 6-9 Alabama Charge event have been awarded to Bassmaster Elite Series anglers:
* $1,000 from Toyota to Alton Jones for leading the Toyota Tundra Bassmaster Angler of the Year race;
* $1,000 from Power-Pole to Alabama Charge winner Davy Hite, who cashed in on the Power-Pole Captain's Cash contingency program; and
* $500 from Berkley to Jared Lintner for his 8-pound, 10-ounce catch, the Berkley Big Bass of the Tournament.
Ike's truth: "I guess when I stop to think about it, I was tired of being angry." — Michael Iaconelli in his April 25 blog at Bassmaster.com
About B.A.S.S.
For more than 40 years, B.A.S.S. has served as the authority on bass fishing. The organization advances the sport through advocacy, outreach and an expansive tournament structure while connecting directly with the passionate community of bass anglers through its Bassmaster media vehicles.
The Bassmaster brand and its multimedia platforms are guided by a mission to serve all fishing fans. Through its industry-leading publications — Bassmaster Magazine and B.A.S.S. Times — comprehensive website Bassmaster.com, ESPN2 and Outdoor Channel television programming, Bassmaster provides rich, leading-edge content true to the lifestyle.
The Bassmaster Tournament Trail includes the Bassmaster Elite Series, Bass Pro Shops Bassmaster Open Series, B.A.S.S. Federation Nation events presented by Yamaha and Skeeter Boats and the ultimate celebration of competitive fishing, the Bassmaster Classic.
B.A.S.S. offers an array of services to its more than 500,000 members and remains focused on issues related to conservation and water access. The organization is headquartered in Celebration, Fla.