Dave and Chuck Hasty Win NBAA White Championship on Kentucky Lake
By editor on Apr 29, 2011 | In Bass Tournaments, NBAA

NBAA Anglers Fish Through Flooding Kentucky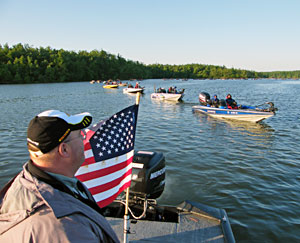 NBAA owner Jim Sprague lines up the angler teams for the 2011 day one White Challenge Championship on Kentucky Lake.
Kentucky Lake is rising fast. The morning of the Lazer Sharp White Challenge Championship found anglers pulling into Kentucky Dam Marina with higher than expected waters. By day's end, the water had reached the parking lot and had almost overtaken the boat launch. Even with adverse conditions the NBAA Championship anglers from across the United States did a great job. The top team in the Lazer Sharp White Championship was Dave & Charles Hasty with 19.02 lbs.
Following in second was the team of Jamie Cunnagin & Brad Whitaker with 18.60 lbs. Rounding out the top 3 was Garry Mainstone Sr & Jamie Mainstone with 17.66 lbs. Big Bass of the day was brought by the team of Bill Ferris and Rob Badder. Their big largemouth topped the scales at 6.04 lbs. See the full results from the Lazer Sharp White Championship on the NBAA National Championships Forum.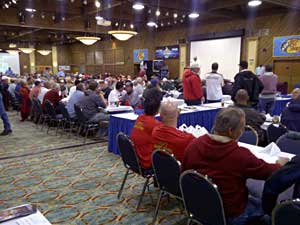 NBAA owner Jim Sprague and National Director Jack Horning go over the rules and setup of 2011 Championships Week at the packed Kentucky Dam Village Conference Center Wednesday to over 400 NBAA anglers.
Horning has reported that NBAA is in touch with local authorities on the status of the lake being open or closed to boating. As NBAA owner Jim Sprague stated at Wednesday's registration and rules meeting - NBAA has rules in place that assure participants that all prizes, including the boats, will be given out to members present at the event through a drawing if they are unable to fish.
Please make sure that you get official word from Jack Horning, Jim Sprague or www.nbaa-bass.com before making any determination of the event status. As Horning stressed, you must go to the Kentucky Dam Marina launch site to be eligible for tournament prizes, unless given other instructions by one of the above official sources.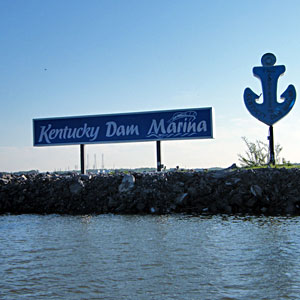 Kentucky Dam Marina is the official launch and weigh in site of the 2011 NBAA Championships Week White, Blue and Red Challenges.
Over 110 boats competed on day one in the White Challenge with many teams from Nebraska to North Carolina to Michigan awaiting the status of the Blue and Red Challenges.
Tennessee Valley Authority (TVA) is reporting that the Kentucky Dam will be spilling until further notice in an effort to manage the record flooding of waters coming into Kentucky Lake. Even so, TVA expects the lake level to surpass the all-time record of 369.99 feet above sea level (1984) by next Wednesday with a record 373.5 feet, and that it will stay that way for several days. That is only 18 inches below water spilling over the top of the dam! Despite all gates spilling full-time, TVA expects the water level to be near 370 feet by this Saturday.